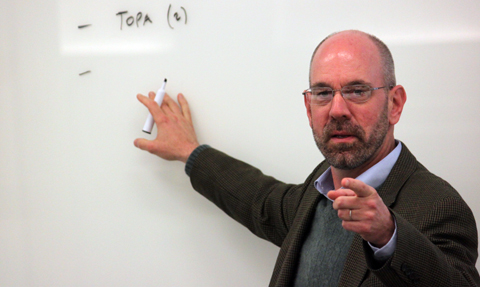 Uwe Brandes engages the classroom in the Georgetown URP and Law collaboration, "Urban Planning Laboratory: Washington's East End Rising."
"Don't just analyze existing conditions," Uwe Brandes, executive director of Georgetown's Urban & Regional Planning (URP) program, reminded the 10 students sitting in front of him at the School of Continuing Studies (SCS) downtown campus. "You must present your vision for the long-term growth of the neighborhood."
The task facing the students—envisioning a future for a large swath of Washington, D.C., and then devising specific steps to achieve it—was certainly complex enough to require some coaching from Brandes, whose long record of urban planning includes directing the award-winning Anacostia Waterfront Initiative. He urged the students to focus on the specifics of their various plans while not losing sight of the big picture.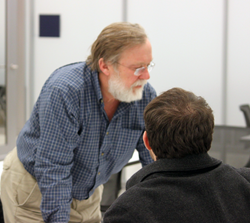 The students are part of a class called "Urban Planning Laboratory: Washington's East End Rising," and it's a unique collaboration that includes faculty and students from URP and the Georgetown University Law Center. The concept for the course came about after Brandes and Peter Byrne (right), the associate dean of the law school, were discussing the kind of collaborative work that planners and lawyers perform on urban development projects.
"The course simulates professional practice," said Brandes, which has 11 students from the law school and 10 from URP. "It's not just learning about a topic—it's about putting students in the position to formulate a place-based community development strategy."
Both Georgetown SCS and the Law Center are located in Washington's East End. This diverse and rapidly changing neighborhood is situated north of the National Mall and anchored by both the Washington Convention Center and Union Station. "This is one of the most dynamic neighborhoods along the Eastern Seaboard," said Brandes, "and is poised to receive tens of billions of dollars of investment in the next twenty years. Identifying a community development strategy in this changing context is a real challenge."
The students, most teamed in pairs, focused their projects on a wide variety of planning issues, from the introduction of a street car line and better bike share programs, to the construction of new affordable housing, to cultural preservation efforts in Chinatown.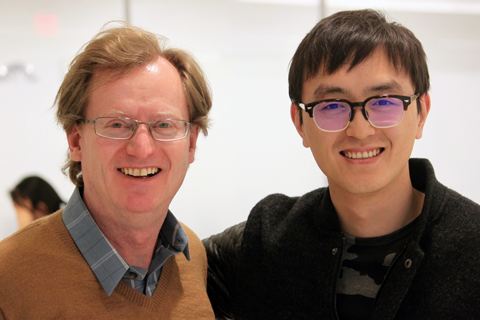 Jim Miller and Mingbang Wu (above) are focusing on Chinatown. Located in a busy restaurant and entertainment district near the Verizon Center, the neighborhood is certainly vibrant, but it has lost much of its traditional character and is sometimes referred to as "Chinablock."
The students' job, Brandes said, is not to focus on the built environment, as the area is already highly developed, but on the kind of community programs that might stabilize and grow the neighborhood.
"If you're visiting San Francisco, [Chinatown is] it's a must-see," said Wu, a native of China. "The Chinatown in D.C. is not very active."
As Brandes talked with half the class, URP Professor Paul Brophy (below) spoke to the other half about some of the complex issues surrounding inclusionary zoning, whereby municipalities require developers to set aside a portion of their rental apartments for low- or middle-income tenants.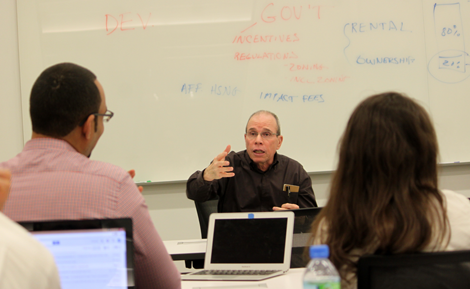 "I'm so excited by all of the issues we need to confront in this class; I had no idea of the complexity." said Maria Sklar, a third-year law student.
"Each of the students brings different skills to the class," said URP Professor Paul Brophy, "The law students have been blown away by GIS [Graphic Information Systems] tools the planning students are using. And the planning students have gained practical insight into the legal research methods used by the law students."
"Some of the issues in this neighborhood are similar to my hometown," said Wu, "as planners, we need to find strategies to preserve historic buildings in a neighborhood that will also have a new high-speed rail link to New York City."