Journalism Student Named Finalist in Mark of Excellence Awards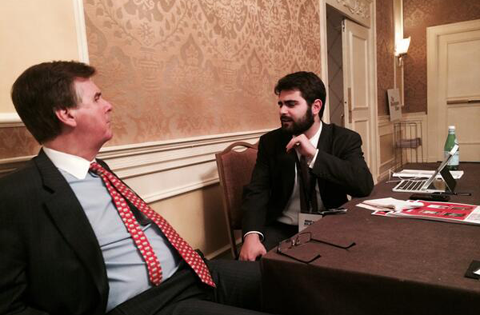 Kamisar (right) at work with Dan Patrick, then a Texas state representative, in 2014. Patrick is now Texas lieutenant governor. (Photo by Allen Blakemore.)
Ben Kamisar loved football in high school, but his small Connecticut school wasn't exactly a powerhouse, and there didn't seem to be a big college market for 5 foot 8 inch, 160-pound defensive ends.
So he made the first of many shrewd career decisions—he turned to sports writing, not sports playing. Now, a few years later, he's a staff writer at D.C. newspaper The Hill, where he covers an equally ferocious game called "politics" as well as other breaking news from around the country. It's an exciting, fast-paced job for the Master of Professional Studies in Journalism student at Georgetown University.
"I might write my first story by 6:30 a.m.," Kamisar said. "There are days when I write one or two, and other days when I write 10."
In March, Kamisar was honored as a finalist in the Society of Professional Journalists' Mark of Excellence Awards for Region 2, which comprises Virginia, Maryland, Delaware, North Carolina, and Washington, D.C. Competing in the Sports Writing category for large institutions with 10,000 or more students, Kamisar was recognized for his 2014 piece on the hardships facing parents of Final Four basketball players, who often must spend thousands of dollars to watch their children compete. Kamisar wrote the story for the Dallas Morning News, where he was an intern last spring.
Although the NCAA makes some money available for parents to travel, relatively few of them know about the fund or have taken advantage of it, Kamisar wrote. And for families with modest incomes, getting a flight on short notice can be extremely expensive.
"It's so difficult for these families every year to just drop everything with only two-weeks' notice, or sometimes much less," Kamisar said.
In addition to working at Dallas Morning News, Kamisar has covered politics and the state legislature as an intern for the Austin-American Statesman. He has also interned with Trove, the social news application, where he updated the application's news feed to capture top stories of the day.
Kamisar's current job at The Hill involves writing political stories and also tweeting about them and other breaking news.
"It's been hectic coming from work, but it's been great," he said of his Journalism classes, many of which are taught by nationally acclaimed journalists. "I think the quality of the instructors is really incredible. These are people I'd been reading before I even got in the program."