Journalism Instructors Win Peabody Award for NPR Ebola Coverage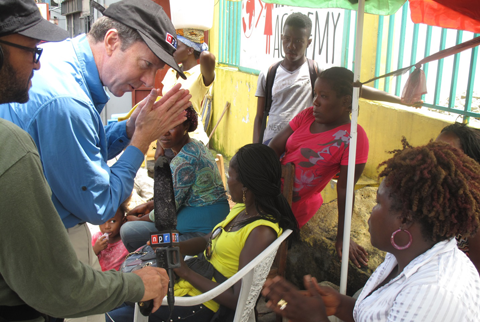 Rolando Arrieta helps produce audio as NPR correspondent John Hamilton talks to hairdressers in Monrovia, Liberia, about losing clients due to the widespread fear of contracting Ebola. (Credit: Michaeleen Doucleff, October 2014)
Two instructors for the Georgetown University master's in Journalism program are part of an NPR team that won a prestigious George Foster Peabody Award for its 2014 coverage of the Ebola epidemic.
Rolando Arrieta, NPR's news production and operations manager, and Ben de la Cruz, a multimedia editor with the network, served in a core group of about 40 journalists that covered the epidemic. De la Cruz was the lead photo editor on the project.
Arrieta traveled with three other NPR staff members last fall to a remote village in northern Liberia, where they spent more than two weeks covering the story. Following up on a previous NPR visit six months earlier, the team was reporting a relatively hopeful story about the epidemic's decline. But new infections were still occurring, and the journalists had to take extraordinary measures to avoid infection and monitor their health, such as repeatedly wiping down the door handles of their vehicles and taking their temperature—or having it taken at checkpoints—12 times a day.
Arrieta recalled that after a period of hyper vigilance he realized he had to trust his training and the people surrounding him, and simply do his job.
"Then you think you belong there, that this is just where you're supposed to be—doing this story," Arrieta said.
Many of NPR's Ebola stories can be found at Reporting from the Frontlines: The Ebola Outbreak. The news organization was honored for its coverage of Ebola in Liberia and throughout the world, including the United States. In addition to the core team, more than 60 other NPR journalists covered the unfolding story, which resulted in more than 200 individual pieces.