Public Relations Student Wins Cicero Speechwriting Award
Greg Lemon, communications director for Rep. Joe Heck (R-Nevada), says speechwriting is one of the most rewarding parts of his job. In a world of Facebook, Twitter, and instant messaging, speechwriting offers an opportunity to think deeply about a topic and write something an audience might remember.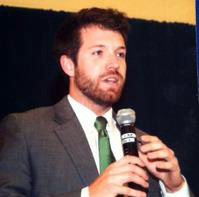 Greg Lemon talks to 2012 senior athletes at Saint Mark's High School in Wilmington, Del., where he attended secondary school.
A graduate student in the Georgetown University master's program in Public Relations & Corporate Communications, Lemon recently wrote a moving speech that Heck gave at the dedication of the Submarine Veterans Base Memorial in Boulder City, Nevada. That speech, "Honoring Those on Eternal Patrol," was itself recognized when Lemon received a 2015 Cicero Speechwriting Award from the Professional Speechwriters Association.
The speech takes a brief look at how America has honored its veterans, from the Revolutionary War through the two world wars of the 20th Century. It also tells story of the USS Corvina, a submarine that left Pearl Harbor on November of 1943, en route to the Truk Lagoon in Micronesia, and never returned. Presumably sunk by a Japanese submarine, it is said to be on "eternal patrol."
"You're just trying to tap into feelings that are already there," Lemon said of the speech, which Heck delivered at the Southern Nevada Veterans Home on Nov. 11. "You don't have to create those emotions."
Lemon said he has learned much about writing at Georgetown, especially in the classes he's taken from author Mike Long in speechwriting and public affairs writing. Among those lessons: Know your audience and do your research.
"What makes him a good speechwriter? Two things," Long said. "One, he knows that a speech without structure doesn't get much done. Two, he's made himself into an interesting person, and if you want to be interesting to other people—by writing an interesting speech, for instance—you must first be interesting to yourself."