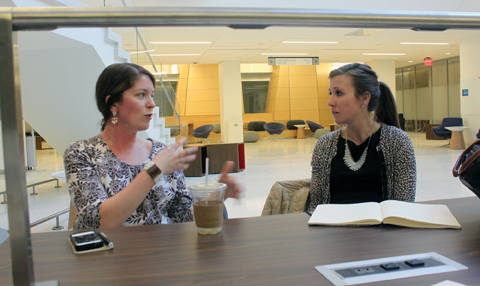 When urban planning students Maura Brophy and Arianna Koudounas talk about "preservation," they don't mean historic preservation exactly, but something much broader: the preservation of a way of life.
And when they speak of "sustainability," they're not talking about simply sustaining that way of life, but about optimizing it—both for the people who live and work in a given neighborhood and for future generations. That means creating safe, attractive, compelling, and, most important, environmentally sustainable communities where people can thrive.
"I think the whole planning field is evolving so that sustainability is at the core," Koudounas said.
One way planners are addressing sustainability is by encouraging the creation of "ecodistricts"—designated areas of a city that focus both on improving the quality of life and reducing the city's environmental footprint. On April 18, Koudounas and Brophy—graduate students in the Urban & Regional Planning Program (URP) at Georgetown University's School of Continuing Studies—presented their analysis of three ecodistricts at the American Planning Association's annual conference in Seattle. These included the Downtown DC ecoDistrict, Seattle 2030, and the Lloyd Ecodistrict in Portland, Oregon.
During the fall semester, the students also researched the SW Ecodistrict in Southwest Washington, D.C.
"Maura and Arianna have systematically organized their research on neighborhood-based sustainability initiatives and the emerging practices associated with Ecodistricts," said URP Executive Director Uwe Brandes. "I'm delighted their work was recognized by the American Planning Association and presented to a national audience. This is a great example of how our students are doing applied research that is making an impact on local communities and innovating the professional practices of city-building."
Sometimes dramatic change comes to a city through large-scale development. Consider, for example, the effect that two relatively new sports venues—the Verizon Center and Nationals Park—have had on their respective areas of Washington, D.C.
Ecodistricts are, of course, mindful of such improvements, but they also focus on a multitude of other, perhaps smaller and less noticeable, enhancements to city life. Thus, an ecodistrict could be involved with everything from recycling programs to bike-sharing projects, streetcar construction to noise ordinances, the building of new city parks to the expansion of the tree canopy along city streets. The list goes on and on, and might even include educational opportunities, social services, health care, and jobs—anything in the built or lived-in environment that affects the quality of life today and in the future.
Rather than a process of "scaling up"—planning something that can be replicated more or less intact in larger settings—an ecodistrict "almost seems to be a 'scaling down' to more everyday environments," Brophy said. It's planning at the "sub-municipal" level, the street-level environment where people actually go about their lives.
"There's a difference in the way buildings perform [or are meant to perform] and people behave," she added. "You have to be mindful that this is a living, breathing place."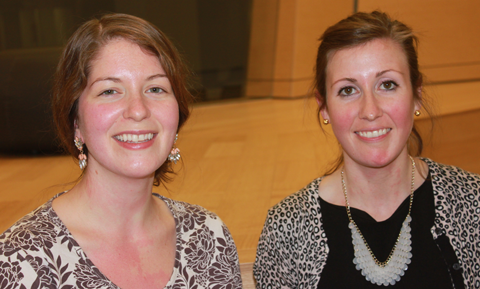 Koudounas and Brophy are already working in planning-related fields: Koudounas is a program manager for the Landscape Architecture Foundation, and Brophy is a housing professional for the Community Preservation and Development Corporation. They focused their research on the governance of ecodistricts, which can involve multiple stakeholders who share the overall goal of neighborhood sustainability but approach the issue from a variety of perspectives.
While it's important to engage many stakeholders and work from the "ground up," it is essential to monitor these efforts, Koudounas and Brophy said. And these goals can be ambitious. For example, by 2030 SW Ecodistrict hopes to have increased its daily population by 33 percent and its mixed-used development by 21 percent. By the same year, it expects to have cut carbon emissions by 75 percent and landfill waste by 80 percent.
"As the ecodistricts make clear, it's not like any of these things are mutually exclusive," Koudounas said.
In their paper, Koudounas and Brophy say that "while there is reason to be optimistic, the governance of an ecodistrict is a complex undertaking. Managing an ecodistrict requires that the overlapping efforts and interests within the district constantly be monitored."
"Optimistic" might not be the word that comes to everyone's mind when considering the myriad social and environmental problems facing our cities, our nation, and the world. To some, "overwhelming" might sound more appropriate.
But by studying and advocating for change from the grassroots level on up, Koudounas, Brophy, and Georgetown's other urban planning students are clearly not intimidated.
"Everyone is so excited by the work," Brophy said. "It doesn't seem as daunting."