Technology Graduate Awarded Fulbright Grant to Study at IE in Madrid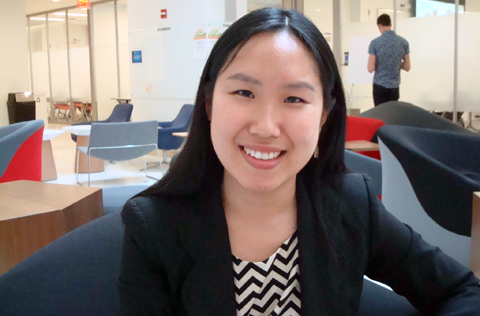 Christina Lai, a technology communications consultant and program manager in Washington, D.C., has become the first graduate of Georgetown University's Technology Management program to be awarded a prestigious Fulbright grant to study and conduct research abroad.
Lai, who received both the Inspiring Women in Technology Management and Highest Academic Achievement Award when she graduated from the Technology Management program last May, is planning to study this fall at the IE (Instituto de Empresa) Business School in Madrid, Spain, which is consistently ranked among the top business schools in the world. She is among more than 1,900 U.S. citizens (including 20 Georgetown students and alumni) who were selected for the Fulbright U.S. Student Program on the basis of academic or professional achievement and leadership potential in their fields, according to the U.S. State Department's Bureau of Educational and Cultural Affairs, which announced the awards on May 6.
"She is one of the brightest students that I've ever had the pleasure to teach," said Dr. Pablo Molina, a Technology Management faculty member. "She also has this determination to think big and aim for the sky in her academics."
At age 28, Lai has already worked as a corporate strategy manager, a technology consultant certified in project management, and a career coach. Since 2012, she has been a program manager of PotomacWave Consulting in Alexandria, VA., supporting several high-profile federal agencies—including the Federal Bureau of Investigation (FBI) and the Department of Homeland Security (DHS)—to address data analytics, organizational management, and cybersecurity training challenges. Prior to joining PotomacWave, she was a senior consultant at Booz Allen Hamilton in Washington, D.C., where her clients included the Federal Emergency Management Agency (FEMA) and the Department of Commerce.
Her achievements and honors aside, Lai, in person, is vibrant and fun-loving, interested in other people and what they do. Like many young people at SCS who fulfill the University's mission as women and men for others, her ultimate goal is to accomplish something that's bigger than herself and will make a difference in the world. With the Fulbright grant, she hopes to take advantage of the IE Business School's focus on entrepreneurship and innovation.
"She clearly is smart, but in a very low-key, approachable, giving kind of way," said Dahna Goldstein, who taught one of Lai's favorite courses, Technology Entrepreneurship. "I think she's not only friendly and outgoing, but she really is trying to help other people."
Lai said she was inspired to work in career coaching after receiving help from a seasoned career coach at a previous job, who helped her take charge of the direction of her career and overcome challenges in the workplace, such as speaking up in client meetings and improving her professional presence in corporate settings. Being more assertive was hard at first, Lai said, but she soon realized that she had the talent, work ethic, and ambition to be a leader—and an example to others.
"Career coaching is a passion of mine, just helping people focus on where they want to take their career and how to get there," said Lai.
A child of working-class Chinese immigrants and a native of New York City, Lai said she "was pushed to adapt to the new culture quickly." Speaking only Cantonese at age five, Lai "volunteered and practically lived at the local Brooklyn Public Library, devouring a dozen books a week. I was very determined to learn English, so I could be of help to others like my parents." She said studying piano and performing "transformed me as a kid who hid in the back to a pianist who walked confidently across the stage and performed a 30-minute concert at Steinway Hall."
Outside of career coaching and consulting, Lai also has an interest in wine culture and blogging. She received the Court of Master Sommeliers Level I and is awaiting award of the Level III Advanced in Wines and Spirits. She writes a culture and travel blog, SIFT by CLAI, which she hopes to expand to include her experiences as an American studying business in Madrid.
"I think it's fantastic that she got the Fulbright," said Goldstein, saying that Lai would bring much to the one-year program and get a lot out of it. "It's great for the Technology Management program as well, that she can be that kind of ambassador."