D.C. Building Industry Association to Offer Full Scholarship to District Real Estate Student
Giving back to the community has always been important to the District of Columbia Building Industry Association (DCBIA), and that's why each year it sponsors a neighborhood project, such as revitalizing a city park, in
Washington, D.C.
Lisa María Mallory kept up that tradition when she became the organization's Chief Executive Officer last year. But she also wanted to expand that outreach. And that meant not simply contributing to the D.C. community, but also attracting diversity to the real estate industry itself.
Now DCBIA is fulfilling that pledge. On May 5, in partnership with Georgetown University, DCBIA will announce the creation of a full scholarship to the School of Continuing Studies' (SCS) Master of Professional Studies in Real Estate program, which will be competitively awarded to a District resident "whose background or experience, when evaluated holistically, suggests he or she is uniquely able to contribute to the diversity of the Georgetown community."
The need-based scholarship, worth about $32,500 and donated by Balfour Beatty Construction and other DCBIA members, will be awarded to a student starting the program in the fall of 2015.
"Real estate is an important, vibrant, and interesting career, especially here in D.C.," Mallory said. "We want to expand the awareness of these careers to people who are uniquely able to contribute to the diversity of the Georgetown community. We hope to provide training to help them enter this exciting field."
Real estate is also a complex, multifaceted industry that relies on the close collaboration of a host of different professionals—developers, general contractors, builders, attorneys, and commercial brokers, to name a few—to bring projects to fruition. Working in these tight-knit groups can have its advantages, but it can also keep new people from entering the field.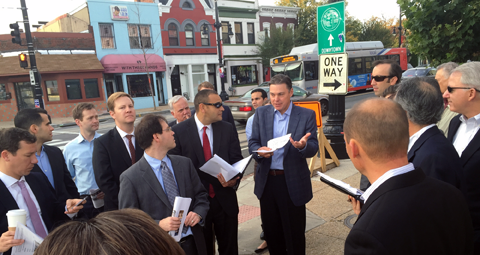 DCBIA hosts several events like this walking tour of H St. NE to help bring awareness to emerging communities across the district.
"One of the things I wanted to explore was how we partner with educational institutions to meet our organization's mission," Mallory said. "I also want to tap into the substantial resource that is DCBIA—with over 450 member companies representing all facets of real estate development—to help mentor a promising student."
Of course, one institution came immediately to mind.
"We're neighbors now," Mallory said of SCS, which moved to its downtown campus on Massachusetts Avenue in 2013 and is a longtime academic member of DCBIA. The following year, DCBIA moved from Friendship Heights to its Massachusetts Avenue location, about two blocks away.
At Georgetown, Real Estate students make the kind of connections that can help advance their careers. They meet other students who may already be working in the field and learn from a diverse faculty of real estate industry professionals.
Faculty Director Glenn Williamson said the new scholarship fits perfectly with the program's mission.
"We want to attract and train a diverse student body," he said. "We want to reach out to as wide a population of the D.C. community as we can."
Williamson explained that DCBIA is "a great organization whose members have taken leading roles in tackling housing issues, environmental issues, and other community issues."
"They want to make an impact. DCBIA has a practical, hands-on approach. They want to give a scholarship to someone who might not otherwise have the opportunity to come here."