Industry Authorities Teach Global Leadership Practices in First Program Module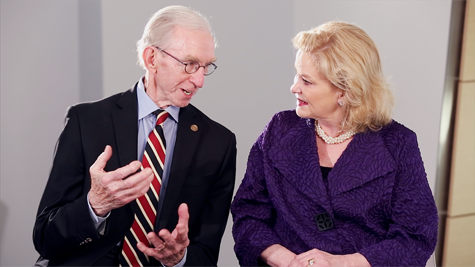 GSC faculty Bruce Harrison and Judith Muhlberg
Georgetown's new Executive Master of Professional Studies in Global Strategic Communications (GSC) program will take students around the world—from London, to Singapore—in less than a year. But this unique and highly innovative program will debut in a more familiar, if equally influential, city: Washington, D.C.
Launching in September, the program is Georgetown's response to a rapidly changing profession that is being transformed by technology, globalization, and a fragmented, 24-hour media environment. For top communications professionals, this revolution creates both challenges and opportunities as they move from more traditional public relations jobs to key strategic and leadership roles within their organizations.
A Program for Emerging Leaders
"The program is geared to prepare people to become top communicators—whether it's in a nonprofit, corporation, or government agency—anyplace around the globe," said Denise Keyes, senior associate dean for the Division of Professional Communications at Georgetown's School of Continuing Studies (SCS).
The program is designed for current and emerging communications leaders who are looking to advance in the profession and assume higher-level strategic roles. Students progress through the GSC program as a cohort, participating in a series of onsite residencies and associated online coursework. This hybrid format enables students to continue to work and earn their degree without career interruptions.
Running September 2–October 25, Module 1: Global Leadership & Communications will orientate the inaugural class to the nuances of today's new communications landscape. The module culminates with a weeklong residency, which will be held in D.C. at the SCS downtown campus, located within walking distance of the U.S. Capitol, the White House, and some of the most influential public relations and communications firms in the country. This residency integrates a crisis communications case study, which will examine the complications that arise within the modern-day communications industry, as well as the tactics today's leaders must employ to successfully address these new and evolving challenges.
Instructors with Global Experience
The instructors for Module 1 are two communications professionals with a wealth of corporate communications experience:
Bruce Harrison, a consultant on corporate public relations issues, was named one of the "100 Most Influential Public Relations Professionals of the 20th Century" by PRWeek. He served as vice president and chief public relations officer of Freeport Minerals Company (now Freeport McMoran) in New York, where he oversaw projects in Europe, Asia, and Latin America. He subsequently founded E. Bruce Harrison Company and EnviroComm International, a consultancy operating in the United States and Europe specializing in environment, health, and safety communication.
Judith Muhlberg has worked as a top public relations executive for several Fortune 500 firms, including Boeing, Sprint Nextel, and Ford Motor Company, where she led all communications strategy and messaging for the automotive business and its 345,000 employees worldwide. As a consultant for Gagen MacDonald, she worked with firms such as BSAF, Mars-Wrigley, and Estee Lauder. She began her career at the White House during the Ford Administration, serving as an aide to two chiefs of staff and, later, as assistant director of the White House Communications Office.
For the class, Harrison and Muhlberg will be using Leadership Communications: How Leaders Communicate and How Communicators Lead in Today's Global Enterprise, a book they co-authored last year.
"We wrote the book for our communications course," Harrison said, "because we couldn't find a textbook that had all the material we wanted to teach."
Gone are the days when a communications officer could put out a news release and wait for the media to come calling, Muhlberg said. With such a proliferation of news operations and messengers, she added, "the role of the chief communications officer has dramatically changed. The goal is to influence the conversation, not control it."