When it comes to running his innovative, cloud-based hospitality business, Social Tables CEO Dan Berger doesn't just want to be a "disruptor"—he wants to be an "obliterator." Instead of simply challenging industry assumptions, Berger wants to redefine the industry itself.
In his interview with Gray Shealy, executive director of Georgetown University's Hospitality Management program, Berger shares the inspiration behind his business, his thoughts on the future of hospitality, and his predictions of the challenges that lie ahead.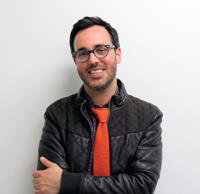 As Founder and CEO of the hospitality software company Social Tables, Dan Berger has been described as a "relentless and focused entrepreneur" and recognized 40 Under 40 in the meetings industry by Collaborate Magazine and Connect Meetings, Event Innovator by BizBash, and named to Successful Meetings Magazine's "Most Influential" list.
Gray Shealy: Was it always your plan to start a company in the hospitality industry? Are you a tech company? Or are you the future of hospitality because you combine all three disciplines into one?
Dan Berger: I was at a Network for Teaching Entrepreneurship (NFTE) event yesterday and a lot of kids got up and said they always wanted be an entrepreneur. That's beautiful, but that was never me. Starting a company was a very organic process for me and it's taken me four years to get here. We started in the meetings and events industry, and ended up in the hospitality industry, which is kind of all-inclusive of meetings and events.
The idea for Social Tables came in 2008. I was going to a wedding in Miami and I didn't know a soul there. I thought, "I could have a much more engaging experience if I could see the seating chart before the wedding." If there were Facebook profiles around a table instead of just names, I'd be able to have a more engaging conversations and more engaging experience.
GS: How would you describe what leadership is? What are the traits of that?
DB: I think really good leaders know when to use different styles. That being said I think the number one skill is being motivational. You have to motivate customers to pay; you have to motivate employees to join you; you have to motivate people like you to have me at an event. It's just a really important trait.
Being able to insert yourself into different parts of the business is really important because you can camouflage to help that part of the business that needs attention. A lot of the skills that are required in leadership are learned; people are not coachable. Sure, I can teach anybody anything; the question is how coachable are you?
GS: Let's talk about the people. I am assuming that your employees are mostly millennials? How do you manage the millennial workforce?
DB: Millennials are interesting – I'm a millennial. It's tough but you have to embrace it because there's no way out. The reason I say it's tough is because there's such tension in millennial management. They want empowerment and they want feedback. There's tension between getting praise all the time and being sensitive. Millennials want to experience something. They want the experience of owning something, without actual ownership. They are not as materialistic as previous generations. Understanding [that] is an important part of understanding millennials.
I find it refreshing to have millennials – it's easy to build a startup and then have a bunch of people want to work there. Most people want to work at a startup at a young age. The key is: how do you get people to work at a startup and understand hospitality? I can make you fall in love with a startup; I cannot make you fall in love with hospitality … or can I?
GS: A lot of people say hospitality is an innate trait.
DB: Right. I think hospitality and entrepreneurship have a lot in common. I just heard the son of Ben's Chili Bowl's founder speak, and he said entrepreneurship is about hospitality because it's about service. When you're an entrepreneur, you make something, and when you're a maker, you're serving other people with what you've made. Hospitality is a service industry; you're serving people. So, entrepreneurship and hospitality actually have a lot in common.
GS: Since "disruption" is all the rage these days with Airbnb and Uber taking the limelight, what is disruption and what makes a disruptor? Do you see yourself as a disruptor?
DB: Disruptor means you take something and you kind of shake it up a bit. I would actually argue Airbnb and Uber are obliterators. They've shattered our reality and done something completely different. Government can't even keep up with technology; they can't even make up regulation in time. I was talking to an Executive Vice President at Interstate Hotels and Resorts over lunch: he was telling me that 5% of hotel stock in New York is Airbnb. New York couldn't regulate it to save their lives. It's past the point of disruption; it's completely obliterated.
My view is obliterate not disrupt. I want to be an obliterator. We're still working on it.
GS: What does Social Tables look like in 5-10 years?
I'm doing vivid vision, which is writing a memorandum to the entire company describing the company in three years. Describing what we smell, what we see, what we hear, what people are saying about us, and providing an extremely detailed look into the company in the future. I can't answer it in detail, but our vision is a world where people get together to achieve great things.
GS: What value has education played in your life, and what would you tell our audience about how your experiences have been shaped by what you learned in a master's program?
I think a good education program teaches you a lot of skills. When you're getting a master's degree, you don't see a lot of value in what you're doing. Then as time goes on, once you get it, you start realizing the value of degree more and more. And only 5-10 years out do you start to see the value in what you did, because anything good is going only to get better after time.
GS: What challenges do you face as a growing company? How do you learn?
We're what I call a "deliberately developmental organization." It's not just a learning organization. That means that everything we do not only promises employees that they're going to become better professionals, but [also that] they are going to become better people. And that's the promise I make to people that come to work at Social Tables: I say it's not going to be the easiest job in the world and you're probably going to have to ask for forgiveness a lot. But we will accept you for who you are and realize that you're constantly trying to become a better version of yourself.
[We are facing the] challenges of an industry that's not always welcoming to the kind of things we're doing, especially the things we're trying to do next. This industry needs a culture change, everything from unethical fads that are going on, to lack of reviews, to lack of third-parties transparencies with intermediaries that don't care about the success of a meeting. There are so many problems in the meetings industry, but we're excited about that because at the end of the day we want to improve meetings and events.
Learn more about Georgetown's Master's in Hospitality Management >>>