Elizabeth DeMeo: From DC Wonk to Screenwriter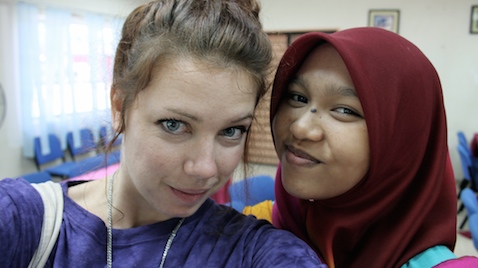 Elizabeth DeMeo, Fulbright Scholar and CCPE student, takes time out from her teaching schedule in Malaysia to pose for a selfie with a student.
---
Elizabeth DeMeo took a screenwriting course at CCPE in 2013 that helped set her life and career on a new path.Currently an MFA Candidate in Fiction Writing at the University of Arkansas, this former DC think tank researcher turned Fulbright scholar received her B.A. in International Studies and Political Science from Johns Hopkins University. We sat down with Elizabeth recently to learn more about her inspiring life and career transition.

Why did you enroll in a screenwriting course in the first place?

I'd never taken a screenwriting course before and was interested in trying my hand at it. I was nervous about signing up given my lack of experience, but I emailed the instructor to ask for his thoughts and he couldn't have been more helpful. He guided me towards some reading I could do prior to the course, and once the course was in session he was great at structuring in-class time and assignments such that they were valuable to students of all levels of experience and ability.
How did your class at Georgetown affect your career?
At the time that I took the Georgetown class, I was working at a think tank during the day. While I loved the people I worked with and was honored to have the position I did, think tank work wasn't the right fit for me. Taking the screenwriting course confirmed to me that I needed to be working a field that engaged me more as an artist and creative mind, and gave me the confidence I needed to begin pursuing writing as a career.
How have you applied what you learned at Georgetown?

Prior to the course, I believed that screenwriting was largely dialogue. I think this is a common misconception, as it's one I often hear from people when the topic of screenwriters is raised (i.e., they all have a natural ear for dialogue which enables them to produce great screenplays). What I learned is that in reality, screenwriting is all structure. Whether you're working with the traditional three acts or aiming for something more abstract, you're always going to be thinking how all of it fits together on a broader, structural level.

As you can imagine, learning how to create structures and architectures for screenplays has given me skills that carry over into all forms of writing. I wrote a play with my best friend Jessica (a fellow writer) after taking the screenwriting course (more on the play is here), and found what I'd learned through Georgetown to be hugely instructive. Similarly, much of the fiction writing I'm doing now involves playing with structure in ways I might not have conceived of had I not taken the screenwriting course.

What are your future goals?

I want to create work that resonates. I believe reading and writing are ways for us all to not only process our world, but also be better people in it, and if I can contribute in some small way to that mission I'd be thrilled. Speaking more concretely, I'd love for my writing to be published, if only for the chance to have more people to read it.

Do you have any advice for others in your field?
Screenwriter Aline Brosh McKenna is one of my heroes, and I love the advice she always gives (not just to screenwriters but writers of all stripes): black marks on white paper. You can discuss writing till you're blue in the face, but really you've got to just sit down and do it.

There are also three resources I'd recommend to anyone working creatively today. The first is a TED talk given by Elizabeth Gilbert, which discusses creative genius and how our conceptions of inspiration and muse have changed over time. The second is a book called Daily Rituals: How Artists Work by Mason Currey, and the last is Anne Bogart's A Director Prepares. While Bogart is talking specifically in her book about theater, her advice spans all artistic disciplines, and hers is perhaps the best book I've read on how to conceive of creative frameworks, boundaries, and challenges.

My last piece of advice for writers is to read—widely and often.