Edelman Employees Win PRCC Outstanding Faculty, Student Awards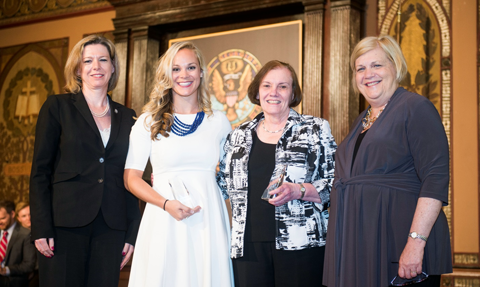 Caity Rogowski (second from left) and Barbara L. Coons (second from right) pose with SCS Dean Kelly Otter (far left) and Denise Keyes (far right) at the Tropaia Exercises.
Barbara L. Coons, an expert in communications research and a senior vice president for Edelman Berland, has received the Outstanding Faculty Award from the Master of Professional Studies in Public Relations & Corporate Communications (PRCC) program at Georgetown University's School of Continuing Studies (SCS).
Caity Rogowski, a senior account executive at Edelman, Digital received the Outstanding Student Award.
Although they both work in Washington D.C., for the world's largest public relations firm—albeit in different sectors—Coons and Rogowski had never met before SCS's Tropaia Exercises on May 13. What they do share is a passion for helping people connect and become better communicators.
"We are proud to recognize Caity and Barbara's accomplishments and contributions to the PRCC program, SCS, and Georgetown University as a whole," said Denise Keyes, senior associate dean for SCS's Division of Professional Communications. "Their dedication to excellence and building a community of talented and responsible communicators is what our program is all about."
Coons said she was "excited, surprised, and also very pleased" to receive the honor.
"I've really enjoyed my teaching experience," she said, "and it was very gratifying to know that my time and effort have been appreciated."
Coons teaches Communications Research Strategies, a course that examines media analysis, competitive intelligence, and crisis and litigation support research.
"I've always been surprised that people don't make better use of research on companies," she said. "I think it makes a huge difference in the overall success of a program and helps you measure progress."
A graduate of Stephens College, Coons holds a master's degree in English history from the University of North Carolina at Chapel Hill and a master's degree in library science from the Catholic University of America.
Rogowski, a Virginia native and spring PRCC graduate, was a standout student at Georgetown and an Ambassador for the PRCC program.
"I really like the flexibility of the program," she said. "I was basically able to build my own degree" by selecting a mix foundational classes and courses that emphasize creativity.
While at Georgetown, Rogowski shared her experiences with prospective students, was a leader on student teams, and encouraged her classmates to engage with the community. In turn, she said, her peers supported her and pushed the entire class to be better.
After starting her career at a nonprofit, Rogowski moved to Edelman while an SCS student. At the public relations firm, she helps develop written content and manages tactical aspects of stakeholder engagement programs.
For most SCS students, balancing graduate school and a job can be challenging, Coons said. But it can also make for some compelling classes.
"Most of the students are working and have experience," Coons said. "And their views on topics make the classes so much more interesting—so much more valuable—because of this hands-on experience."