Nancy Belmont: Living with Courageous Authenticity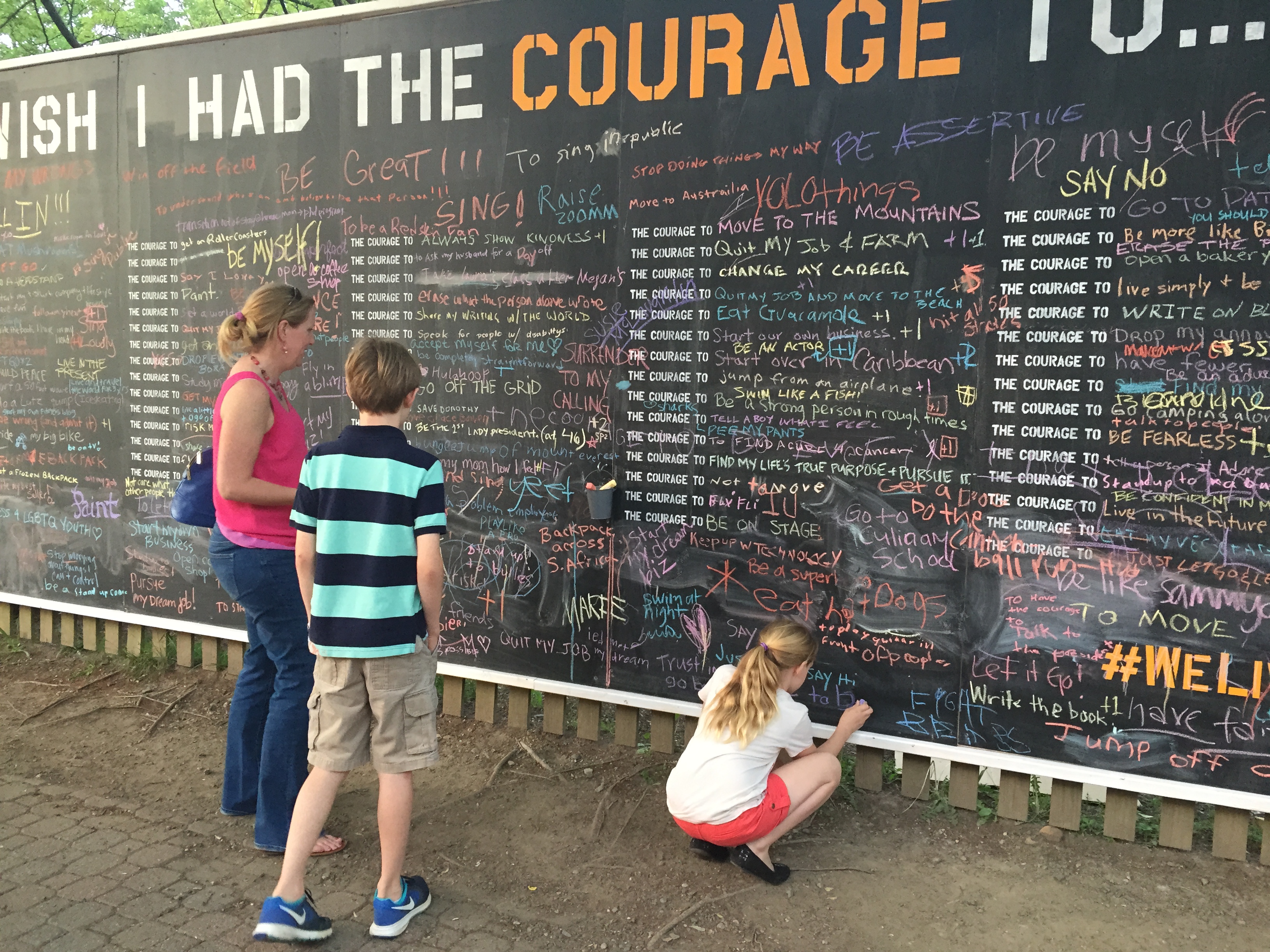 A family fills out their wishes on the Courage Wall. Alexandria, VA, June 2015. #WeLiveBig
Nancy Belmont was a student in cohort 38 of the Leadership Coaching Certificate Program. Since 2000, Belmont has led the brand- and culture-building company, Belmont, Inc. (soon to be Vessence). She works with Fortune 500 executives, SES leaders in the federal government, senior level officers in the U.S. military and executive directors of non-profits as a coach, creative consultant, and team facilitator. She coaches and facilitates groups on how to fully express and live their brand to foster a cohesive, passionate and dynamic workforce. Belmont holds an ACC certification from the International Coach Federation.
---
Why did you enroll in this program?

Sometimes it takes others to show us our special gifts. I was conducting an exit interview with a member of my team on her last day of employment. During our conversation, she said, "Nancy, it seems to me that the part you like most about your job is working with leaders to uncover who they really are and helping them become more of that person. I think you would make a great coach." She had researched coaching programs for me and told me that Georgetown was the best. A week later, I submitted my application. At that point, I didn't know that I wanted to be a coach. I thought the education would come in handy as I worked with leaders. About half way through the program, I realized that I needed to do this work.
How did you get to be where you are now?

After working with countless leaders (and myself) I was driven to raise the consciousness of how fear holds us back from living bigger, bolder, more authentic lives. Inspired by Candy Chang's "Before I Die" community chalkboards, I decided to erect a "Courage Wall" in my neighborhood. This 20' x 8' chalkboard reads, "I wish I had the courage to…" Each day, for a month, the board would fill up with over 100 declarations of courage.

There were entries like "…check into a shelter," "…earn less money," "…forgive my daughter for her drug addiction," "…finish my book," "be the man she thinks I am." People from all walks of life poured their hearts out onto the board. Husbands and wives found new connections. Parents and children learned new things about each other. Strangers cried together.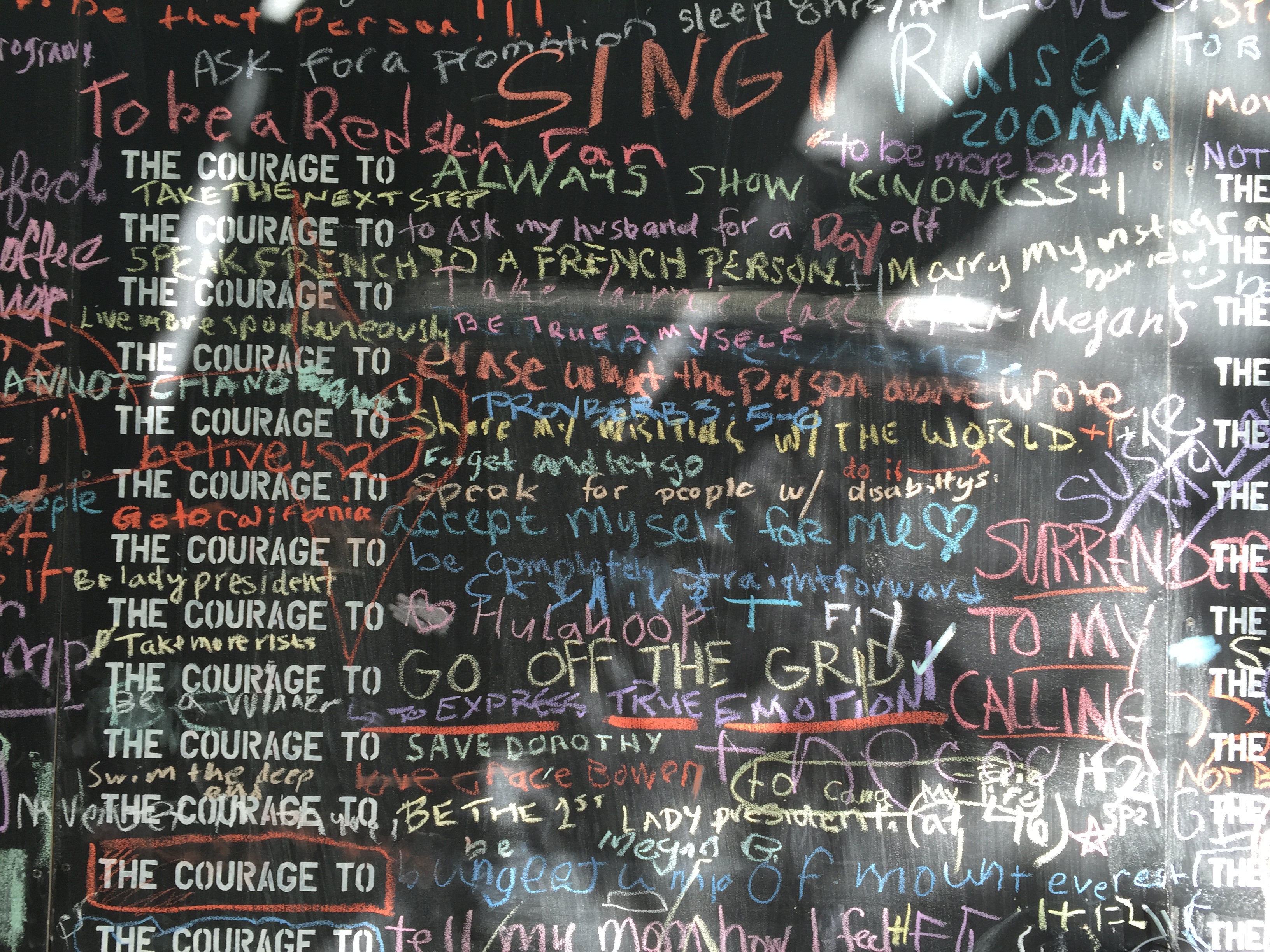 The Courage Wall was so powerful it ended up in the Washington Post, Forbes, ABC and even on the TODAY Show. Aljazeera broadcast the story of the wall around the world to 35 million and even Voice of America Russia did a spot. The global hunger for the courage conversation became very apparent, so I started to work on how I could make it an integral part of my business.

We are in the process of creating Courage Walls for new communities, developing an online Courage Community and launching Courage Conversations events in the near future. We are partnering with non-profits to bring more courage to their constituents and working with teachers to develop Courage Curriculum. Courage, it seems, resonates with everyone. And it's high time we had more of it!

What has opened up doors and opportunities for you professionally over the years?

Whenever I'm acting and speaking from the heart, I find that opportunities simply appear. People can feel the passion I have for helping people live into their most courageously authentic selves. So many times we do things because we think those things will help us succeed. What I've found is that when I do things because I feel enlivened by them, and called to do them, that's when success truly comes. And it's more fun!

What trends are you most excited about in your field?

I'm very excited that leadership is getting a lot of attention, especially women's leadership. When I was younger, I resisted the notion that men and women are actually different. I defiantly stood tall saying that I could do anything a man could do. As I mature, I'm realizing that the natural gifts that come with being a woman are truly different than the gifts that come with being a man. Neither is better or worse, but they are different. It's exciting to recognize this and engage with women leaders on how to live into their female greatness.
How did taking classes at Georgetown affect your career/future plans?

Mid-way through my program, I had an identity crisis. I had been leading a successful branding firm and after a few months at Georgetown, I realized that I wanted to become a leadership coach. I had a hard time reconciling what to do with my company and my career. Thankfully, the coaching program comes with a lot of opportunities to be coached. With some great faculty and peer coaching, I was able to slow down, fully explore my passions and thoughtfully integrate my new skills with my existing experience.

We are about to change our company name to signify the extent of the shift in our focus. Our new company name is "Vessence," which is all about helping individuals and organizations find their "essence" and give it "voice." This "voice" is how the essence is brought to life through words and actions. I feel that my Georgetown experience has allowed me to take my work to a much deeper level, truly helping people live with more courageous authenticity.

The other way in which Georgetown has affected my career is the incredible network of talented, passionate peers I'm honored to know. I've been able to assemble teams of top-notch coaches to conduct leadership development programs and I have a network of support when I need advice. I feel so honored to be a peer to others who have been through Georgetown's Leadership Coaching Certificate program. It's truly a special community.

How did you apply what you've learned at Georgetown in your job or career?

On one of the first days of our program, I remember an instructor talking about how an acorn has all of the potential of the mighty oak tree. At the end of the program, I wrote my final essay noting that during the program, all of us students were acorns, then seedlings and at the end, mighty oaks. Not only were we each tall and strong, but together, we made an interconnected grove of shelter and nourishment. It was now our responsibility to use the knowledge that we learned to help other acorns become strong, towering oak trees.

I think of that often, knowing that the gifts I received from Georgetown cannot stop with me. They must be generously shared with others, so that we may all thrive. I try to bring that intent into every meeting and every encounter I have.

What are your future goals?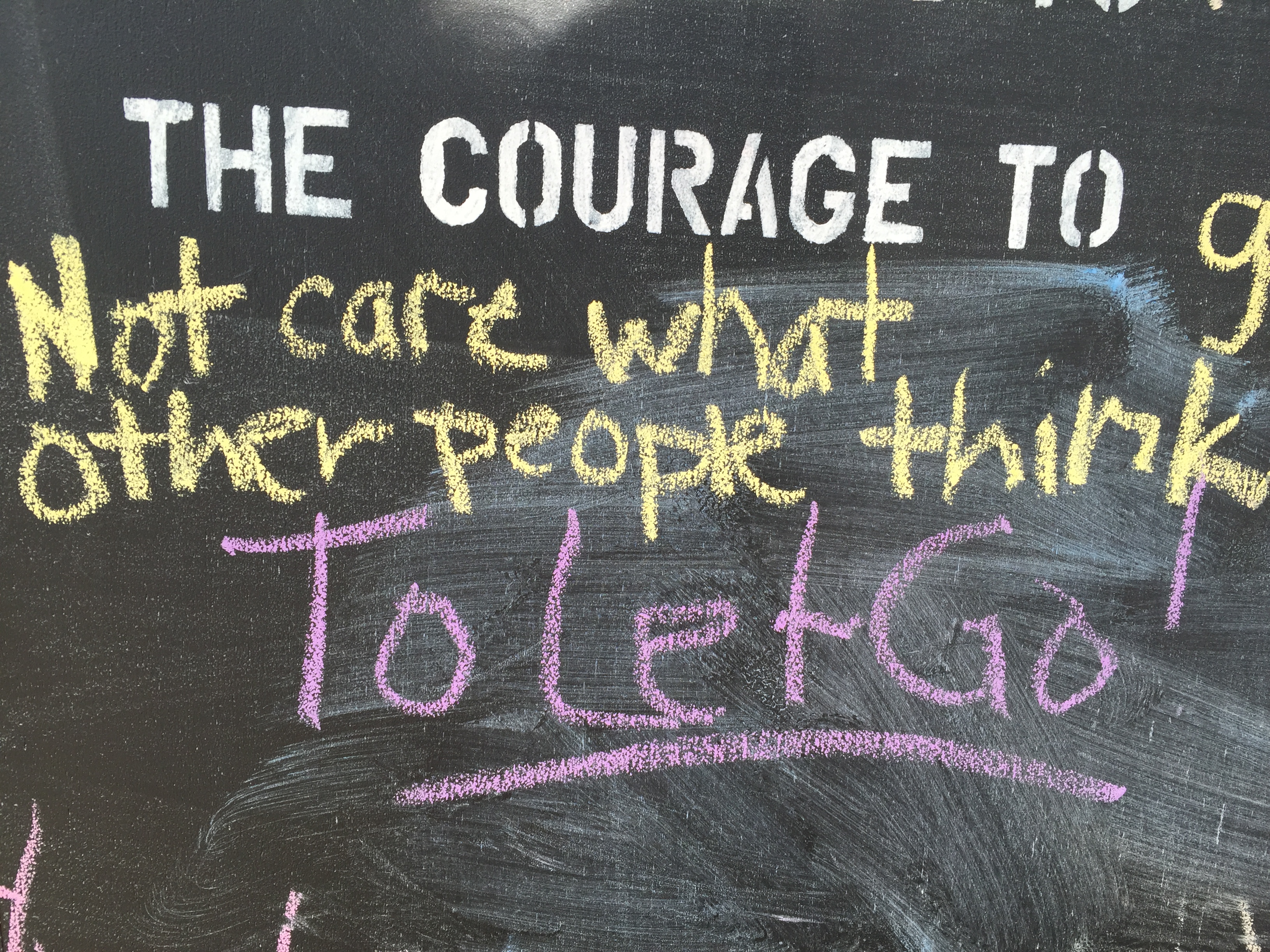 I am very excited about continuing the conversation on courage. I learned some things from the Courage Wall that are important for all of us to remember. First, fear is part of what it is to be human. Fear lives in each one of us; it's the way that we interact with the fear that determines how boldly we live. Second, there is more inside of each of us than we are today. Each of us has hopes and dreams of being more authentic, more impactful, more courageous than we are. I believe that if we can continue the courage movement, individuals, and our world, will be more vibrant, fruitful and alive.
I want to help people of all ages and walks of life become more conscious of the fears that hold them back and I want to make courageous leadership and courageous living something people clamor to model. When we uncover the stories that mask our fears, we see that we have choice. So many times we feel stuck in circumstance, but the truth is, we always have choices. I want to create a community of support and tools for people to step into their biggest, boldest, most courageous selves.
Do you have any advice for others in your field?

Coaches often make an impact one-on-one, working with clients. During this process, many of the same themes appear from client to client. Pay attention to those themes and consider bringing them to light for more people to see. The Courage Wall was a reaction to hearing clients (and myself) say over and over again that they couldn't possibly be more of who they are because they were afraid of what would happen if they did. When you hear these themes, they are human themes. If you can find a creative way to share these insights on a bigger scale, your impact multiplies!