Early Intervention Celebrates a Successful Cohort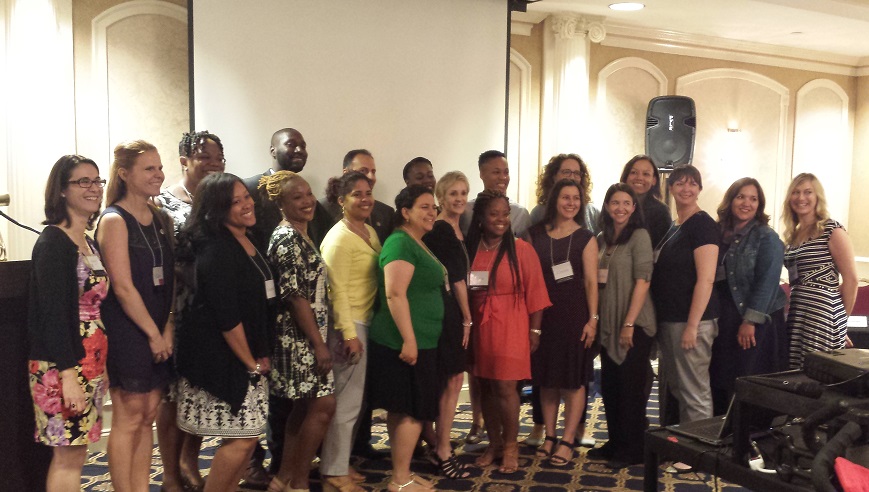 The Early Intervention Certificate program recently honored the students who completed the Fall 2014 program with a gala luncheon on June 19, 2015. The event was held at the Holiday Inn Georgetown and was part of a day-long conference hosted by the Georgetown University Center for Child and Human Development, University Center for Excellence in Developmental Disabilities (GUCCHD). Participants included alums, faculty, and early intervention practitioners from the DC area.

Professors Rachel Brady and Tony Long, directors of the Early Intervention program, welcomed attendees. Dr. Long announced that a new award had been created in the name of Geraldine P. Waldorf, who was a longtime friend and champion of the Center. Dr. Phyllis Magrab, Professor of Pediatrics, and director of GUCCHD had the honor of presenting the first Geraldine P. Waldorf Making a Difference Award to Shileta Gorham. Ms. Gorman currently works at the DC Center for Independent Living (DCCIL) and coordinates the Youth Empowered to Succeed (Y.E.S.) program, a 10-week youth-peer support group. As a youth, she had been a participant in that program. She gave a heartfelt thank you to everyone who had helped her over the years.
Jackie Proctor, Public Health Analyst at the D.C. Department of Health, and Program Officer of grant that provides tuition support to certificate program students, congratulated the participants on their accomplishments. Ms. Proctor told the audience how pleased the Department of Health was with the Certificate Program. Becky Hoven, assistant director for program operations, who congratulated certificate students on behalf of CCPE, and noted that this program was a great representation of Georgetown's Jesuit values, especially Men and Women for Others and Cura Personalis.

Jamie Holloway, faculty and group mentor, presented the cohort poster award to students, Gali Aviam-Graver, Christy Chase, Lindsay Ferrer, and Irene Opuka, whose project was A Training Needs Assessment of DC Early Intervention Providers. During their capstone projects, student groups created a poster to illustrate their projects. Other projects included Developmental Screening for Very Young Infants in Sharjah, UAE; Gathering Information About Young Children: What We do and How We Do It; Media Use for Young Children; Reliability of Goal Functionality Scale III; and Self-Assessment in Early Intervention.

The day-long conference and celebration is the culminating activity for the Certificate Program. The conference highlights nationally known speakers discussing contemporary topics related to children with disabilities. The conference also highlights the success of the Certificate Program participants. After the celebration, participants gathered for conference workshops.

--
The Certificate in Early Intervention prepares evidence-based service providers and professional leaders to advocate for infants, toddlers, and young children with disabilities or delays to receive community-based services and supports. For more information on this ten-month program, click here.