Faculty Highlight: Shashi Bellamkonda ‒ Marketing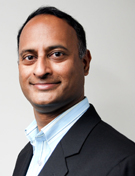 Shashi Bellamkonda, speaker and digital marketing expert, is the Chief Marketing Officer at Surefire Social. Known as the "social media swami", Bellamkonda has been featured and/or published in more than fifteen books on social media. He is passionate about helping small business and speaks at conferences on multi-location digital marketing and online lead generation. He is an experienced speaker, serving as keynote at national and regional small business, communications and marketing conferences.
In 2012, Bellamkonda was honored with the Washington Business Journal's Washington Minority Business Leader award. He was previously featured in Washingtonian's Top 100 Tech Titans list and called the Social Listener by the Washington Business Journal. He teaches Search, Social and Mobile Marketing (XCPD-732) and Marketing Analytics (XCPD-737) in the Marketing Certificate Program.
What do your courses cover?
In Search, Social and Mobile, we discuss how new channels of communication in social media can affect your business goals and how to craft a strategy to use this media for your online presence. This course brings home the message that your online presence is more than just your website. Students are usually able to take the strategy they create in this class back to their workplace.
Marketing Analytics is a perfect complement to my other course. Several students take both these courses and I am delighted to work with them for an extended period. Marketing Analytics covers strategy, tools and ways to get metrics, overcoming challenges to attribution. In both the classes I get executives and business owners to come in and talk about their successes and challenges which is very popular with the students
What is your career story? How did you get to be where you are now?

My career started in the hospitality industry. I firmly believe that you learn a lot when you have a job interacting with people. From hospitality to technology and marketing was a great progression. Always educating yourself is a lesson that I would like to share with everyone and knowledge not shared is lost forever. Here is quick video produced by the Washington Business Journal that you may like https://www.youtube.com/watch?v=R-tLjMLIF58.
Only you can determine what you can achieve and you have to will it, think about it all the time and keeping it in your thoughts will manifest itself in real life.
What has opened up doors and opportunities for you professionally over the years?
The keyword I would like to use is "Initiate"—there are several times in life where you may face the best opportunity and not know it. Reach out outside your normal network to find people to learn from. I have used my time before work and after work to learn from others. Volunteer to speak at schools, career days, local community events. You usually have a POV or experience story that will be useful to others.
This may sound very strange but sometimes being altruistic more than strategic could lead to opportunities that you were not aware of.
What trends are you most excited about in your field?
The web and the internet have leveled the playing field. A vast open canvas on which you can paint your picture has opened doors to a lot of entrepreneurs. But it is 2015 and talking about the benefits of the internet seems so cliché. Yet the important theme here is that you have to constantly educate yourself. Your world may change not because of your efforts but due to a change in the surrounding environment. Tech companies like Uber have changed the lives of many folks— customers and competitors—so having an ear to the ground is good. Always be aware of factors that are not within your line of sight that could affect you.
What developments or innovations do you feel need to happen in your field?
For small businesses it is a challenge to find time to do digital marketing and also determine the best way to determine the results of their marketing efforts. Many companies are working to make these challenges easier. We recently launched a new tool called SurePulse that will help small business evaluate the state of their marketing and give them actionable steps they need to take to succeed with digital marketing.
Do you have any advice for professionals in your field? What about those looking to find jobs in your field?
Publish your stories, writing about them or through videos and pictures. Every time you share something of value, you are placing bricks in your mansion of success. Constantly look to learn and interact with like-minded community members using online and offline events. Keep all your public facing profiles updated specially the ones that come up high on Google searches for your name.
What are the most challenging and rewarding parts of your job?
Getting to know the way that customers think, mapping the customer journey and making sure that you provide value at every stage of the customer s path to purchase are key challenges. I love working with a great team. Making them succeed and achieve greatness is the best reward.
Who is your greatest inspiration?
Tom Peters, Dale Carnegie and Mahatma Gandhi. The belief and confidence you have in yourself helps you achieve greatness. Every day you have an opportunity to make yourself better. I love people and learn from everyone's experience and knowledge.
What do you do that creates a strong learning environment for your students?
Using real life examples and asking students to create case studies around their experiences. Making sure they connect with each other and continue to be part of the Georgetown community.
We strive to infuse values of The Spirit of Georgetown into everything we do. Which Jesuit value speaks to you most?
This value is probably the most common across many religions. Educating the Whole Person - St. Ignatius of Loyola, founder of the Jesuits, believed that God is to be found in every human endeavor, in every facet of learning and experience, and in every field of study.