Journalism Alumni Profile: Diana Eromosele
Meet Diana Eromosele (G'13, Journalism)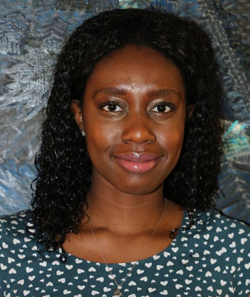 Diana Eromosele (G'13)
@lecturestobeats
"I'm all about finding the common interests that drastically different cultures and communities share. I want Americans to care about a contentious divorce that's happening on a farm in Kenya, and how the couple is trying to reconcile"
We are proud to feature Diana Eromosele as our August Alumna of the Month. Diana is a staff writer for The Root, where she writes about trending topics and stories covering black Americans and people of color all over the world. Her journalism career launched at Georgetown where she was immersed in the CNN Newsroom for her first journalism internship. Read more about how Diana stays up-to-date on news around the world and and where she sees herself in the next five years.
MPS Journalism: Why did you choose to attend Georgetown's Journalism program?
Diana Eromosele: I was working in the communications department at a non- profit, but I quickly realized that instead of drafting press releases and media statements, I wanted to be on the other side of the table, asking the hard- hitting questions and shedding light on stories and current events that I found compelling.
Since I was working in Washington DC at the time, I checked to see if any of the prestigious schools in the area had graduate journalism programs, and I was very happy to see that Georgetown did. Plus, I was ecstatic to find that Georgetown's journalism program was set up for working professionals, so I was able to work full-time and attend classes in the evening.
MPS JO: Tell us how your degree from the Journalism program has helped you in your current job and tell us what you do?
DE: I switched careers from communications to journalism, so I never had a journalism internship—a necessity in this business. The majority of journalists start off with internships and that's where you'll publish some of your first clips to build up your portfolio. Most news outlets want their interns to be enrolled in either an undergraduate or graduate program, so enrolling in Georgetown's journalism program made me eligible for an internship with CNN.
At CNN, I published approximately two dozen articles about the 2011 Republican presidential primaries, which gave me a huge advantage when I started to apply for full-time journalism gigs.
In my current job as a staff writer for The Root, I write about trending news topics and stories that would be of interest to black Americans, and really, black people living all over the world. I pitch, write, co-edit and help manage the copy-flow of a 10-person editorial team that pumps out approximately 15 articles every day. My pieces come in many different forms: feature articles, aggregated news clips, Q&As, listicles, slideshows and personal essays. They all shed light on how culture, politics, social media and race impact black people worldwide.
Every now and then, I produce and host video interviews for our video hub, The Root TV. Here's a quick reel of my on-camera interview work: https://vimeo.com/127775079
MPS JO: What surprised you most about the journalism career path?
DE: Most people get into journalism because they have a story to tell, an axe to grind, a series of opinions to get off of their chest, or they take pride in their thoughts, and want people to read them. But understand that once you tell that story (or stories), and once you make all of the arguments you've wanted to make, you're still responsible for reporting the news—whatever the topic might be. However dry or mundane the news may be. After a while, I'd say about 70 percent of the work you'll be doing as a journalist is stuff that you may not want to write or report. That's what differentiates long-term/full-time journalists from momentary journalists, or freelancers. You have to have a tolerance for writing and reporting about things that may not necessarily interest you. That's something that I've come to realize and that surprised me. I always encourage people who say they're interested in journalism to figure out which camp they fall in—quickly.
I'm also surprised by how transferable my journalism skills are. I've taken on quite a few freelance gigs (you'll need them to supplement the low salary you'll likely earn in the beginning of your career), and I found that knowing how to write, but more importantly, being able to understand material very quickly, and then convey that material to someone else in layman's terms, is such a useful and coveted skill in these times. It has served me so well, that ability to learn the in's and out's of a topic, and then teach it, so to speak, to another audience. Journalists take information and make it simple and digestible for people. Every single field on Earth needs people who know how to do that. So journalists, take your skills and seek out that kind of freelance work. It'll come as a breeze to you.
MPS JO: What's the most memorable piece you've published and why?
DE: My "black in Cuba piece" in January where I interviewed black Cubans and asked them to shed light on how "race" works in Cuba, as opposed to how it works in the U.S. I wanted to know how they thought race- relations and colorism on the island might change when American influences start trickling into the island (now that the U.S. has restored diplomatic ties).
It was one of The Root's most trafficked pieces earlier this year, and it embodies the kind of stuff I like to explore in my work. My pieces are kind of like a conduit between the different kinds of black cultures and communities that exist worldwide. I'm a first- generation African- American (literally, my mom and dad are from Ghana and Nigeria, respectively) and so I've always been a conduit between developed and developing nations. Despite how small our world is getting because of social media and technology, there's still this barrier between both worlds, but yet, we have so much in common. There's so much that goes unsaid and unreported between both regions. Not to mention all of the lovely and interesting stories happening in small communities and villages that go untold. I want to tell those stories and my Cuba piece demonstrates that kind of work.
MPS JO: You have a video blog. Tell us more about it and where you hope to take it in the future.
DE: I use Lectures to Beats (L2B) as my central digital hub to house all of the video interviews I host and produce for The Root TV, my major articles that I want future employers to have access to readily, and other fun video work that I film and produce. For instance, I'm fascinated with the concept of marriage and relationships, and so I interviewed a few couples therapists and asked them to talk about the advice they would give to popular, fictitious relationships on TV. I picked Carrie and Big's relationship from the HBO series Sex and the City, and then Martin and Gina's relationship from the sitcom Martin. I love it when experts shed light on stuff going on in entertainment or TV, so my L2B works represents the kind of hard and soft news that I like to cover.
MPS JO: What is your dream job?
DE: Sitting on a panel at a talk show like The View, or hosting my own show, like Wendy Williams or Chris Matthews. In fact, that's how I would describe my style of talk, a combination between those two media giants. I come alive when I get in front of the camera, but not for local news broadcasts, but for interview-style formats where I can speak to newsmakers about interesting and under-reported things going on in the world. I have a knack for getting people to open up about the aspects of their lives that allows them to speak insightfully about a topic or experience. I have great, memorable conversations with people when they open up, and I think they all should be documented on camera—lol. Plus, I adore comedy and I think that nearly every issue can be discussed with a healthy amount of jest. I'm all about finding the common interests that drastically different cultures and communities share. I want Americans to care about a contentious divorce that's happening on a farm in Kenya, and how the couple is trying to reconcile. I mean, aren't you intrigued already?