Spring 2015 Speaker Series: The City Disrupted
Brought to you by the Georgetown University Master's in Urban & Regional Planning Program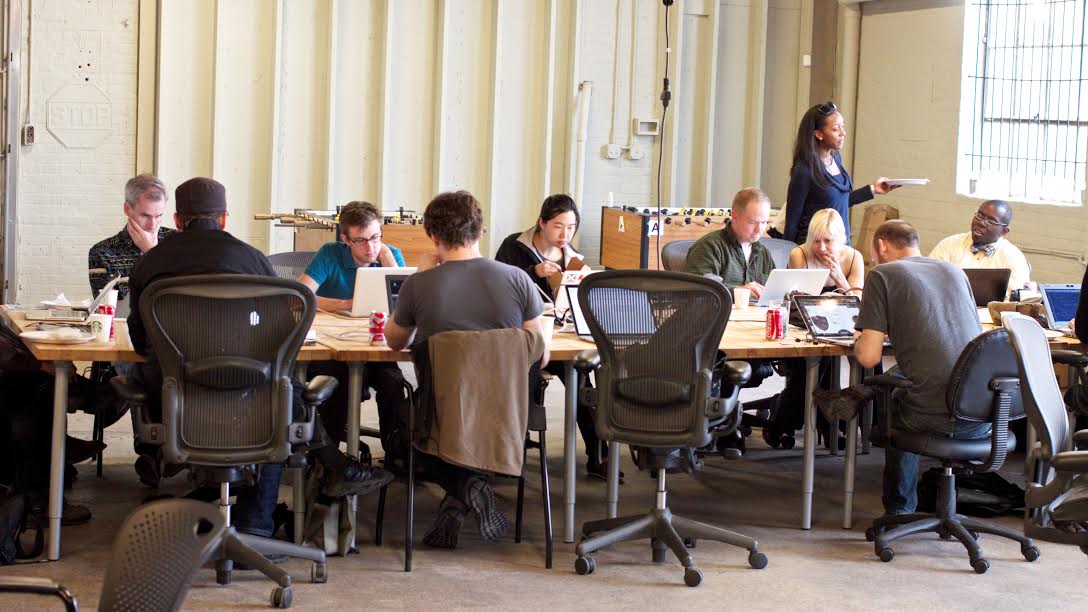 Members of Code for DC gathered at a recent hackathon. Technology, innovation, and social engagement are disrupting systems across governments and industries. (Photo Credit: Code for DC)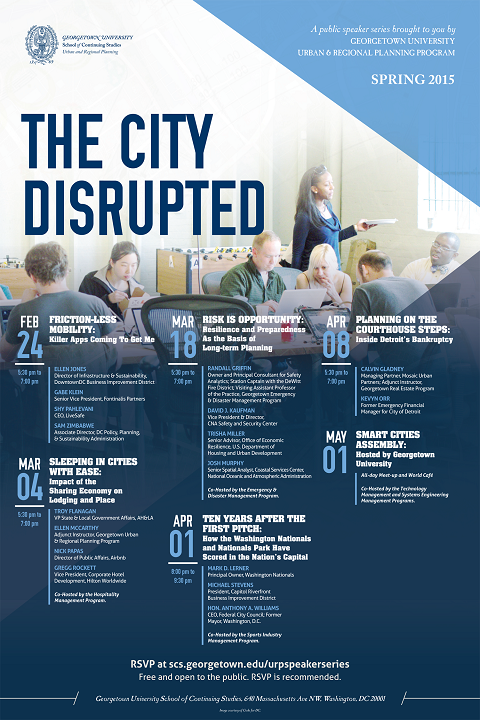 The Urban & Regional Planning program is proud to present its Spring 2015 public lecture series, The City Disrupted. Building on last fall's exploration of large urban investments, the spring lectures explored short-term transformations in cities driven by the impacts of new technologies, shifting economies, the environment, new social networks, or governance.
Stakeholders from across the university and the community participated in a series of dialogues that sought to answer the question: Where does community stewardship reside in the disrupted city?
---
Friction-less Mobility: Killer Apps Coming To Get Me
Ellen Jones, DowntownDC Business Improvement District
Gabe Klein, Fontinalis Partners
Shy Pahlevani, LiveSafe
Sam Zimbabwe, DC Policy, Planning, & Sustainability Administration
---
Sleeping in Cities with Ease: Impact of the Sharing Economy on Lodging and Place
Troy Flanagan, Local Government Affairs, AH&LA
Ellen McCarthy, Georgetown Urban & Regional Planning Program
Nick Papas, Airbnb
Gregg Rockett, Hilton Worldwide
Co-Hosted by the Hospitality Management program.
---
Risk is Opportunity: Resilience and Preparedness As the Basis of Long-term Planning
Randall Griffin, Safety Analytics; DeWitt Fire District; Georgetown Emergency & Disaster Management Program
David J. Kaufman, CNA Safety and Security Center
Trisha Miller, U.S. Department of Housing and Urban Development
Josh Murphy, National Oceanic and Atmospheric Administration
Co-Hosted by the Emergency & Disaster Management program.
---
Ten Years after the First Pitch: How the Washington Nationals and Nationals Park Have Scored in the Nation's Capital
Jim Dinegar, President and CEO, Greater Washington Board of Trade
Mark D. Lerner, Washington Nationals
Michael Stevens, Capitol Riverfront Business Improvement District
Hon. Anthony A. Williams, Federal City Council; Former Mayor, Washington, D.C.
Co-Hosted by the Sports Industry Management program.
---
Planning on the Courthouse Steps: Inside Detroit's Bankruptcy
Calvin Gladney, Mosaic Urban Partners; Georgetown Real Estate Program
Kevyn Orr, Former Emergency Financial Manager for City of Detroit
---