Voters Ask 'Who Has My Back?' When Choosing a President, Experts Say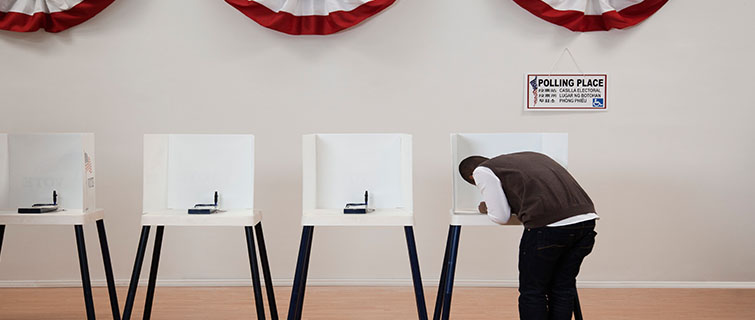 In this age of the angry candidate, which presidential hopeful will prevail? The answer might surprise you...
This question was recently explored in "Talking Politics: The Road to the 2016 Presidential Race," an election forum co-sponsored by two Georgetown University groups: the Master of Professional Studies in Journalism program and Institute of Politics and Public Service (IPPS).
"We still tend to support the candidates that make us smile, rather than the candidates that make us mad," said panelist Mo Elleithee, Executive Director of IPPS and a former Communications Director for the Democratic National Committee.
The other political experts on stage during the September 29 event more or less agreed, which is ironic considering that they spent much of the evening discussing the many ways in which angry, "outsider" candidates have themselves utterly disrupted the 2016 presidential race.
"Five months ago, people like me were saying, 'we've got a great team,'" said Republican pollster and Daily Beast columnist Kristen Soltis Anderson, referring to the large field of GOP contenders. "All of a sudden, your very best field is being completely drowned out by Donald Trump and Ben Carson."
The numbers back her up. According to panelist Brooke Brower, Executive Producer of Chuck Todd's new MSNBC program "MTP Daily," a recent poll showed that, together, Trump, Carson, and former Hewlett-Packard CEO Carly Fiorina were preferred by more than half of Republican voters.
Their counterpart on the left is Vermont Senator Bernie Sanders, whom Elleithee called "the voice of angry Democrats wanting to be heard."
A Distrustful Electorate
Elleithee was also joined by CNN Political Director David Chalian, an instructor for Georgetown's Journalism program, and moderator Jefferson James, a Journalism student and president of SCS's chapter of the Society of Professional Journalists.
Given the mood of the electorate, it's not hard to see why outsiders are so popular.
"Government, religion, the media—all these institutions are at record low levels of trust," Soltis Anderson said.
A volatile disrupter like Trump might ride this mistrust and anger for a while, but those who end up going to the White House have a consistent, positive, forward-looking message, Elleithee said: Think Bill Clinton in 1992, George W. Bush in 2000, and Barack Obama in 2008.
"Ninety percent of voters don't vote on policy," Elleithee said. Instead, they ask, "Who has my back?"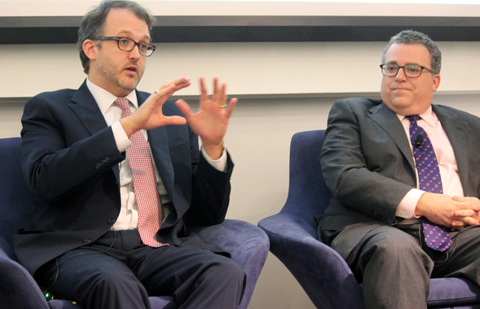 Brooke Brower (left), an Executive Producer at MSNBC, discusses the presidential race with CNN Political Director David Chalian.