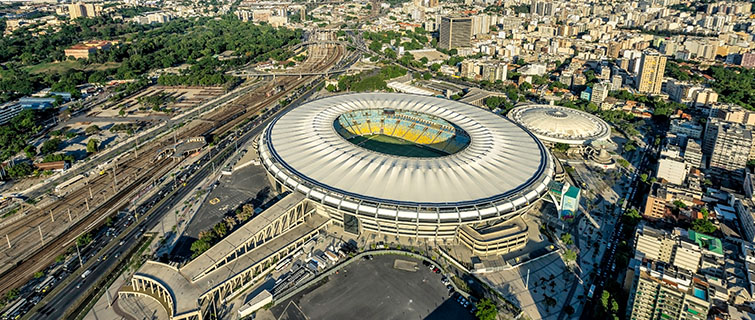 There's no award for "Best Sports Town on the Planet," but if there were, Brazil's second-largest city—beautiful Rio de Janeiro—would have to be a contender.
Why Rio? Well, how many cities can boast that they helped sponsor the FIFA World Cup one year (2014), then scrambled to host the Summer Olympic Games two years later?
Georgetown University's master's in Sports Industry Management (SIM) program has long noted Brazil's importance to the world of sports. That's why it has formed close relationships with academic and sports leaders throughout the country. It's also why the program recently sponsored its third weeklong trip to Brazil as part of its Brazil International Immersion Course.
"There is no university or program in the world that can match what we do," said sports entrepreneur Jimmy Lynn, co-founder of Kiswe Mobile and Special Advisor to the SIM program. "And this is built on relationships we have developed since 2008."
The 16 students didn't just visit this city of more than 6 million; they met with some of Brazil's top sports officials, including the COO of the Rio 20016 Summer Olympics and the Secretary General of CBF, the Brazilian Football Confederation.
"This is the sizzle that makes our program different," Lynn said.
How important is football ("soccer" in the United States) to Brazilians? Consider this blog post by SIM student Alex Marsh: "There is no fan base in the U.S. that compares to what we saw this week. Being a football fan is ingrained in their culture. It is in their blood. It is in their bones. They live and breathe football to a level that I just cannot fathom. It is remarkable to see the love each and every one of them has for their own club, and for the Brazilian National Team."
A Spectacular—and Challenging—Olympic Site
Rio promises to be a spectacular site for the Olympics, but it has significant problems to address, from horrendous traffic jams, to a main stadium that needs retrofitting, to seriously polluted waters in the areas designated for sports such as rowing and sailing. One might expect a group of students to receive a whitewashed report on these problems in their meeting with a top Olympics officials. But perhaps because of the openness of the Brazilian officials and the knowledge and professionalism of the SIM students, the opposite was true.
"He answered all our questions head-on," said SIM student Nicholas Booth.
Meetings with High-Level Officials
The students also met with the NBA Deputy Commissioner Mark Tatum, who was in the country to talk about the NBA Global Games, which brings NBA teams to other countries. During this meeting, students had the rare opportunity to sit courtside for a game between the Orlando Magic and the Brazilian club Flamengo. At FGV, one of Brazil's top business schools, students met with the Deputy Dean and heard a 90-minute presentation by Project Manager Andre Coelho on the "Legacy of Sports" in Brazil, which analyzed the impact of last year's World Cup and the upcoming summer Olympics. FGV is a partner with Georgetown's McDonough School of Business.
There was also plenty of sightseeing weaved into the trip, including a gondola excursion up Mount Corcovado to its world-famous 125-foot statue of Christ the Redeemer and other outings that incorporated Brazilian music, culture, food, and history.
"I haven't really traveled that much outside the United States," Booth said, "and it was really eye-opening to see how another country does business."