A Glimpse into the 2016 Consumer Electronics Show (CES)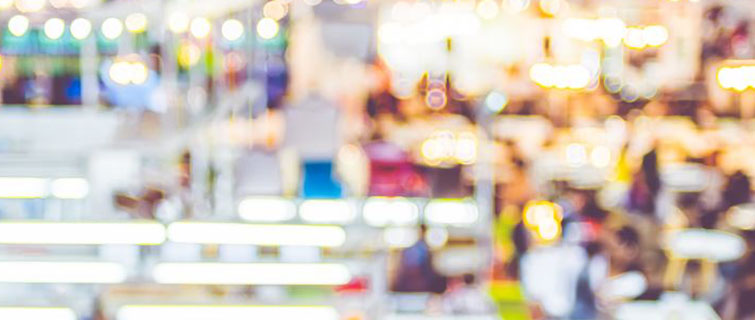 Every January, as most of the nation fights the cold and inclement weather, the consumer technology industry travels to the desert of Las Vegas, Nevada to show off what's next in the innovative world of technology. Entering its 49th year, the Consumer Electronics Show (CES) allows the industry to connect and consumers to test the products that will soon be available to them. Georgetown University's Master of Professional Studies in Technology Management program will be represented at this year's conference by Associate Dean Dr. Beverly Magda, and Program Advisor Tom Campbell, who was recently inducted into the Consumer Technology Association's (CTA) Hall of Fame.
On Tom's last visit to the east coast, he stopped by the Georgetown University School of Continuing Studies (SCS) downtown campus to discuss what's coming at this year's CES.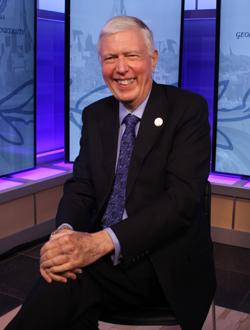 Tom Campbell, Program Advisor, Global Technologist, CTA PAC Board Member and Board of Directors Video and Audio Centers, Advisory Board Member for Safe Communications.
"I know one of the biggest innovations this year is going to be emerging 4K Ultra HD TVs," Campbell explained. "Several new technologies are on the forefront, including ATSC3.0, which is a new technology. High Dynamic Range (HDR), a product that was generally only used in movie theaters, will also be coming to home TV."
Campbell described that "larger screens are what the consumer is looking for, as now a 65-inch TV can fit in a 55-inch space with edge-to-edge picture and less of a bevel surrounding the screen."
These products are already in the School of Continuing Studies' LG Digital Studio, which features six LG 84-inch 4K Ultra HD displays and custom robotics that place the studio at the cutting edge of consumer electronics.
Looking to the Next Innovation
This year's CES will be the largest show in its 49-year history, and the event has become the largest industry trade show in the United States.
"Larger screens, thinner screens, and a visual experience that you have never seen before," are Campbell's predictions for the major trends that will be seen at this year's show. "Not more pixels but smarter pixels. Organic Light-Emitting Diode (OLED)-powered TVs and Smart Ultra 4K—which allows users to stream in 4K quality from Netflix, Hulu, Google, and Amazon—are really going to bring the consumer experience forward this year."
CES will also be showing off young entrepreneurs and their new ideas at Eureka Park which this year is sponsored by the National Sciences Foundation (NSF). It was just a two years ago that Oculus Rift was featured in Eureka Park before being purchased by Facebook last year.
"Virtual reality will continue to lead the show and Oculus remains at the forefront of this cutting-edge technology," Campbell stated.
The Far-Reaching Effect of Technology
Other sectors that will be debuting their innovative products this year are the auto industry, where every major American brand will be in attendance; movie studios, which are helping to drive consumer sales through content; and software and wearable providers.
In the Internet of Things department, the internet-enabled refrigerator is no longer a pie in the sky idea, but now a reality. "The automated shopping list is here now; it is no longer a dream," Campbell explained, adding that he believes integration is now a focus of the major electronics makers.
A new product entering the market is cosmetic tech. "A mask can be applied to the face that contains a laser- and LED-based technology to remove wrinkles, reduce acne, improve looks, and work as an anti-aging device," said Campbell regarding a new consumer product. Finally, Campbell said the 3D printer, now a staple of CES, will be replaced as the crowd pleaser by robotics. Several global companies have made some unique robotics products over the last year and will be showcasing them at CES.
Campbell believes that this year's event is not only going to be one of the most exciting in recent memory, but also that technologists are playing a driving role.
"There is tremendous opportunity for technology management expertise in the consumer field and companies are actively begging for talent in this sector. The distribution of technology and the management of these products are great opportunities for students to break into this field!"
---
To learn more about advancing your career in the technology industry, visit the Georgetown University master's in Technology Management website.