Real Estate Capstones Show Ambition, Imagination—and Lead to Jobs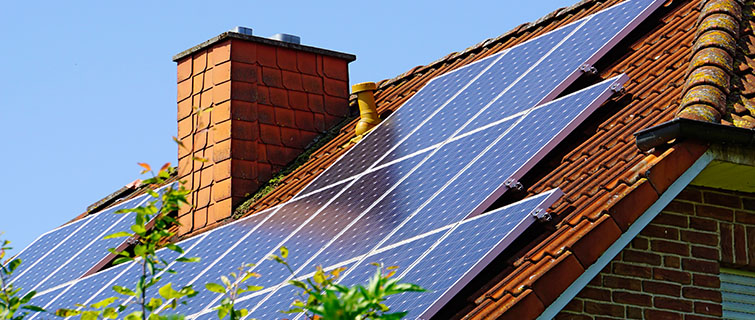 Imagine a home that produces at least as much energy as it consumes—one that, over time, provides the owner with zero net energy costs, or even a small profit.
Anton Sibrin and Meghan Walsh, students in Georgetown University's Master of Professional Studies in Real Estate (RE) program, haven't just imagined this scenario. In a 305-page capstone thesis they conceived and developed over 18 months, they make a strong case that such homes can indeed be built on a significant scale—if builders, home buyers, and others get past some deep-seated notions about what a house ought to look like and how it should function.
"We surprised ourselves with the amount of energy we could have generated," Walsh said "If we could power five times the energy needs of a home, we could power a whole community."
'Ambitious and Worthwhile'—and Propelling Careers
Judging by the variety of recent capstone projects, Georgetown's students have no problem coming up with ambitious ideas.
Graduate of the Real Estate program Stefanos Arethas wrote his capstone on the commercial mortgage backed securities (CMBS), real estate investment trusts (REITs), and the financial crisis. He was subsequently hired by Moody's Investors Services as a CMBS/CREF Ratings Analyst, and now currently works at Credit Suisse. "The capstone project was the entry point that ultimately led to deeper conversations and provided the appropriate exposure that I would not have otherwise had on my own," said Arethas.
Another recent capstone—authored by Christopher DiBitetto, a 2013 graduate of the program—was published in April 2013 by the Association of Foreign Investors in Real Estate (AFIRE). On internationally invested Sovereign Wealth Funds, the paper argued, with supporting evidence from various investor nations, that removing capital gains through the repeal of the Foreign Investment in Real Property Tax Act (FIRPTA) on foreign real estate investments could boost the U.S. real estate market and reduce the budget deficit. "My capstone provided a launching pad for my career," Chris said, who, shortly after having his paper published, was hired by Colliers International and began advising several foreign investors on FIRPTA and domestic real estate investment opportunities.
"We try to push the students to do things that are ambitious and worthwhile, not the obvious," said RE instructor Glenn Williamson, Owner and Managing Director of Amber Real Estate LLC, a real estate advisory firm specializing in emerging markets in Washington, D.C., and Europe. "Ideally, the best capstone is when they want to do the project they wrote about."
Challenging the Status Quo
As for Sibrin and Walsh, both came to the program with experience in building-related issues. Sibrin, who is originally from Russia, has a background in construction management and works for the Berkeley Research Group. Walsh is a Senior Architect for the U.S. Department of Agriculture's Rural Housing Service.
Their capstone begins by looking at the financial predicament of many retirees and other Americans who must spend much of their income on housing. It explores the science behind Zero Net Energy (ZNE) modern construction methods and how ZNE homes could significantly reduce costs for developers and homeowners. Although nascent, the high performance building trend is poised for quick adaption; however, a behavioral learning curve is still required for future tenants and owners. Additionally, it shows how current housing and zoning procedures often frustrate green-building efforts. And finally, it explains how these practices evolved by looking at the history of American housing styles—from Monticello, to Levittown, to today's McMansions—and the rationales behind them.
Sibrin and Walsh said their background—his in construction, hers in home design—plus the financial and other knowledge they gained from the RE program made their proposal possible.
"For both of us, it was a culmination of what we were studying," Walsh said, "but also what we brought to the program."