Systems Engineering Program Attracts Diverse Talent, Big-Picture Thinkers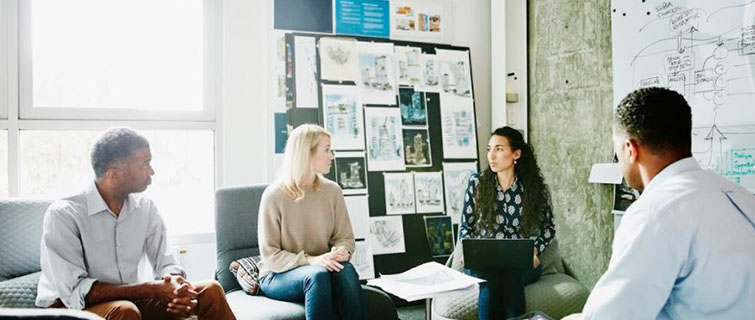 Michael-David Lamos learned Suzuki piano as a child and later played safety for Catholic University's football team. Those activities, coupled with his baccalaureate in mechanical engineering, were excellent preparation for Georgetown University's Master of Professional Studies in Systems Engineering Management (SEM).
Kevin Uffelman is also a SEM student, but he majored in history, not engineering, at Virginia Commonwealth University. A few years ago, he interned on an archaeology project, categorizing and restoring bones from a deteriorating Native American burial pit for a later, more dignified, interment.
Archaeology, as it turns out, is also great preparation for systems engineering.
"I like to do things that interest me," Uffelman said. "I like to say, 'When I figure out what I want to do when I grow up, I'll tell you.'"
A Different Way of Thinking
What do these disparate activities—studying piano, playing safety, working in archaeology— have in common with systems engineering? To do them—to do them well—you have to not only understand the details, but more importantly, be able to think about these components in a big-picture context. In other words, you have to think like a systems engineer.
A great systems analyst "thinks about the whole and not the parts," said Wilson Felder, Distinguished Service Professor at Stevens Institute of Technology and an instructor in the SEM program, on a panel discussion at the School of Continuing Studies (SCS). "Up and out, not down and in. They are passionate about conductivity between one stovepipe and another … and they worry about how the parts fit together to make a whole that's greater than those parts."
Some engineering jobs require workers to focus on a discrete project using a fairly narrow, if complex, set of skills. But with the systems used in business, health care, defense, education, and a multitude of other areas becoming increasingly complicated, there is a growing need for people who can envision the system as a whole: what it might accomplish; what it will need to get there; and how its goals, requirements, processes, problems, etc., will inevitably change over time.
A 'Technical MBA'
Systems Engineering Management draws upon the leadership skills and technical concepts of engineering, business, government, communications, and other fields. To address both the technical and management aspects of the position, Georgetown has partnered with Stevens Institute of Technology, combining Stevens' experience in technology and systems engineering with Georgetown's expertise in government and business management.
"I kind of see it as a technical MBA," Lamos said. "You're supposed to understand the technical aspects of engineering, but you have the facility and mindset to understand the bigger-picture idea."
Like other programs at the School of Continuing Studies, SEM is designed to be practical and directly applicable to a student's day job.
"You're actually benefitting from the people who are doing this work in their day-to-day jobs and understand what it means to apply" these practices, Uffelman said.
That fact was underscored recently for Uffelman, who works for the federal contractor TASC providing project management support to NASA's Space Network. The SEM class one evening included various applications of "use cases," tools that are used to describe how a system would operate from a user's point of view, whether than user is a person or another machine.
"I went from developing a use case in the evening to using the same tool at work [the next day] to articulate, in an easy to understand manner, how NASA scheduled communications with satellites," Uffelman said. "It was a one-to-one application from school to work."