GSC Students Travel to London, Engage with Global Communicators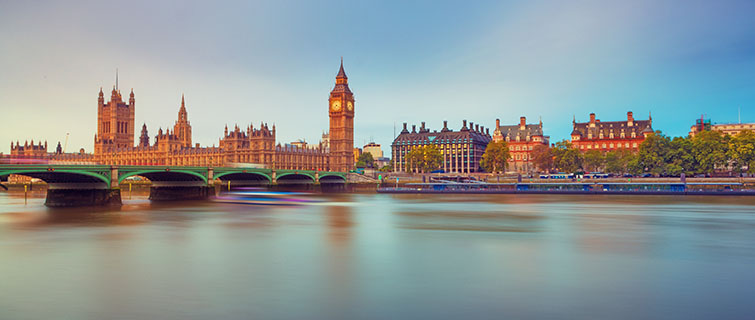 Students of the Georgetown University Global Strategic Communications (GSC) program recently embarked on the London residency, which takes place during the program's second module and tackles the global need of engaging diverse stakeholders, whether in London, New York, Singapore, or Shanghai.
"To do communications effectively, you have to understand other cultures, and you have to navigate the global media marketplace," said Caroline Gibson, Managing Director for Prosek, a New York-based communications firm, and a GSC instructor who accompanied the group on the Dec. 7-12 trip. "It's extremely important for you to understand the international market because more companies are now global."
Gibson speaks from experience. Ten years ago, the British native left a successful communications career in the United Kingdom to go to New York. The reason? Corporate communications was becoming international, and she didn't want to be known as someone who could only do work in the UK.
An Impressive List of Leaders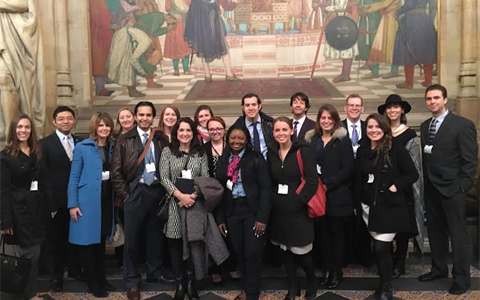 Students toured Parliament, led by aide to Member of Parliament (MP) Mark Menzies. Unlike U.S. Capitol visits, Parliament tours are generally by MP invitation only.
The 14 students in the London residency may not have actually moved to London, as Gibson did to New York, but they packed more high-level cultural and professional events into one week than most American expatriates, or Brits themselves, get to experience in a lifetime. Some of the many professionals the students met with included:
The Senior Manager of Media Relations for Lloyds of London, perhaps the most famous insurance company in the world
Caroline Hyde, European Business Correspondent for Bloomberg Television
The Chief Communications Officer for Diageo PLC, the world's largest producer of alcoholic beverages, including brands such as Smirnoff, Guinness, and Tanqueray
The Communications Secretary to the Duke and Duchess of Cambridge and Prince Harry
The Director of Government Relations and Director of Parliamentary Relations for BEA Systems, one of the world's largest defense contractors
David Webb, President of Just Marketing International, formerly head of sponsorship for the Royal Bank of Scotland
Peter Phillips, Managing Director of Sports and Entertainment UK, a sports and entertainment marketing firm
One Language, Two Interpretations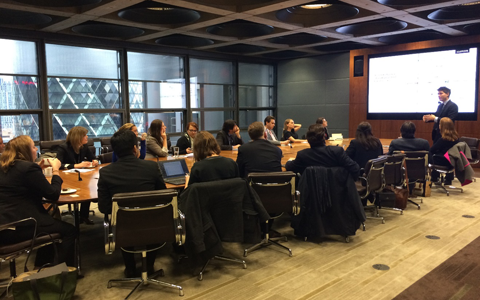 Students meet with Alex Dziedzan, Senior Manager of Media Relations at Lloyd's of London.
The United Kingdom may be America's closest ally, but that doesn't mean the two nations always understand one another.
"I think, from a cultural perspective, it's a very different environment," said Jessica Nielsen, a GSC instructor and independent communications consultant who also accompanied the group. "They say the Brits and the Americans are separated by a common language, and I think that's true. For instance, they're much more subtle in their approach, whereas in the United States we're more direct."
Gibson reflected, "You have to understand your market and know that if you do something in the United States it might not fly in the United Kingdom."
Wherever they went, the students experienced a culture both steeped in tradition and cutting edge. For example, no insurance firm says "tradition" quite like Lloyds, and yet its downtown headquarters is a stunning, multistory tribute to modernism, and its 21st century strategy (as the students learned in their meeting there) can be summed up in one word: "innovation."
Monica Young, Global Innovation Communicator for the multinational insurance company AIG (American International Group. Inc.) and a current GSC student, summarized the trip with this final thought: "I can't say enough about what this experience has meant for me professionally."