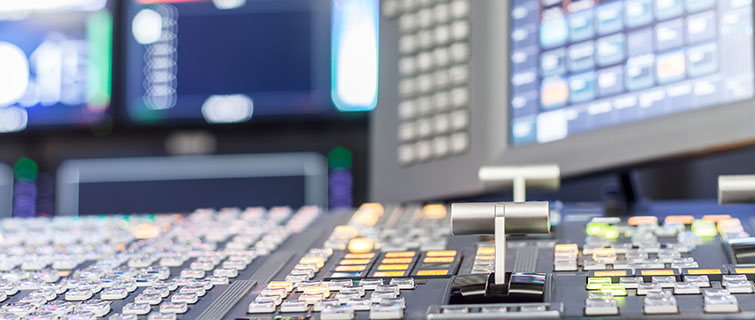 On the set of NBC's Today Show, the weather graphics had gone berserk: wildly spinning, randomly stopping, then whirling ahead again. It was as if someone backstage had been pounding the sticky "Go" button on some errant machine and it had responded with a vengeance.
Jeff Blount, now NBC Nightly News Director, was working the set that day, and of course, he found this situation stressful. But these things happen with live TV. In fact, if you're going into the television news business, you can pretty much expect these things to happen.
Which is what veteran weatherman Al Roker must have known.
Keeping Calm in a Storm
Blount recently shared this story with students in the master's in Journalism program at Georgetown University's School of Continuing Studies. He said Roker "just waited for the next graphic" to appear, talked about it, and paused again as the machine did its thing. "He was handling it."
Grace under pressure: Roker has it, and it's one of the essentials to being a good television news reporter, Blount said. But it's not something young journalists are necessarily born with: Like other skills, such as strong writing and the ability to ask probing questions, it takes practice and dedication to the craft.
Blount joined Joe Khawly, an anchor and producer for Al-Hurra's Middle East Broadcasting Network (MBN), at SCS's state-of-the-art LG Digital Broadcast Studio for an "On-Air Talent Workshop" on Feb 22. With six ultra-high-resolution display monitors and three LED cameras that provide lighting to match any background, the studio offers on-air training to journalism students and is available to the Georgetown community for broadcasting sessions.
Projecting Authenticity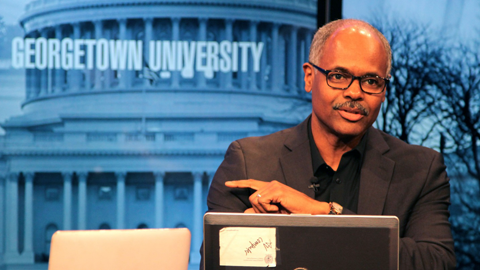 NBC Nightly News Director Jeff Blount speaks to Journalism students at SCS's broadcast studio.
Khawly, a student in the Journalism program and president of SCS's chapter of the Society of Professional Journalists, cited several guidelines for successful communication, including simplicity, brevity, credulity, and consistency. He said it's also important to express some emotion and "be a little aspirational" in your speech, but in a way that is authentic and respects your audience.
"Say what you mean and mean what you say," Khawly said. "If you don't believe what you're talking about, you're not going to make the audience believe what you're talking about."
That may sound self-evident, but projecting that confidence is not always easy. The same is true for reading a teleprompter, which is much harder than it looks, Blount said. The newscaster is expected to read the words clearly—and, more importantly, get their meaning across—while maintaining a presence with the audience and perhaps listening to an editor in his or her earpiece giving instructions about what's coming up next.
Getting Started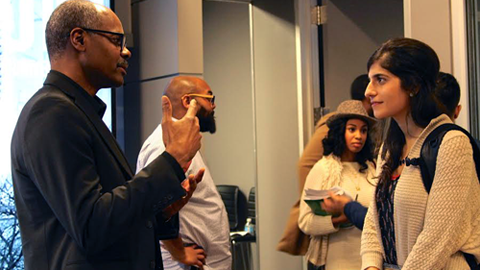 NBC Nightly News Director Jeff Blount talks to Georgetown Journalism student Deema Zein.
The speakers also talked about breaking into a field that is highly competitive but has opened up recently with the proliferation of cable and Internet news outlets. Networking, of course, is key. Even so, the journey can be circuitous and takes creativity and stamina.
Journalism Program Director Gina Garcia was a student at the University of Texas at Austin when she landed an internship at Dateline NBC, but getting a job after graduation was tougher. However, someone noticed her work ethic and recommended her for a page position in NBC's Washington, D.C., news bureau, which involved taking calls and delivering mail.
Though overqualified for the position, Garcia accepted it and persevered, and a few months later she was hired as a Production Assistant. From there she moved to a research position at Meet the Press at the request of host Tim Russert, and later worked for The Today Show and the CBS Early Show before making the leap from the media to Georgetown.
That's one route for news producers and other off-camera professionals—and a few news reporters and anchors as well. But for those whose goal is to get in front of a camera, Blount said, there's really no substitute for the experience and opportunities of an on-air job, even one in a very small market.
"I always tell people. 'If you want to go on the air—go on the air,'" Blount said.