Georgetown Students Win 1st Place in 2016 MIT Real Estate CASE Competition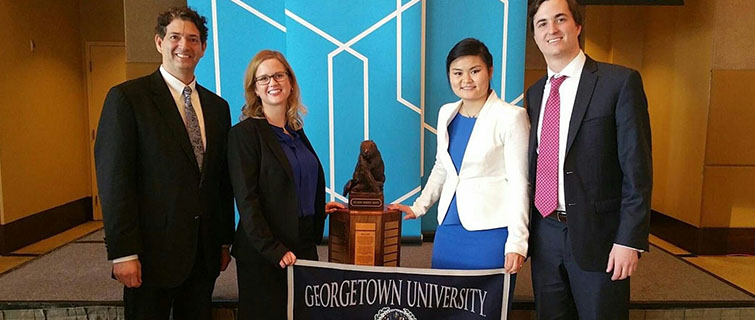 A team of graduate students from the Real Estate master's program at Georgetown University's School of Continuing Studies (SCS) have won the top prize in MIT's 2016 CASE Competition in Miami. This annual competition, hosted and organized by the Alumni Association of the MIT Center for Real Estate (AACRE), challenges teams to analyze a complex mixed-use development site.
Thirty-­one teams submitted proposals, and twelve teams were selected to attend the Feb. 11 semifinal round in Boston. Among the other top schools competing were Harvard, MIT, Columbia, Cornell, UCLA, and Yale.
Three finalists were selected and invited to make their presentations at the National Association of Real Estate Investment Managers (NAREIM) Executive Officers Leadership Retreat in Miami on Feb. 25. Georgetown and two other finalists,­ UCLA and Cornell, ­showcased their ideas before judges and a live audience at the retreat.
Students Propose a Vibrant Mixed-Use Complex
Georgetown's proposal for the redevelopment of a nine­-acre site in Port of Miami's Dodge Island included a 2.4 million square foot, vibrant mixed­-use complex that included hotel, office, residential, and retail space.
"This was an excellent opportunity to present our proposal to the world's top real estate investment executives," said team member Amanda Young. "The judges responded well to our unique proposal for a strategic joint venture, and it was rewarding to receive such an enthusiastic response to our hard work."
Other members of the winning Georgetown team included Azjargal Bartlett, Connor Bell, and Jerry Ricciardi.
Unlike other competitions, CASE focuses on real estate acquisition, development programming, and financial underwriting at the asset level. The competition, now in its ninth year, mimics the professional circumstances and assignments that students are likely to encounter after graduation.
Teams Submit Development Plans
Registered teams, comprised of no more than four graduate students, were sent information about an actual development site. This year's competition focused on Miami. Teams had five days to submit a brief concept narrative (Letter Of Intent), including a bid price and development program for the site, the capital structure for the development venture, a fully-­functional Excel­-based financial model, and a summary 15-­page PowerPoint presentation. The CASE competition encourages creativity and originality in the capital structure and development proposals.
Based on those submissions, a panel of judges selected 12 semifinalist teams to travel to Boston to compete in front of industry professionals.
Three teams were selected from the semi­finalists to advance to the final round and be judged by industry veterans in front of a live audience at the NAREIM Executive Officers Leadership Retreat in Miami, Florida.
"This was truly an amazing event and to participate and present in front of CEO's and Managing Directors of our nation's top investment firms was an honor," said team member Jerry Ricciardi.
This is Georgetown's second time winning the top prize, having done so in 2014 when the team traveled to and competed in London. That year's winning team included Jamie Minkler, Damon Orobona, Mark Schrieber, and Nicole Snarski.