Student Spotlight: Matthew Huffman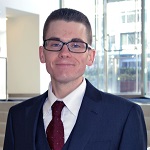 Matthew Huffman
Paralegal Studies
Meet Matthew Huffman:
Matthew Huffman enrolled our part-time evening program during the Fall 2013 semester. Now sixteen months post-completion, he reflects on how Georgetown's Paralegal Studies Program helped him get his start in a competitive industry.
What's your career story?
I attended Bowling Green State University in Northwest Ohio and graduated with a Bachelor of Arts in Philosophy in the Spring of 2013. Thereafter, I moved to Washington, D.C. and began looking for work as a paralegal knowing I would probably want to attend law school after spending some years gaining experience in and learning more about the legal field. It is important to note at this point in the narrative that I spent months applying for jobs, both legal and administrative in nature, but did not receive a single call back for an interview until the Georgetown Paralegal Studies Program appeared on my resume. With help from the Director of the Paralegal Studies Program and Legal E, I was able to secure a position as a Legal Assistant with the American Red Cross in the Office of General Counsel in the Trusts and Estates practice group, where I am still employed. I love my job and I feel lucky to have such wonderful colleagues and supervisors.
Why did you choose to enroll in this program?
My reasons for enrolling in the program were threefold. First, I needed the knowledge and experience necessary to break into the legal field after completing an undergraduate program in an unrelated field. Second, I wanted to use the program as an opportunity to discover whether I would want to pursue further study at law school. Law school represents a significant investment of resources, both time and money. Not to mention the inevitable sacrifices to one's personal life. Third and finally, in a region saturated with individuals looking to break into the legal market, the Georgetown brand offered a mark of distinction that was absolutely essential to making my resume stand out.
What has opened up doors and opportunities for you professionally?
Aside from the obtainment of my Bachelor's Degree, there has been no greater positive influence on my current career trajectory than the Georgetown Paralegal Studies Program. If not for the assistance rendered on my behalf by the Director of the Paralegal Studies Program, Corey Brooks, I would not be where I am now. Mr. Brooks works tirelessly on behalf of every student who works through the program to ensure that they find a job with a firm, agency, or company that suits them perfectly in terms of workplace culture and their own individual interests in a certain area of law. I owe a great deal, of course, to hard work, determination, and a nearly single-minded pursuit of my goals, but this town is filled with people who fit that description. Finding a way to stand apart from the many others with similar credentials, experience, and personal drive is extremely important.
What are your future goals?
In the future I hope to attend law school where I will specialize in constitutional law or legal theory. I would also like to obtain a Master's Degree in Philosophy or an interdisciplinary field with social science or criminal justice components. The acquisition of these degrees in tandem will allow me to gain a deeper understanding of the law through study of its historical and philosophical underpinnings, but also the ways in which the legal system in the United States affects the lives of individuals who interact with the physical manifestations of our legal principles via the criminal justice system. Thereafter, I would like to work in public service in some capacity, perhaps as a public defender.
Do you have any advice for others in your field?
I am just getting my start in the legal field, having only finished the Paralegal Studies Program about sixteen months ago, but I can give some advice which other individuals also getting their start may find useful. After starting a new job, try to make friends with as many people as possible. People in D.C. tend to stay in positions for only about 2-5 years, which means that each new workplace presents an opportunity to cultivate the contacts in the field necessary to future success, if and when you decide to move on to a new job. Making friends with those around you also makes the workplace vastly more pleasant than it may be otherwise, which is especially important considering the number of hours spent at work in a given week. Additionally, for individuals looking to further their education I recommend looking hard at any given institution to make sure it has a reputation as a rigorous program (and actually is one) and that the institution maintains a robust office of career services or a strong record of job placement. Both of these elements played a large role in my current employment and success.