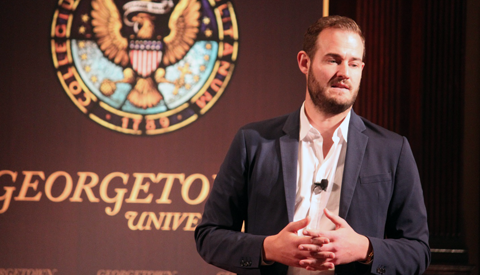 Brian Kelly ("The Points Guy") said today is the "Golden Age" of air travel.
Brian Kelly was eight years old when he procured his first "behemoth" computer and proceeded to teach himself the now-antiquated DOS operating system. Later, he mastered dial-up Internet, and by age 12, he was booking his father's business trips—and charging him $10 a flight.
When young Brian helped his parents amass enough loyalty points for a family vacation, and they suggested Florida, he replied, "No, Florida's not good enough. Why don't we go to Grand Cayman?" He didn't know it then, but he was well on his way to becoming "The Points Guy."
As an adult, Kelly has used cleverly compiled points from credit cards, frequent flying, and even everyday spending to fly around the world in premier first-class suites and stay in luxury hotels.
A Growing Website
Today the cheerful, 30-something travel wunderkind runs a website that shows consumers how to get the most out of their loyalty points and airline miles. His LinkedIn profile says the site gets more than 1.5 million unique visitors a month, but by the time he spoke to a large audience at Georgetown University on March 17, that number had reached 2.6 million.
"I've really traveled the world because of your business," one appreciative student said.
Kelly's talk—The Points Guy: Experiencing Luxury Through Loyalty—was the first in this year's Collaborative Hub for Hospitality speaker series, sponsored by Georgetown's Master of Professional Studies in Global Hospitality Leadership (GHL) program.
Originally booked for the auditorium at the School of Continuing Studies (SCS), the event drew such interest that it was moved to the larger Gaston Hall on Georgetown's Main Campus. Following his lecture, Kelly was joined onstage by Georgetown faculty member Anna Lorch, Senior Director for Marriott Rewards and The Ritz-Carlton Rewards. Lorch moderated the final portion of the event—a Q&A session where Kelly answered questions from the audience.
"There are millions of points all around you," Kelly said. "You just need to go and proactively seek them out."
A Big Business
For those who wonder whether it's okay to work the loyalty points system, Kelly offered this assurance: "It's not scamming. It's maximizing." And, in many ways he says it's a "win-win."
That's because loyalty programs—whether for airlines, hotels, credit card companies, or other businesses—are lucrative for these industries and have the potential to attract many frequent, high-paying, and yes, loyal customers.
"These companies are not losing money when a customer uses points to redeem something," said GHL faculty member Gray Shealy, who noted that loyalty program expenses are built into a company's business model. "These programs are critical to business, as the opportunity to accumulate points can make or break major customer decisions for travel and beyond," he said.
So go ahead and maximize. But how do you do it? The Points Guy offered some tips, beginning with this: "If you're using cash, you're losing cash." That is, provided you can pay off your monthly balances, it's better to pay with a credit card that earns you points.
Having several strategically chosen credit cards can be a plus, Kelly added, but getting into debt is not. He said that anyone in credit card debt who's considering spending money to win travel awards should think again.
The New Golden Age of Travel
In today's world of cramped airline seats and less-than-stellar service, people often lament the loss of a so-called "Golden Age of Travel" that they believe once existed. But this view is misguided, Kelly said. While it's true that in the past air travel might have been fancier and people dressed up more, it was also expensive—prohibitively so for most people.
"Yes, coach cabins are being squeezed," said the 6-foot-7 Kelly, who rarely has to ride in economy because of his business acumen. But they are relatively inexpensive, in historical terms. If you want more legroom or a meal or another comfort, you can pay more. "At the end of the day, air travelers want cheap tickets," he concluded. "And that's what they're getting."
"Travel is fast, more efficient, safer, and I would argue, more comfortable than ever before [especially in the premium cabins]," Kelly concluded. "And that sounds like the Golden Age of Travel to me."
Learn more