Hospitality Students Glimpse the Future in Europe's Hip Hotels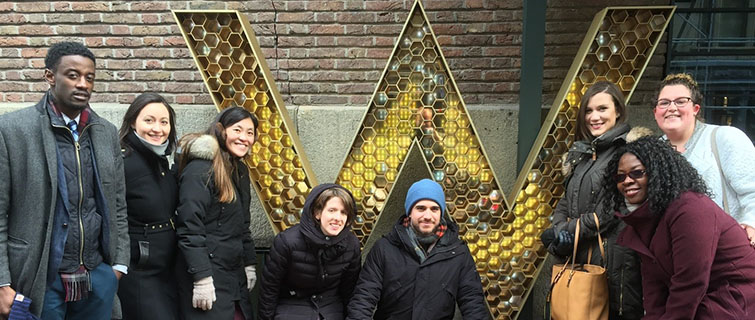 From the hallway, the 50 guestrooms at Amsterdam's CityHub hotel look like a row of plain, but stylish, storage units.
Inside, the vanilla-colored rooms—known as "hubs"—are equally minimal.
"It's literally just a bed and a speaker system," said Kelleye Eller, one of eight students from the Georgetown University master's program in Global Hospitality Leadership (GHL) who visited Amsterdam and Berlin to explore the industry's future.
And this is the industry's future? Well, yes, part of it, said Gray Shealy, faculty for the GHL program—and that's a good thing, too. He said the creators of CityHub and other innovative hotels are discarding worn-out traditions and learning to think like their customers. That means figuring out what their guests (in this case, millennial couples on a budget) really want—and can do without—and then tailoring the hotel experience to their fit needs.
"They challenge convention all the time," Shealy said of the seven hotels—some elegant, some basic, all very hip—that the group visited as part of an Intensive Learning Experience offered by their class, Hospitality Regional Practices and Standards: Berlin & Amsterdam. "They question the way they do things and how they can fundamentally redesign the entire hotel concept."
A World-Class Conference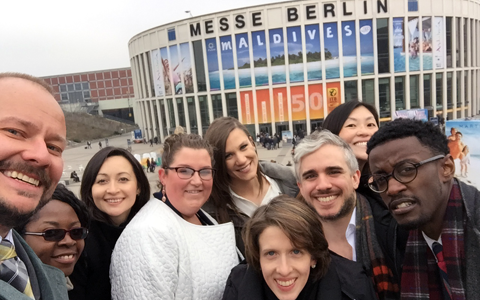 Students crowd in for a selfie before entering the ITB Berlin tradeshow.
Shortly after flying to Berlin from Washington, D.C., on March 8 and 9, the group toured the International Hotel Investment Forum with Karl Bieberach, Vice President of Development for Starwood Hotels EAME. An invitation-only event normally restricted to top industry strategists, the forum is hosted adjacent to ITB Berlin, the world's largest travel conference, which the students attended the next day.
Covering a vast field of 26 exhibition halls, the conference houses exhibits from the world's biggest airlines and tour groups, as well as booths from countries well known for tourism and from such emerging destinations as Rwanda, Uzbekistan, and even South Sudan.
"I felt the conference was important for students to see because of the impact it has on the global conversation about travel and the hospitality industry," said Shealy, a former executive at Starwood Hotels and an expert on hotel brand development, innovation, and design.
The six-day trip also meshed well with the philosophy of Georgetown's program, which seeks to prepare students not just for today's hospitality industry, but also for the industry it is rapidly becoming. Certainly, the Internet is having a profound impact, enabling a sophisticated generation of travelers to take more control of their travel plans, personalize their trips, and demand travel experiences unheard of in the past.
A Different Kind of Hotel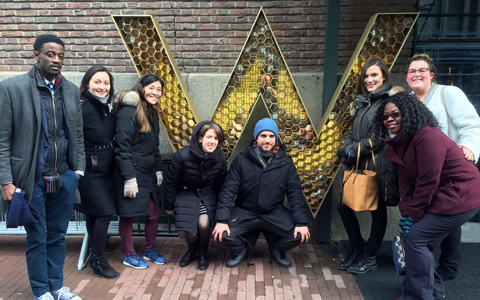 Hospitality Management students gather in front of the sign for W Amsterdam, one of the city's leading hotels.
Those travelers will be drawn to places that delight them and serve their needs—which brings us back to CityHub. A kind of cross between a hotel and a high-end hostel, CityHub is wildly popular with young people, who would rather explore the city and meet fellow travelers than hang out by the (nonexistent) minibar.
"You get the privacy you don't have a in a hostel," Eller said. "But you still get the community spaces."
The hotel has 24-hour self-check-in and a serve-yourself bar and restaurant. And while the rooms may be tiny, each has a double bed, its own audio system, and multi-colored app-controlled lights. And, they're soundproof, so you can safely crank up the volume while remaining un-hassled by your neighbor's playlist.
"The perception of the hospitality industry is different in Europe," where it is more of a career than it has typically been in the United States, Eller said. "And even the chain hotels feel a little more 'boutiquey.'"
"More boutiquey" might be a good way to describe where this industry—exciting, competitive, constantly reinventing itself—is heading. Not everyone wants a CityHub, but they do want a unique experience, one that reflects their destination's true culture and meets their specific needs. To create that experience, Shealy said, the next generation of hospitality leaders will need to be bold, innovative, knowledgeable and well-traveled, and not afraid to break with the past.
"How do you go beyond convention and what you've seen traditionally?" Shealy asked, framing the task ahead. "How do you be creative?" The answer, apparently, starts out with experiencing these unique places in person.