Journalism Instructor Steven Rich Reflects on His Second Pulitzer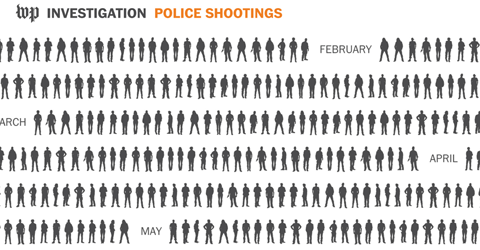 Image Credit: Steven Rich, The Washington Post
Following the end of 2015, a Washington Post team of 70 journalists came together for a massive project chronicling 990 police shootings all across the country. This groundbreaking story won the 2016 Pulitzer Prize for National Reporting.
The Post's Database Editor for Investigations Steven Rich was a key member of this award-winning team; he also serves as a faculty member for the Georgetown University master's in Journalism program. Below, Brooke Van Dam—Faculty Director for the Journalism program—speaks with Steven.
Tell us about the recent Pulitzer Prize winning project you were part of with the Washington Post?
This project was born out of what happened with Michael Brown in Ferguson in late 2014. The main question that kept coming up was, how often does this happen? And the answer we kept coming across was that the government doesn't keep very good statistics on it.
The FBI is charged with getting all this information from 18,000 local police departments across the country, but the problem is that it's voluntary to report and so a lot of police departments don't report. And so where they were finding no more than 450, 460 police shootings in any given year we found 990 last year.
We created this database—the centerpiece of the whole project was the reporting that we did out of it. We did a lot of interesting and really unique reporting on mental illness and police shootings, on unarmed black men and police shootings, on the dangers police officers face in these police shootings.
What does it mean to you to get your second Pulitzer?
This is going to sound cheesy and the standard line, but we don't do journalism for the awards, the awards are just a nice cherry on top. The positive in both of the projects I've been involved with that have won Pulitzers was that they brought about change. The conversation changes, there's more of an effort to quantify things better, and that's really what we want to see.
You're part of this new moniker, "data journalist," which is scary to some people. Can you demystify what it is you do?
My job is partially writing, partially reporting, and partially data. My job day to day is just interpreting data to understand the world around us, and so in this case it's to understand what is a typical police shooting if you can describe it.
How do you take these experiences at the Washington Post into the classroom?
The best teachers are people who are doing it now because it's a lot easier for me to stand there in class and say, "Here's what we're doing in Excel, and here's how I've used it to do things in my job." I think that working while I'm teaching, I'm staying up to date with the latest things and I can bring that to the students.
What do you think makes a great journalist?
I think the best journalists are the ones that don't take no for an answer. The ones that work very, very hard. And who genuinely want to know the truth because if you aren't that interested in the story, then it's going to translate to readers.
What made you want to be a journalist?
I went to school originally for aerospace engineering. I wanted to be an astronaut. I eventually settled on journalism because I wanted a job where I could be creative, and I liked the idea of being able to change things.
You've had a lot of success at a relatively young age, what is your reaction to people who say "Don't do journalism—there's no future in it"?
If you want a job that is exciting, is a learning experience, is always different, is constantly changing, and is something that you genuinely enjoy doing, then it's the best job in the world. I don't think journalism is dead. Journalism will never be dead. Maybe we won't see print newspapers in 20 years but the journalism that's being done at those institutions will continue to be done.
My best piece of advice for aspiring journalists has been: Get very, very good at one thing and OK at everything else.
---
—Steven Rich teaches Data Reporting for the master's in Journalism program. He is the database editor for investigations at The Washington Post. Steven has worked on investigations probing the National Security Agency, tax lien sales, asset forfeiture, police shootings and college athletics. He has been a reporter on two teams awarded Pulitzer Prizes, in 2014 for Public Service and in 2016 for National Reporting. Steven is also on the Board of Directors of Investigative Reporters and Editors. Follow him on Twitter at @dataeditor.