Journalism Alumni Profile: Paul Rigney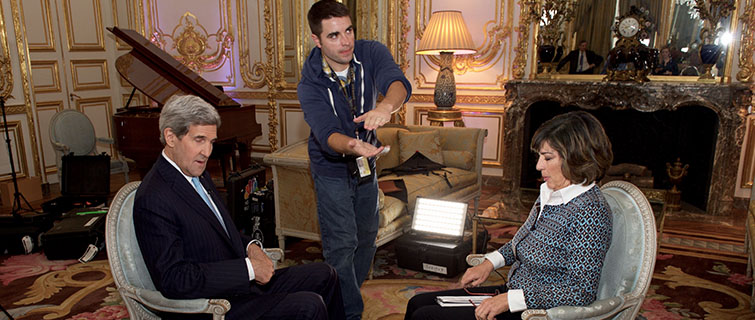 Meet Paul Rigney (G'10, Journalism)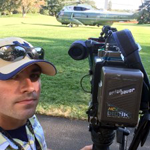 Paul Rigney (G'10)
@PaulRRigney
"Anyone can turn on a camera and hit the record button, but the real training comes in knowing how to frame a shot, how to light someone well, how to properly set up your microphones and audio and most importantly, how to be flexible and fast enough to change any/everything on the fly if need be! Working alongside some of the best photographers in the industry allows me to improve on all of those elements by learning new ways to do them every day."
We are proud to feature Paul Rigney as our February Alumni of the Month. Paul is a Photographer for NBC News in Washington, DC. His work involves shooting, editing, and uploading content across all NBC News platforms, including, NBC Nightly News, Today, and MSNBC. We are thrilled to have him share his insight into photo and video journalism with our community.
MPS Journalism: Why did you choose to attend Georgetown's Journalism program?
Paul Rigney: As a technical writer my responsibilities include editing, writing, and providing feedback on policy updated from the Federal Government. I also manage my own event planning company, ACG Events, which entails the design, research, and implementation of events for my clients. I also provide content for the website and partner with other vendors to promote our businesses.
How has your degree from the Journalism program helped you in your current job?
Immensely. I was a PA for a few years and as a result of my pursuit of an MPJO degree, C-SPAN promoted me into the field as a cameraman/audio operator. It was that experience during my time at C-SPAN that made me competitive and fortunate enough to get a job with NBC News.
What was the most surprising thing you learned about shooting video?
Sounds silly, but that there are SO many elements to it. Anyone can turn on a camera and hit the record button, but the real training comes in knowing how to frame a shot, how to light someone well, how to properly set up your microphones and audio and most importantly, how to be flexible and fast enough to change any/everything on the fly if need be! Working alongside some of the best photographers in the industry allows me to improve on all of those elements by learning new ways to do them every day.
What one piece of advice would you give current students hoping to be journalists/videographer's like you?
Just one!? If I had to say one, I'll go with: Do Everything! Video, audio, editing, lighting, transmission. Networks and stations don't want simple photographers anymore. They want someone who can do it all. And get in the door anywhere so that you can create a demo tape of footage. Websites, stations, networks…anywhere!
A bonus piece of advice would be to be ready to work the unpopular events at unpopular times. Expect to work weekends and late nights. And don't expect to work 8-hour days. Those don't exist in our industry!
What is one digital tool or skill you would advise students to master before working in the field?
Adobe, Adobe, Adobe! Everything from Photoshop to Premiere Pro. Being able to master the workflow makes you that much better as a video journalist.
What do you think is the biggest challenge young journalists face, and how can they overcome that obstacle?
Limited opportunities. Take a look at what just happened with Al Jazeera America. I know photographers who lost their jobs with that. It's sad because they're strong photogs (short term for photographers). And it puts that much more people on the freelance beat which limits even more opportunities to new shooters.
Overcoming it? Like I said before, do everything. The more complete of a photographer you are, the more competitive you'll be. Take a job anywhere you can. You'd be surprised at how much you can learn in small markets. The first time I shot events was for an undergrad internship at WNDU in South Bend, Indiana. I learned so much doing that despite its market size because the smaller nature of the market allowed for more responsibilities.
What's the most memorable piece you've published and why?
I've shot elements for many packages, but the one that stood out to me was the Saturday before the major Baltimore riots. We were covering a peaceful march and rally in Baltimore and it devolved quickly when some of the protesters tried to storm Camden Yards and then clashed with the police. It went from a simple story into something really complex, to the point where we were broadcasting footage in near real-time on Nightly News that evening.
It was also the real "first" time that I realized how dangerous the job can be. I was standing next to protesters filming them destroying police cars and trying to flip them and next to police officers that were getting bottles and rocks tossed at them as well as pepper spraying protesters who got violent.
I think that day was a turning point in how the race relations dialogue got brought into the forefront. Ferguson opened everyone's eyes to the distrust between police and communities, but Baltimore made it into a whole new dynamic because of the sheer size of the city. This wasn't some small town or suburb. It was a major American city and to be there for when that happened and producing video content showing that turning point was really memorable to me.
In recent months have you worked on any projects you are particularly proud of or have you had any unique opportunities in your career?
A few. One of the jobs that network cameramen have to do sometimes is act as the VIP Pool crew for various overseas trips. We'll basically travel with one of the cabinet secretaries and cover meetings, press conferences and interviews. It's really long hours and no down time, but you get to experience so much. One of the trips I got to go on was traveling with Secretary Kerry to Havana, Cuba for the opening of the U.S. Embassy. It was just a day trip so I was only on the ground in Cuba for 14 hours or so but it was an amazing experience.
Another would be working as part of the Today show camera crew for Pope Francis' visit to the U.S.. I was one of the cameras for the show and got to experience it firsthand from behind the lens from the White House and Capitol.
The last would definitely be my most recent overseas trip with Secretary Kerry. It was a quick trip to Tunisia and Austria for bilateral meetings on Syria and other issues and then we were traveling to Turkey for the G20. While in Austria, the Paris attacks happened, which changed the dynamic of the trip and resulted in us going to Paris with Kerry and covering all of his events there, including interviews with all of the networks. The team that I traveled with was awesome and we really worked together to get all of the video we shot out to the networks.
What do you do for fun?
The usual stuff. Hang out with my wife and daughter and dog, watch TV, eat pizza. This may sound kind of boring, but boring can be a good thing!
Where do you see yourself in five years?
Still doing what I'm doing now, but with grayer hair and a dad-bod!
Photo Credit: Paul Rigney