Finding the Magic in Meetings: New Facilitation Program Thrives at ITL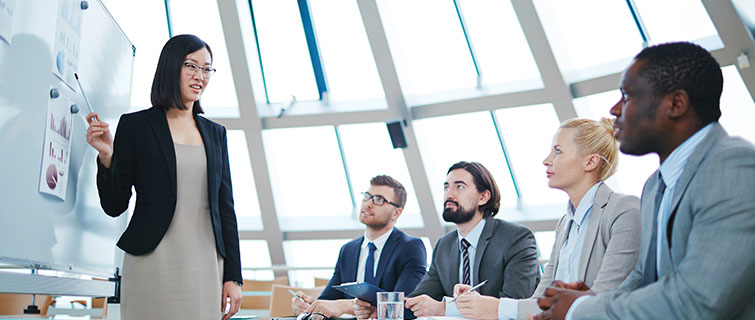 Give her a few minutes with a new group, and Rae Ringel can spot them: some of the many "types" who can disrupt even the most carefully planned meeting.
There are dozens of them out there, but here are some of the more common ones that Ringel, an experienced facilitator, has faced: "The Interrupter." "The Backseat Driver." "The Dropout." "The Know-It-All." "The Devil's Advocate."
"If you know that these types exist, you can quickly identify who might be taking on these roles in the room and have a strategy for dealing with it," said Ringel, an instructor in Georgetown University's Institute for Transformational Leadership (ITL) and creator of the Institute's new Certificate in Facilitation.
A Skill Every Leader Needs
Members of the program's first cohort received their certificates earlier this year, and the next group will start the three-month training in November. They're being guided by an expert in her field, who, as Founding President of The Ringel Group, has led facilitation-training programs for executives and business owners from around the world.
Why facilitation?
"There is not a leader out there who does not have to facilitate something, whether it's a conversation, a team meeting, an experience, or a negotiation," Ringel said.
The root of "facilitator" is "facile," or "facilis" in Latin, which means "easy." And that's the way meetings are supposed to be. Not easy in an unchallenging way—Ringel prefers an atmosphere of "productive discomfort"—but purposeful, dynamic, seamless, authentic, and maybe even fun.
The goal is to arrive at the kind of insights, ideas, and revelations that can be achieved only by group of engaged individuals, thinking and working together. And that calls for a more sophisticated and creative meeting plan than the typical speech followed by breakout sessions.
The Importance of Self-Awareness
Georgetown's certificate program is twofold, combining comprehensive technical training in facilitation with the kind of personal exploration and development that ITL believes is critical for leaders today.
"All of our programs begin with self-awareness and self-reflection," said ITL Director Kate Ebner. "How do you show up as a facilitator? What should your mindset be? And how do you manage yourself as a facilitator?"
The facilitation program is designed for current facilitators, leadership coaches, change consultants, and organizational design practitioners interested in building their facilitation skills. But it's relevant for anyone who manages a team that needs dialogue to generate ideas and move forward.
Nine days of in-person classes are grouped in three-day sets throughout the program, which also includes reading, writing exercises, practice assignments, and reflection. In keeping with ITL's emphasis on personal transformation, the first session deals with developing a sense of self-awareness and social awareness. Students learn the art of "reading" a room, listening deeply, and creating a productive environment for others. Later, they learn about the psychology of groups and teams and how to "wireframe" a facilitated experience.
The Need for a Plan—and a "Plan B"
If "know yourself" were the first tenant of being a good facilitator, then "do your homework" would be a close second. As a facilitator, it's critical to learn about the people you'll be working with and tailor your time with them to their needs and goals.
"There is a whole architectural design you need to create before you set foot in a room," Ringel said.
Now comes the fun part—if you're like Ringel and enjoy spontaneity and thinking on your feet. That wonderful architectural design you spent many hours crafting? Be ready to throw it out on the spot if, once the session gets started, you realize that it's not what your group needs after all.
"Too many facilitators just stick to their prepared agenda and it fails because it's not related to what's happening in the room," Ringel said.
Because it's all about what's happening in the room.
"The main point of facilitation," said Ringel, "is creating a dynamic in the room where people will work together on common goals and objectives." And, just maybe, come up with something innovative and profound.