Student Spotlight: Robert Richards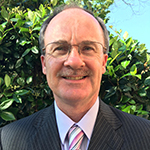 Robert Richards
Transformational Leadership
Meet Robert Richards:
Robert Richards was a member of the inaugural cohort of the Transformational Leadership program. He reflects on how Georgetown helped him expand his leadership toolkit and see himself with new eyes.
What's your career story?
The last grade of school I completed was 8th grade. I never finished any high school and instead started my first job washing cars at 16 years old at a Detroit automobile dealership. A bunch of older fellas at the dealership convinced me to look into the service and I joined the Navy and left a month after turning 17. I loved the military and stayed for a phenomenal 20 year career. I knew I was going to travel a little and, after 20 years, circled the globe four times, visited 42 countries, and visited 47 of our states.
I constantly found myself wanting more responsibility and quickly learned the military's "command and control" leadership style. Earning the trust of my superiors to be placed in positions of leadership responsibility became second nature and I always found myself earning more and more responsibility. I excelled, and became capable of building great people into great teams. I was honored with numerous decorations and distinctions throughout my career, including being honored on six different occasions as the Sailor of the Year. The key to my success as a leader in the military was superb mastery of the command and control leadership style and always working as a team. After retirement I worked for myself for seven years in general contracting and then shifted to work in healthcare where I now serve as the Manager of Facility Services in a 168-bed hospital.
Why did you enroll in the Transformational Leadership Program?
The hardest part of letting go of habits and methodologies, for anyone who's enjoyed success, is letting go of the habits and methods that delivered all the success in the first place. After I retired from the Navy I learned nobody in corporate America is using command and control leadership. I searched and searched for an answer to the question: "How can I transform my military leadership skills, which had served me well, into something tangible and usable in corporate America?" The answer came when I found the newly developed Executive Certificate in Transformational Leadership. I wanted a program that would help me see how leading myself contributes to leading others, and eventually blossoms into knowledge and awareness of how to be a leader within society. After a distinguished military career the transition to the board room is a long process, and I wanted meaningful direction and I wanted it from a reputable educational institute. I was fortunate to apply and be accepted into the inaugural cohort and start the program in the fall of 2014.
How did taking classes at Georgetown impact your career?
I'm an entirely different leader as a result of Georgetown. Throughout the course, students are challenged in many ways to reflect on who they are as a leader, their habits as a leader, and the impact their presence has on others. Anyone can pick up a book on organizational development, creativity, mindfulness, presence, or emotional intelligence and make some changes, but the cohort of amazing professionals to learn with gave me instant reference points that just reading a book could never do. Being present, listening to others, and taking time to understand others and meet them at their readiness level has paid off immensely for me. My career will always be more rewarding because I know how to find my habits, break them, and not let something else move into that space in my leadership tool kit.
My career and future plans are crystal clear from a leadership perspective, and I credit the work of the staff, their wisdom, and their ability to use the room of professionals to help everyone in the cohort see their future more clearly. As a cohort, we grew together as a team and we relied on each other, in a trusting environment, to provide open, concrete, and inspirational feedback. Georgetown was like a playground for executives to toy with their ideas and their wisdom to see what could emerge and I look back upon my experiences with the cohort every day.
What has opened up doors and opportunities for you over the years?
Being open and receptive to the lessons learned from the failures. Whenever I need a reference point of what failure looks like I remind myself I didn't go to high school. I was just 14 years old when I finished the eighth grade and then 27 years old when I finished up an Associate's Degree. I finished a Bachelor's at 48 and I should finish my Master's when I'm 52. Failure has opened more doors for me than anyone can imagine – it promotes self-improvement and it promotes learning. We always hear people say "failure isn't an option." When, in fact, failures are all around us and we can learn from what doesn't work, or what didn't work, and create more success. Failures can only be generated by trying.
What are your future goals?
I'm currently enrolled in a Master of Healthcare Administration program at Penn State. I aspire to learn more about myself, others, and organizations as a whole and rise into a new position where I direct mid-level managers at a higher level. I'm spending much more time seeing things from the balcony instead of the dance floor and one day I want to be using the helicopter view as President of a Hospital. I think the higher a person rises, the wider vision they need and Georgetown helped me develop these skills.
Do you have any advice for others in your field?
Be willing to look inside of yourself, find out what's in the way of your own success, and make changes. What got you where you are today will not get you where you're going tomorrow!