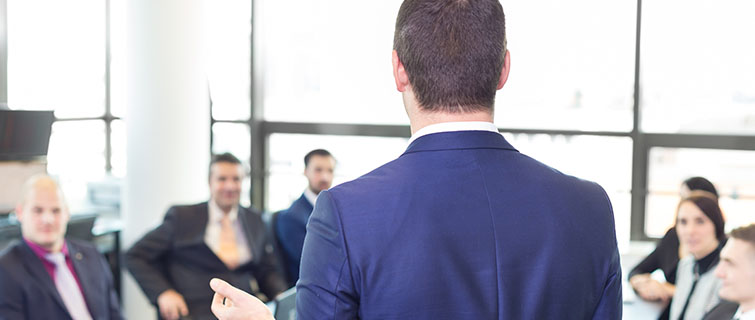 If you want advice on the latest leadership techniques, there is an ever-expanding array of books, programs, seminars, TV shows, and workshops that you can turn to.
But if you want to become a different kind of leader, you'll need to do some serious self-reflection, says Kate Ebner, Founder of the Institute for Transformational Leadership (ITL) at Georgetown University in Washington, D.C.
"Twenty-first century leadership is a whole new paradigm, and the old 'command and control' approaches of the past are largely obsolete," says Ebner. "Today's leaders must be able to work in fast-paced, complex environments that require a sophisticated set of skills and the ability to work effectively across constituencies."
Leadership and coaching programs like those at ITL place the personal growth of you, the leader, at the center of the learning process. Each program provides coaching or mentoring as part of the learning process. As Ebner puts it: "When you're working with a leadership coach, you're in a partnership with someone who is focused on your success. Your goals are your coach's agenda."
These are not passive, sit-back-and-take-notes kinds of programs, but experiential ones. They're designed for leadership coaches themselves (Georgetown's ITL has trained 1,500 of them) as well as CEOs, human resources executives, senior and middle managers and any leader who wants to change in a significant way.
Embracing Risk
"In the beginning of the learning process, we really want people to open up, become a learning community and set aside their credentials and professional accomplishments," Ebner says. "Your resume isn't important to us. We care about helping you uncover and realize your potential."
Trying on new behaviors and sharing personal leadership issues with your peers can seem risky and uncomfortable. But, in ITL's words, it can also be transformational. The most basic goal, Ebner says, is to "bring your authentic self – your presence, integrity, vision, compassion, expertise and commitment - to a higher purpose. That purpose is to take your inner work and then turn it outward, inviting those whom you lead to achieve new possibilities and better outcomes."
Looking to the Future
When Ebner says that the "command and control" leadership models of the past are largely obsolete, she's not implying that they are gone forever. Certainly, there are many examples of autocratic leadership practices that nevertheless lead to success and profits, at least in the short term.
But the future is clearly headed in another direction, and the reason has to do with simple survival. It's no wonder that some of the most successful and profitable companies—Google and Southwest Airlines come to mind—have among the most innovative and humanistic labor practices. These are places where the best employees want to work, and stay working.
Attracting the Right Talent
The best and brightest employees are not going to settle for outmoded "command and control" models in the workplace. They're going to demand leaders who follow a more enlightened paradigm. They want something different, and eventually they're going to go wherever they can to find it—if not to your business or organization, then to your competitor's.
"Leadership development is a choice," Ebner concludes. "You have to trust yourself and be willing to believe that, with focused attention, you can change your behavior, develop new skills, inspire your staff, and grow. It begins with becoming mindful and self aware. There really is no other way."