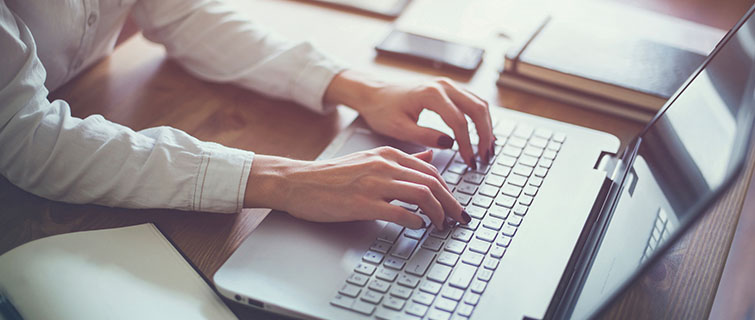 The number of students taking online courses has continued on a multiyear growth to reach record levels.
Can an online class be as personal as one taught in a traditional classroom setting?
The answer, like so much in the oft-misunderstood world of distance learning, may surprise you. If "personal" means encouraging students to converse with fellow classmates and their professor, then online classes are not only as personal, but also have the potential to be more engaging.
The only difference is the conversations take place online.
"Often, in a traditional classroom, you have one or two people who are spearheading the discussion and engaging with the faculty member," said Shenita Ray, Director of Online Operations for Georgetown University's School of Continuing Studies in Washington, D.C. "The conversations can be equally—if not more—rich, diverse, and dynamic in an online setting."
The opportunity for deeper discussions involving a diverse array of students is one the many advantages of online learning. Another is sheer convenience; students, many of whom work full-time, can make college or graduate school fit into their schedules, not the other way around. And it saves hours each week in commuting time—no small perk in a traffic-clogged city like Washington.
A Modern-Day Necessity
When online higher education courses originated in the early 2000s, they were few and far between. Fast-forward just over a decade later, and this is no longer the case. According to the 2015 Online Report Card, the 13th annual report from the Babson Survey Research Group, between 2012 and 2014 overall college enrollment decreased by 2 percent, but the number of students taking online courses continued its multiyear growth to reach record levels. In 2014, 5.8 million were taking at least one distance education, up from 4.6 million in 2008 and 1.6 million in 2002.
"Now, it's not seen as a competitive advantage to have online courses," Ray noted. "It's a basic requirement of 21st century education."
This year's annual Babson report will be its last, the authors said. When initiated in 2003, it met a growing need for information about a novel phenomenon. Now several reports by other entities, including the National Center for Education Statistics, are more than filling that gap; and online education, as Babson puts it, has become "clearly mainstream."
A Different Kind of Education
Online courses offer a unique environment that puts the student at the center of the learning experience. At Georgetown, Ray said, faculty and administrators collaborate in designing courses and use the Community of Inquiry Model as a framework for teaching and learning. First championed more than a century ago by philosopher John Dewey, the approach is especially appropriate for the Internet age, when students are expected to access knowledge from multiple sources and be responsible for their own education.
On a more tangible level, online courses can offer interactive content that includes rich graphics and videos, as well as text. For example, at Georgetown, graduate students in various professional programs can watch interviews with industry leaders and hear from guest speakers located around the world. An online polling tool called "Poll Everywhere" can be used to elicit students' opinions and spark discussions.
"The biggest advantage for us [at Georgetown] is just the ability to educate people all over the country," said Joshua Meredith, Assistant Dean for Georgetown's graduate program in Technology Management (TM).
This expanded reach has enabled the TM program to assemble a diverse class that includes rural, urban, and suburban students; students from other universities; active duty military from Southern and Western states; and professionals in industries, such as rail freight, that do not have a large presence in D.C.
"Our students tell us it's almost a requirement to use the Internet to do your job," Meredith said. "So why would it be any different when it comes to your education?"
Learn more