Student Spotlight: Eyabane Patasse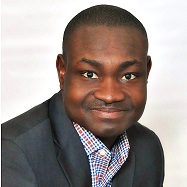 Eyabane Patasse
Project Management
Meet Eyabane Patasse
Eyabane Patasse completed the Project Management certificate in 2007. After several years working with prominent technology/communications companies, he's back at Georgetown CCPE completing a second certificate in Corporate Finance. Learn more about his career story and his advice for others looking to develop professional skills.
Why did you choose to enroll in this program?
Back in 2006, my Lead QA role in the software development life cycle involved juggling multiple concurrent software release projects, and I needed to implement a structured approach to managing the program.
What's your career story?
After riding the Y2K wave as a Network Administrator, I started contemplating a move into management, as I joined a VoIP startup company in Maryland. The skill gap to management compelled me to seek more education. Completing a Masters' program exposed me to broader management perspectives, but lacked the practical "this-is-how-you-get-it-done!" The Project Management program at Georgetown gave me that last piece of the puzzle. Within a year of completing the PM program, I landed the role of Director of Implementation Services with a prominent IT integrator in McLean, VA, leading a dynamic team of Engineers and Project Managers in the delivery of complex Managed Services (Hosted VoIP and MPLS). As the industry matured, I joined a large Cable Company (MSO), to expand into Product Strategy & Operations. This progressive position has exciting challenges of its own that I hope to address by pursuing a certificate in Corporate Finance.
How did taking classes at Georgetown impact your career?
The classes gave me the necessary tools, in record time, to make the leap towards a management role. The courseware allowed me to pass the PMI certification shortly after completing the program.
How did you apply what you've learned at Georgetown in your job?
There is a reason why planning is the first phase in every project. When I set out to trade my engineer coat for management, I knew I needed a plan, so I came to Georgetown to learn to plan. In the process I learned to execute and monitor my career progress as well.
What are your future goals?
My current role in the product organization gives me unmatched exposure to various aspects of the company's operations. A small change can make a big difference; however, Executive Leadership needs good data before approving the change. As I progress through the Corporate Finance certificate program, I look forward to applying the newly-acquired financial modeling and statistical analysis concepts towards improving stakeholder's visibility into market drivers and product performance.
What are the most challenging and rewarding parts of your job?
Being a PM with an engineering background has its challenges and rewards. By far, the biggest reward comes from coaching other PMs on IT concepts that bear risks, while helping engineers understand the critical contribution that PMs make to every project.
Do you have any advice for others in your field?
Identifying the gap between where you are and where you want to be is key to change. How you get to the destination may require some planning. Hedge your risk by learning to plan.