Spring 2016 Speaker Series: The Road to Quito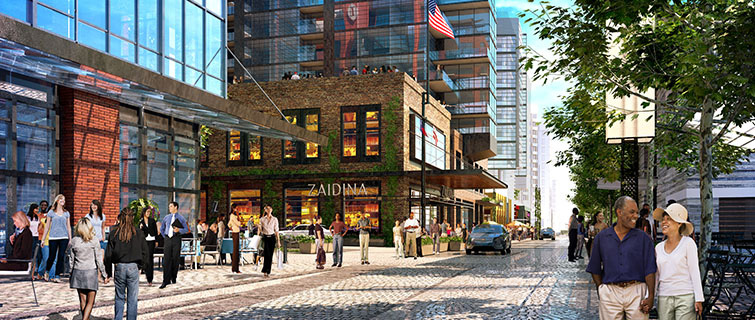 Brought to you by the Georgetown University Master's in Urban & Regional Planning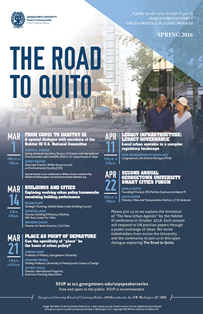 Welcome to the Urban & Regional Planning program's Spring 2016 public lecture series where we explore the formation of "The New Urban Agenda" through the UN's process of preparing for the Habitat III conference in October 2016 in Quito, Ecuador. In each session we will respond to one of the UN's position papers and open an opportunity for a public exchange of ideas. We invite stakeholders from across the university and the community to join us in this open dialogue exploring The Road to Quito.
The series is hosted at the Georgetown Downtown campus at 640 Massachusetts Avenue, NW.
Free and open to the public. RSVP is recommended.
---
Part 1:
Part 2:
From Cop21 to Habitat III
A special dialogue with members of the Habitat III U.S. National Committee
Keynote Speakers:
Judith G. Garber, Acting Assistant Secretary, Bureau of Oceans and International Environmental and Scientific Affairs, U.S. Department of State
Jainey Bavishi, Associate Director, White House Council on Environmental Quality (CEQ)
Special thanks to our collaborators: Wilson Center and Next City. Habitat III white papers can be found at www.habitat3.org.
---
Buildings and Cities
Exploring evolving urban policy frameworks mandating building performance
Speakers:
Roger Platt, Strategic Planning, United States Green Building Council
Jennifer Layke, Director, Building Efficiency Initiative, WRI Ross Center for Cities
Brendan Shane, Director for North America, C40 Cities
---
Place as Point of Departure
Can the specificity of "place" be the basis of urban policy?
Speakers:
Jordan Sand, Professor of History, Georgetown University
Eduardo Rojas, Visiting Professor, University of Pennsylvania School of Design
Jeffrey Soule, Director, International Programs, American Planning Association
---
Legacy Infrastructure; Legacy Governance
Local urban systems in a complex regulatory landscape
Speakers:
Hon. Representative Dan Kildee, Congressman, 5th District Michigan
---
Part 1:
Part 2:
Second Annual Smart Cities Forum
Keynote Speakers:
Stan Eckstut, Founding Principal, EEK/Perkins Eastman Architects PC
David Zipper, Director, Cities and Transportation Vertical, 1776 Ventures
---