Student Spotlight: Karina Nersesyan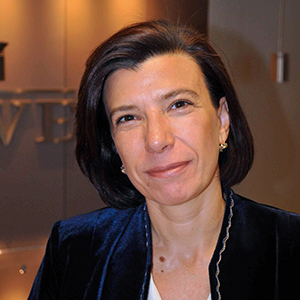 Karina Nersesyan
Transformational Leadership
Meet Karina Nersesyan:
Karina Nersesyan was a member of Cohort 2 of the Transformational Leadership program. A senior leader in the field of international development, she's sharing the knowledge gained at Georgetown with her company, project staff in the field, and with communities around the world.
Why did you choose to enroll in this program?
It is no longer possible to operate as a leader when you have it all 'figured it out.' Being open to the unknown and keeping an open mind was a key behind my progress and that is why I applied to the Institute for Transformational Leadership. I was eager to further develop myself and to discover how to inspire, to motivate people, and in the end to become a better leader.
I was proud of my accomplishments and I also recognized that further advancement would require me to evolve from being a systems architect into a change agent. I was convinced that as a highly experiential school, Georgetown was best suited to support my quest through its unique program where theory is combined with real life experience. This created a stimulating environment where I could benefit from learning new ideas, principles, and behaviors. Becoming an active participant in this program helped tailor my skills and strengthen my capacity to become a strategic thinker, intuitive manager, and inspiring leader, while adding to my technical expertise.
What's your career story? How did you get to be where you are now?
For more than two decades I have been working in international development. It is a gift to be able to do what makes me happy and call it a career. I was raised by my grandparents: a grandmother, an Armenian genocide survivor content to carry the legacy for her lost family, and a grandfather, a World War II veteran decorated in recognition of his role in taking his tank brigade all the way to Berlin. From very early in life my grandparents taught me to stay positive and look for a solution no matter what the circumstances, to be considerate to people around me, and live to make a difference. This upbringing has largely defined my own set of values and beliefs and, if I were to describe myself in five adjectives, I would use passionate, determined, creative, committed, and optimistic. This also describes the drive behind my choosing a career path to support people around the world to achieve positive change.
The reason I have been successful is because I work from my heart, and strive to make a difference in other people's lives. After four years of leading operations at Futures Group International, a $60 million dollar international development company, I accepted an offer with a much larger $200 million dollar company, Creative Associates International, as the Senior Director of Field Administration. Upon joining Creative, I proposed a framework and introduced an integrated project support model based on a standardized approach to operations, grants, and procurement. Establishing and launching an Integrity Initiative to ensure full project compliance was an accomplishment that earned me a promotion and an honorable mention for the InsideNGO's "Operational Excellence Award." With the expanded responsibilities, and as a leader of the firm's core program support functions, I am now entrusted to shape, lead, and execute all aspects of field operations, IT, and procurement and grants, which has resulted in growing our division to four times its original size.
How did taking classes at Georgetown impact your career?
Going through the Transformational Leadership program was like downloading a Google Maps application in my head. Unlike Google, this application does not provide the fastest route. Instead it requires me to continually make personal choices that determine the ever-changing route and has brought me to places I never imagined. The vision developed in the final class has taken a life of its own and swept me away from solely focusing on my work, my team, my company. I have been fortunate to find an opportunity to share my knowledge with the communities supported by Creative Associates across the globe and support them in taking it further. Through team building and leadership training sessions I have been able to share the knowledge gained at ITL with Creative project staff in the field. It is the field staff that then take it further into communities, into provinces working to deliver this training further down the line. In some way it contributes to Creative's vision to support people around the world to realize the positive change they seek.
How did you apply what you've learned?
Enrolling in the Transformational Leadership program has been a life changing experience for me. I came into the program looking for an opportunity to diversify and improve my skills. Looking back now it is clear that my intention in applying to ITL was to advance on a horizontal path of developing technical skills. I was not fully aware of the vertical dimension so critical in leadership development and was in for a surprise that noticing, feeling, sensing, being present, etc. are not just the words, but a developmental dimension that has enormous value in the leadership domain. Accepting that was challenging. The ITL program has opened up a completely new perspective that leads me into completely different ways of analyzing events around me, taking into consideration a multitude of factors I never considered before.
This journey of finding unexpected treasures inside myself, taking each day as another learning opportunity, and realizing that leadership is an ongoing spiritual boot camp changed my reality, setting a new context for my story. I am moving towards a different story, a new more nuanced story, which is working for the new me because it comes from within.
Do you have any advice for others in your field?
Transformational Leadership is a program that takes courage because it requires examining the very postulates one comes to develop in thinking about oneself. It is challenging because the trajectory of this journey is not linear. Going through the course gives one the confidence not to worry about the destination and rather immerse oneself in the experience of the journey itself. One step forward is often followed by two steps backwards and fellow group mates, the ITL staff, coaches and the co-Directors are always there to support. Having this support changes the entire paradigm from reprimanding oneself for falling back to instead congratulating oneself on noticing it. Self-cheerleading fuels the drive for broadened experience and exploration.
Who is your greatest inspiration?
My group mates have been my greatest source of inspiration. I felt their presence, heard their advice, and leaned on them throughout this journey. The generosity of their souls and hearts is humbling. I am inspired by them and determined not to let their trust down.