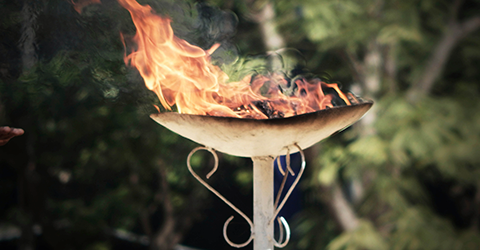 By Omari Faulkner, Faculty, Master's in Sports Industry Management
On Friday, the international community assembles for the opening of the 2016 Olympic Games in Rio de Janeiro, and it couldn't come at a better time. It seems as though every month, or even more often, we bear witness to new acts of global and domestic terrorism, civil unrest, war, massive displacement of refugees, and natural disaster—or we suffer the pain of living through them ourselves.
During the Olympic Games, though, our world will speak a united language, and while the athletes will focus on winning gold, and the rest of us on cheering for our countrymen, we'll also celebrate one of our most powerful tools of diplomacy: sport culture.
The ceremonial splendor of the Olympic Games lends hope to the idea that through cultural understanding, the world can rise together and unite, understanding customs and people unlike ourselves. That learning and understanding is the true essence of cultural diplomacy, "the exchange of ideas, values, traditions, and other aspects of culture or identity," as defined by the Institute of Cultural Diplomacy in Berlin.
Weeks after the terrorist attacks of September 11, 2001, President George W. Bush stood confidently atop the mound in Yankee Stadium. He was not there to deliver a speech to the thousands in attendance or the millions who watching on TV; he was there to deliver the ceremonial first pitch. And from New York that evening, with a baseball in his hand, President Bush sent a strong signal to the hearts of Americans and global citizens that our country would rebound stronger than before. Baseball didn't end the terror the nation faced, but it reminded us to move forward with our daily life and be unafraid.
Sports alone can't combat terror and fully mend broken hearts, but when people from different cultures and backgrounds unite through common interest, the results can lead to honest dialogue and cultivating relationships. I've seen the power of sports and cultural diplomacy at work myself.
In 2005, the U.S. Department of State sent well-known Americans—such as author Frank McCourt, world-renowned cellist Yo-Yo Ma, baseball player Bernie Williams—and other, lesser- known Americans—including myself—across the globe to connect with communities with little to no exposure to the United States. Using American culture as the vehicle, hundreds of thousands of people explored differences and similarities; those who had never met an American before saw their stereotypes wither and their optimism flourish.
Today, globalization continues to stream goods and services, technology, travel, and communication all over the world. Our societies are more integrated now than ever, paving the way for cultural understanding between nations and divided communities, resulting in stronger political, social, and economic collaborations. And sports, particularly the shared global experience of the Olympic Games, can connect people of different religions, ethnicities, political affiliations, races, and more. Some are skeptical about the power of sports in this realm, but that's due to an assumption that the Olympics alone can bring about world peace. That's certainly not true.
Without action on the part of everyday global citizens, wounds may never heal and fear can grow into cancerous barriers in the long term. One look at the events in Dallas, San Bernardino, Paris, Nice, or any of the other places whose very names recall the violence of the past year, reveals what can happen then. Still, sports can bring us together to mend fences and begin conversations, and beginning Friday, we can start there.