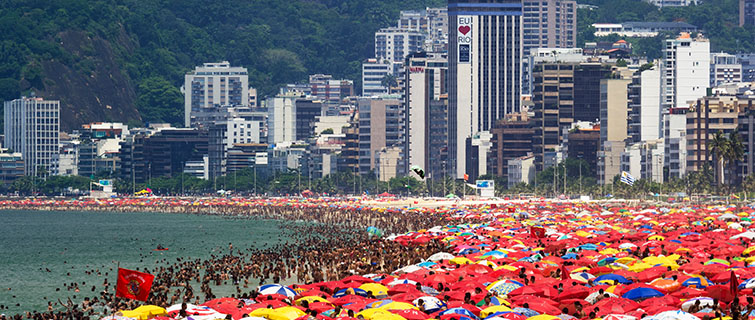 When it comes to Olympic expectations—those of the investors, not the athletes—everyone with a stake in Rio is hoping for a Barcelona.
And dreading a Sochi.
Barcelona, which hosted the 1992 Summer Olympic Games, "is an excellent example of how it can work," said Gregg Rockett, Vice President of Development for Hilton Worldwide. "But there aren't too many examples like that."
And Sochi, Russia, site of the 2014 Winter Olympic Games? Most major hotel companies would be very skeptical of a long-term investment in Sochi.
For the record, there is no Sochi Hilton. But the company saw promise in Rio, and in 2015, after finally breaking into the once-hot Rio real estate market, Hilton opened its first hotel in this spectacularly beautiful, if often dysfunctional, metropolis of more than 12 million people—the third largest in South America.
An Important Destination
For Hilton, Marriott, and other companies that have hotels here, it's no exaggeration to say that Rio has been a disappointment. Picked to host the 2016 Olympics and 2014 World Cup when the Brazilian economy was strong and growing, Rio is now reeling from the combined effects of a two-year recession, political turmoil, and the Zika virus. But despite the possibility of months, or even years, of a depressed market, hoteliers are far from giving up on Rio: They say it's important to have a presence in the city and that Rio, a gateway to Brazil and South America, will eventually come back.
"It's a very important destination," said Hugo Mirabal, Director of Development Planning and Feasibility at Marriott International, which has five hotels in Rio, four of which opened in July. "It has a nice mix of being a business and a leisure destination. We're still in for the long-term."
When building a hotel in an Olympics destination, "you're not just interested in hosting an event," said Rockett, who is also an instructor in the Global Hospitality Leadership master's program at the Georgetown University School of Continuing Studies in Washington, D.C. "You're asking, 'Is there going to be a sustained level of activity post-Olympics? Is this an appropriate use of resources for the long term?'"
Two Cities, Different Stories
Much of Barcelona's 1992 success can be attributed to felicitous timing and the unique charm of the city itself, "a hidden jewel [whose] location, climate, architecture, and history meant that the city had a tremendous potential for tourism and business that had been unexploited for decades," writes Andrew Zimbalist in Circus Maximus: The Economic Gamble Behind Hosting the Olympics and the World Cup.
But the organizers also made smart decisions. 60 percent of the $11.5 billion needed to host the Olympic Games (as measured in 2000 dollars) came from private sources, while only 5 percent of the public funds ($235 million) came from the city itself, Zimbalist said. In 1986, when Spain was selected to host the Games, most of the sports facilities were already built. Thus, rather than fitting the city plan to the Olympics, he noted, the Olympics were made to accommodate the city plan. And, for the most part, the housing, transportation, waterfront restoration, and other improvements made for the Olympics continued to serve the city long after the event was over.
Sochi is another story. A subtropical summer destination on the Black Sea, it was an odd choice for the Winter Games from the beginning. For this city of just 350,000 people, there was little planning for a post-Olympics future; but, as Zimbalist notes, that wasn't the point. Rather, what he called Vladimir Putin's "vanity games" were a vehicle to prove "that Russia could pull off this mega-construction project…"
And pull it off it more or less did—at an estimated cost of $51 billion, nearly five times its initial $10.3 billion bid.
Rio is, thankfully, a long way from Sochi—geographically, culturally, politically, and in so many other ways. It is a world travel destination, not just a regional one. And while the problems leading up to the 2016 Summer Games, such as the severe pollution of Guanabara Bay, site of the sailing events, are indeed serious, travel industry experts say Rio has proven assets that make it worth investing in for the long term.
"Brazil is not for beginners," said Xavier Flores, Director of Feasibility and Development Finance, Americas, for Hyatt Hotels Corporation. "You need to have nerves, and you need to have patience."
"We have optimistic plans for Brazil in the long term."
Learn more