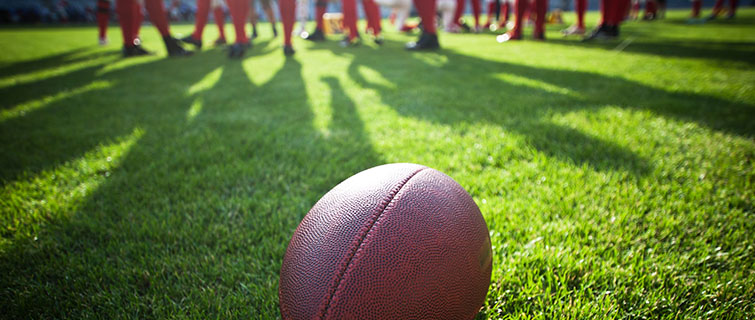 Like your typical defensive lineman, the NFL is huge—and getting bigger every year. By far the nation's richest spectator sport, pro football, NFL-style, is projected to gross more than $13.3 billion in 2016, according to Forbes: a more than 50 percent increase over 2010.
The social media site Twitter, by contrast, has not been bulking up; in fact, it's lost hundreds of millions of dollars since it went public in 2013, and its user base of about 320 million is, by various estimates, either flat or shrinking.
So when the NFL announced a long-awaited deal in August to live stream its popular Thursday night games—Amazon, Verizon, Facebook, and Yahoo were all contenders—the decision to pick Twitter might have seemed a bit odd. In fact, says brand manager and marketer Mikah Sellers, it was a savvy decision that should benefit both sides.
'The Perfect Global Chat Room'
"I think that the death of Twitter has been greatly exaggerated," said Sellers, Chief Digital Officer for Grafik, a branding agency in Washington, D.C. "It's the perfect global chat room where people can engage in conversations they find interesting, whether it's the global war on terrorism, the presidential election, or an NFL football game.
"While Amazon, Verizon, and Yahoo could certainly broadcast the content to millions, none of them have the same reach or capabilities as Twitter," Sellers said. "If the goal is to drive fan or viewer engagement with the content, then Twitter is the natural platform."
Let's look at some numbers: Twitter may have only 320 million users, but that number jumps to as many as 800 million when you include users who visit the service but don't sign in. And its 140-character "tweet" restriction? That doesn't apply to videos or images that users can attach.
"So when your favorite player completes a pass or scores a touchdown, you can have your break-the-internet gif ready or a video of you giving that player a shout-out," Sellers said.
Sort of like high-fiving the friend next to you in the stands. Only now, you don't have to even go to the game, and you can send that celebration to anyone in the world.
A New Generation of Fans
"How sports are watched is dramatically changing; the in-stadium experience doesn't rival what you can do at home," said Kyle Scriven, Senior Director, Digital, at the Motion Picture Association of America.
Partnering with Twitter enables the NFL to connect with viewers who are already commenting on the game on the social media site while watching it elsewhere. Though not as young, on average, as those drawn to Snapchat and Instagram, there're part of a new generation of fans that is making spectator sports a more interactive and communal activity.
"Just coming to where people are is 90 percent of the game when it comes to marketing," Scriven said.
For Twitter, the partnership introduces the site to millions of people who are watching the games but haven't thought of commenting on them, or reading others' comments, on social media. If this proves successful, Scriven said, there's a possibility of something like a Twitter live-streaming network sometime in the future.
Also, Twitter could use the site for advertising—and perhaps finally make some money.
"Think about it: People have been using Twitter to engage in conversations about NFL games since the platform was launched," Sellers said. "Twitter has all of those tweets that it can leverage to show you highly targeted ads for merchandise associated with your favorite team."
Where TV Is Still King
But don't expect any groundbreaking changes from the deal in the near future, said Jimmy Lynn, Co-Founder and Vice President of Kiswe Mobile in Washington. Twitter is paying $10 million to stream 10 Thursday night NFL games. While not an insignificant sum, it pales beside the billions the NFL receives in TV rights and other income. And, conveniently for the NFL, those TV contracts will expire in about five years and need to be renegotiated.
"I think [the NFL-Twitter partnership] is a good test for the NFL and Twitter, but it's not a game-changer by any means," Lynn said. "TV is still the dominant medium."
---
Mikah Sellers, Kyle Scriven, and Jimmy Lynn are all faculty members at Georgetown University's School of Continuing Studies in Washington, D.C. Sellers is an instructor in the Technology Management master's program; Scriven is an instructor in both the Integrated Marketing Communications and Public Relations & Corporate Communications master's programs; and Lynn is an instructor in the Sports Industry Management master's program and also teaches at Georgetown's McDonough School of Business.
Learn more