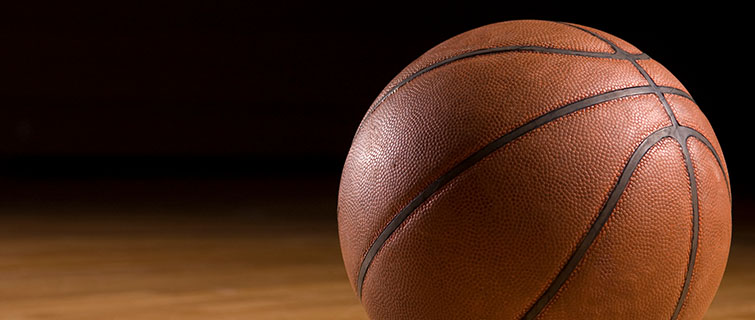 "Sir Charles" was on a roll—through the supermarket—with his young charge and housemate, a rookie backup point guard named Scott Brooks, in tow. They had each grabbed big shopping carts, as Charles had commanded, and were racing down the aisles, stuffing them with Oreos, Twinkies, and lunchmeats for … well, Brooks didn't know quite what they were for.
Charles, of course, is former NBA superstar, now TV commentator, Charles Barkley, the inimitable "Round Mound of Rebound." He weighed over 250 pounds (but was deceptively quick on the court) and could have easily stuffed the 5-foot-11-inch Brooks into one of those carts had he so desired. But the supermarket stop wasn't about horseplay or pranks: Barkley was on a mission.
Brooks told this story recently to students from Georgetown University's Sports Industry Management program in downtown Washington, D.C. He would, in time, become a great player himself, and a successful coach. In a playing career spanning 15 years, he played on six different NBA teams (including with Barkley on the Philadelphia 76ers) and won a championship in 1994 with the Houston Rockets. As a coach, he won NBA Coach of the Year in 2010 and was a two-time head coach for the NBA All-Star Game.
"A Relationship Coach"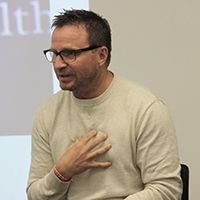 Whether it's the NBA or high school, good leadership takes insight, flexibility, patience, and a lot of hard work, says Wizards Coach Scott Brooks.
When Brooks was picked last April to lead the Washington Wizards, he was hailed as the kind of "players' coach" who could relate to young players—and maybe help them win.
"I'm looking forward, I'm excited, I can't wait," Brooks told the students at Georgetown's School of Continuing Studies, which is four blocks from the Verizon Center, where the Wizards will play their regular season home opener on Nov. 2 against the Toronto Raptors.
The sports management classes are all about leadership, and so was Brooks' story. He wanted to show what leaders do when the spotlight isn't on them: in Barkley's case, this meant cramming groceries into his luxury Porsche (with Brooks' help) and driving beneath a nondescript highway overpass where about 80 homeless people had gathered. When they saw the car, they lined up in an orderly fashion, as if they'd done this before.
"Charles gets out, and just starts handing grocery bags to them," Brooks told the students.
The story says as much about Brooks as it does about Barkley. At his presentation, which Brooks attended with Wizards Vice President Tommy Sheppard, he was asked by Georgetown instructor Marty Conway if he has ever tried to identify his leadership style through a Gallup StrengthsFinder Assessment or a Meyers Briggs test. Brooks said he hasn't, but knows intrinsically what kind of leader he is.
"I'm a relationship coach," Brooks said, explaining that success starts with a coach who truly cares about his players and their development.
A Model for Living
He cited his own life. The youngest of seven children whose father left when he was two years old, Brooks was raised by his mother. It was she—and later his junior high and high school coaches—who showed, by example, what a real leader looked like.
Asked at Georgetown what "tree" supported him, Brooks, replied without hesitation: "My tree was Lee Brooks."
"You find someone you respect and admire and adore," he added. "And you learn from them."
Brooks' junior high coach taught him the importance of having a strong work ethic. But he said that, as a coach, flexibility is also key.
"You can't coach a 19-year-old player as you would a 32-year-old player," he said.
For one thing, the internet and social media have shortened attention spans. In the past, Brooks might have run a 20-minute drill to work on a single defensive technique. But today's young players get bored with long drills and want more variety.
"Now, it's like six minutes and we're onto the next thing," Brooks said.
At least, that's what the players may think. But even though he's using different drills and describing different goals, underneath they're often working on the same fundamental.
A "Player-Coached Team"
That kind of insight also applies to discipline. Brooks said he trusts the front office to sign players of high character and motivation. If developed correctly, they will not only discipline themselves but also "hold the group accountable as much as the coaching staff does." He noted that Magic Johnson—while having played for some of most revered coaches in the league—said that "the best team is a player-coached team."
Of course, it's the coach's leadership and understanding of human nature that produces that kind of team. And that means sometimes stepping back from a starring role. For example, Brooks said that sometimes when the team on the court is frustrated and playing badly, he'll call a timeout and let the players talk among themselves instead of immediately telling them how to improve.
A similar low-key approach came after a certain star player (whom Brooks did not identify) had behaved egregiously during one stretch on the court. Instead of simply calling out his behavior, Brooks later took the player in to his office, turned on the video recorder, and silently played the offending segment for him, over and over.
"Did you see anything?" he finally asked; and the player answered, with predictable defensiveness, "No."
"Would you want to play with a teammate like that?"
Brooks asked a few more questions, then let the player go. Not long after that, his attitude improved and his demeanor on and off the court changed—for good.
Learn more