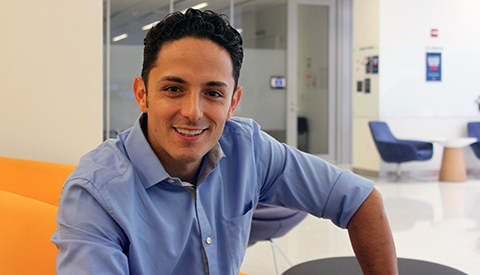 Photo: Georgetown University Bachelor of Arts in Liberal Studies student Carlos Aramayo
Of course the family would invite them in. It didn't matter that the visitors came from a wealthy city like San Francisco and the family lived in a mud-and-straw hut in the poorest country in South America. The custom was to show strangers graciousness and hospitality.
The group's leader, Georgetown University student Carlos Aramayo, had been in many homes like this as the co-founder of a Bolivian nonprofit, and he knew the family would be welcoming. But this time he felt the contrast more acutely. The family members were seated around the windowless room—all except for a boy of about two, who had a rash on his lip, probably from a bug bite, and was lying on the dirt floor.
"Just seeing him and sitting in that house…" Aramayo said. "My life is such a contrast."
Living in Two Worlds
Aramayo's is a complicated life, split between two worlds: his native Bolivia, where he co-founded an affordable housing program with his older brother, Alex, in the early 2000s; and Washington, D.C., where he is a student in the Bachelor of Arts in Liberal Studies degree completion program at Georgetown's School of Continuing Studies (SCS).
Serious and soft-spoken, Aramayo doesn't boast about his successes, but talks about Bolivia's critical need for decent and affordable housing.
"The world is full of problems—the decision to work on them is ours," he said. "If we in Bolivia don't help our fellow countrymen, who will? It sounds very idealistic, but it's true. I feel I have a requirement to give back because I am in the position that I am."
He grew up in a La Paz and Santa Cruz, Bolivia, in a family that emphasized the importance of helping others. The nonprofit he started with his brother, CINPROBOL (roughly translated as Center of Investment, Pro-Bolivia), was designed to help low-income people, who were priced out of the private sector, have better homes.
In 2015, the brothers became partners with the Fuller Center for Housing, headquartered in Americus, Georgia, to create the Fuller Center for Housing Bolivia, with Alex as director and Carlos as fundraising director. The organization attracts volunteers from the United States and elsewhere through the center's Global Builders program. In addition, it has links with several Bolivian high schools and the Catholic University of San Pablo in La Paz, which provide volunteers and financial support.
Currently, the Center is collaborating with the California-based New Story Charity to build 60 homes, at a cost of less than $7,000 per home, in the small city of Mizque in Central Bolivia. The center is also working in El Alto, a sprawling, high-altitude metropolis of more than 600,000 people that overlooks the more prosperous city of La Paz. In recent years, El Alto has absorbed hundreds of thousands of impoverished farmers who can no longer make a living from the land.
Asking the Difficult Questions
Poor families typically live in small adobe homes with dirt floors and no running water. There are no modern windows or screens, so residents are continually fighting infestations of rodents and insects. Among them is a bug that carries Chagas disease, which attacks mainly children and can cause serious heart and stomach problems if left untreated.
It's a big contrast from Washington, where Aramayo has more and more ties. Two years ago, he married Washington singer/songwriter Flo Anito, and he's considering studying international or human rights law in the United States after graduating from Georgetown.
"I'm split," Aramayo said. "I live here, and I live over there."
He said one course he found especially meaningful was Joseph Jensen's class Biblical Literature and the Ancient World because of the ethical and philosophical questions it raised. As it turns out, Aramayo also made an impression on Jensen.
"Carlos has just a real commitment to growing, learning, understanding, and reaching for answers," Jensen said. "He's comfortable with questions where the question is more important than the answer."
---
The Bachelor of Arts in Liberal Studies is Georgetown University's part-time bachelor's degree completion program, offering courses in the evening and online.
Connect with the Bachelor of Arts in Liberal Studies program to learn more >>