A Look Back: Georgetown's Halloween History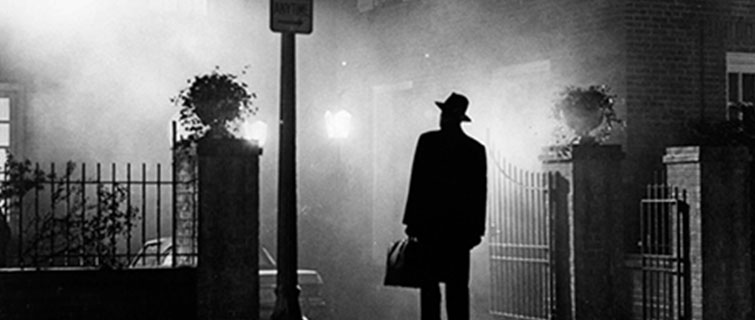 By Walter Rankin, Ph.D., Deputy Dean and Senior Advisor to the Provost for Accreditation & Special Projects
One of the distinguishing architectural features of our downtown campus is the modern central staircase with sparkling white terrazzo steps that connect each of the levels in front of a bright, open atrium. This staircase bustles with hundreds of students, faculty, and staff making their way to classes and meetings throughout the week. Georgetown University is known for a far more sinister set of stairs, however, hidden next to the Car Barn and connecting Prospect and M Streets. These uneven stone slab steps date back to 1895, according to The Georgetown Metropolitan, and were built back when the Car Barn was home to actual cable cars.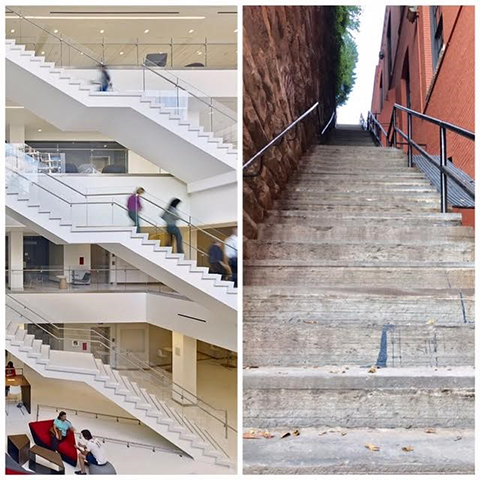 These steps became forever connected to Georgetown University with the release of The Exorcist in 1973, the supernatural horror film that centers on a young girl, Regan (Linda Blair), who is possessed by a demon while her actress mother (Ellen Burstyn) is filming on location at the University. After unsuccessful visits to doctors and psychologists, she turns to a Jesuit priest (Jason Miller) to perform an exorcism on her daughter. The film concludes (spoiler alert, some 40 years later) with the demon possessing the priest who throws himself out of the daughter's bedroom window and down the steps, freeing her, banishing the demon, and killing himself.
William Peter Blatty, an alumnus of Georgetown, wrote both the novel and screenplay, and William Friedkin, the director, made full use of the area streets and Healy Hall (including the Hall of Cardinals and the President's Office). Although the film was met with mixed reviews initially, it went on to become one of the year's biggest commercial and critical hits, receiving Academy Award nominations for Best Picture, Best Director, Best Actress, Best Supporting Actress, Best Supporting Actor, and Best Adapted Screenplay (which it also won). In 2001, the American Film Institute ranked The Exorcist as the third most thrilling film (behind Psycho and Jaws) of all time, and Entertainment Weekly ranked it as the scariest film ever. Centipede Press also published a comprehensive anthology of articles about the film (and its less successful sequels), Studies in the Horror Film: The Exorcist, in 2011.
In comparison to contemporary horror films, The Exorcist may seem quaint and, ultimately, not that frightening, but the film's subtle psychological influence can be seen in such recent films as Insidious (2011), Sinister (2012), The Conjuring (2013), and their various sequels. Beyond its influence across the supernatural film genre, its connection to Georgetown tradition may end up becoming its greatest legacy: Incoming freshmen can be seen hunting for the steps during orientation scavenger hunts, while various Georgetown programs host annual showings of the film around Halloween, inviting new generations of students to journey down those forbidding cinematic steps.
---
Dr. Walter Rankin is the Deputy Dean for the School of Continuing Studies and Senior Advisor to the Provost for Accreditation & Special Projects.