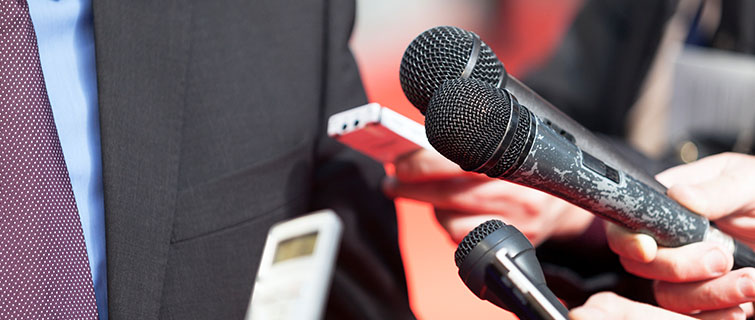 The journalism industry is in the middle of a massive shift as changing technology habits cause people to consume information much differently than they previously did. As a result, competition is fierce and succeeding in the industry comes with a much higher price tag. With that in mind, Brooke Van Dam, Faculty Director for the Georgetown University master's in Journalism program, assembled a panel of four journalists at the ACP conference in DC to help aspiring journalists figure out the most important skills they need to be successful in the field.
Panelists included New York Times investigative reporter Matt Apuzzo; McClatchy national correspondent Hannah Allam; Rolando Arrieta, the head of news operations at NPR; and Steve Johnson, owner and founder of Boundless. Read on for their top five tips for aspiring journalists:
1. Find a mentor
It's important to find a person who can help you get to where you want to go. They may be your professors, journalists you meet in internships, or people you email out of the blue whom you admire. The point is, find them and keep those relationships strong.
2. Be able to write well and quickly
No matter what type of journalism you go into or what your job title is, writing is of paramount importance. If you can't write well, you will not advance in your career. Arrieta stresses that you also have to be able to turn something around quickly as news breaks while maintaining accuracy.
3. Develop a thick skin
You will get rejected. Sources will yell at you. You will face adversity. All of these things are to be expected and should remind you that it's important to develop an ability to move on if things do not go exactly how you imagined.
4. Learn the business side of the news industry
Allam was put in charge of a staff of 18 as Cairo bureau chief at the age of 26. Johnson runs his own strategy/consulting/production company in his mid-20s. They both say it's imperative that you understand the costs side of the business and be able to use it. This may mean taking a media management or business course during college or even going and getting a second degree like Johnson did.
5. Love it or leave it
Apuzzo says that if there's a laundry list of reasons why you're afraid to go into journalism, then don't. It's a fantastic field but it's challenging at times. People that are the most successful in the field are the ones that love it. At the end of the day, it's the desire to tell the story and get to the truth that will sustain your career—not the paychecks.
---
The Georgetown University Master of Professional Studies in Journalism combines a faculty of award-winning journalists and media leaders with a comprehensive, hands-on curriculum that prepares students for a variety of journalism careers. Learn more about the program >>