Nov. 2, 2016 – District of Columbia Mayor Muriel Bowser and her Office of Public-Private Partnerships recently gathered policy experts, residents, potential partners and public officials at Georgetown's School of Continuing Studies (SCS) for a discussion about the state of the city's infrastructure.
The fall forum focused on how the District can leverage innovative tools and partnerships to more effectively build and maintain D.C.'s infrastructure – a task the mayor said is crucial to an area expecting 100,000 new residents by 2040.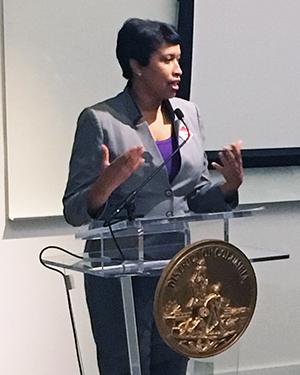 D.C. Mayor Muriel Bowser
"We aren't growing any more land in Washington, D.C.," Bowser joked, "but we are growing more school children."
The forum included an introduction to the "P3 model," shorthand for public-private partnerships in which private investors share the financial burden with District government to create new development projects and maintain existing infrastructure.
The District's Chief Financial Officer, Jeffrey DeWitt, outlined a few of the active P3 projects in the district, which include conversions of street lights to LEDs and additional smart city technology as well as infrastructure necessary to bring the Henry J. Daly Building and Corrections Center up to date.
"We have to have P3s to solve the gap," between District's budget limitations and the additional public services the mayor hopes to implement, DeWitt said.
Panelists at the forum also included representatives from the city's Department of Transportation, the Department of General Services and Seth Miller Gabriel, director of the Office of Public-Private Partnerships.
"We have identified key projects across all eight wards of the District and every asset class that are strong candidates for the P3 approach," Gabriel said. "Delivering just half of these projects will make us the P3 capital of the United States and help a lot of people's lives in the process."
Uwe Brandes, faculty director of the SCS's Urban & Regional Planning program, made opening remarks and welcomed Bowser and the community partners, expressing enthusiasm for the innovative and necessary city-building partnerships that reflect the University's values.
"Fostering new kinds of partnerships, new kinds of business relationships [and] new ways of thinking about making our city even more inclusive, livable, sustainable, resilient and meaningful – these are issues that Georgetown cares deeply about," Brandes said. "We are pleased to host the conference because this work aligns with the university's mission and commitment to social justice."