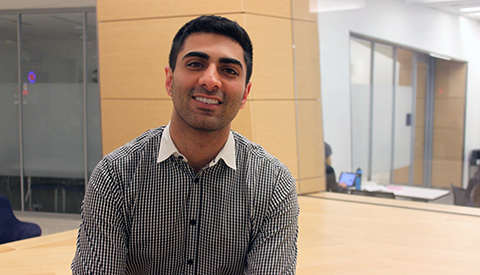 A few things to know about Amir Khan: He's an extrovert. A techie. A lover of weird and interesting facts. A quick thinker who doesn't take himself too seriously. And, as Khan himself put it, someone who's "not afraid of winging it in front of hundreds of people."
That last quality came particularly in handy at the Startup Weekend hosted by Startup Hoyas, held November 4–6 at Georgetown University's Main Campus. At the event, Khan, a 2016 graduate of the master's program in Technology Management at Georgetown's School of Continuing Studies, had to present his business idea to a panel of strangers. As it turned out, when Khan queued up with the other would-be entrepreneurs to pitch his idea to the judges, he didn't actually have one yet: It came to him while he was waiting in line.
"You know when musicians write songs and something just comes in their heads?" Khan said. "It was one of those things."
An Enterprising Photo
Khan's idea was a cell phone app called "Fact Me." (Motto: "Take a snap. Get a fact.") The user takes a picture of a memorable object—in a touristy city such as D.C., for example—and an interesting fact about it appears on his or her cell phone. The idea was among seven the judges picked to be pursued in more depth at the competition.
The participants, who numbered about 50, then split into seven teams. Three joined Khan's team, which, through many hours of work, tweaked the concept so it would apply specifically to museums and their collections. (Thus, "Fact Me" became "Musetory"—more about that later.)
The team won the competition. And because the members were working off Khan's idea, he was awarded the Grand Prize: A trip to Zurich, Switzerland, in January to attend the WORLDWEBFORUM.
Khan works for Deloitte, one of the largest privately owned corporations in the world, where he is Senior Systems Integration Consultant. ("But you can just say 'technology consultant,'" he said.)
He said Georgetown's Technology Management program didn't just focus on the technical aspects of the job, but included a lot of hands-on work in making presentations and pitching ideas.
"I loved it," Khan said "The culture of Georgetown is very entrepreneurial and supportive of entrepreneurial pursuits."
That culture has been created by design.
"Nearly every class involves a presentation," Assistant Dean Joshua Meredith said. "Courses like Technology Entrepreneurship, Marketing Technology Products and Services, and Strategies for Managing Digital Products not only allow students to focus in on the skills needed to be successful technologists but also take into account the soft skills to sell and obtain funding for new ventures."
The Perfect Focus Group
So, how did the team members get from "Fact Me" to "Musetory?" The answer is "research"—or as much research as they could accomplish in a few hours over the marathon conference schedule.
First, the focus group: they figured the line outside Georgetown Cupcake would do nicely. Talking to people up and down the line, they found that a lot of Millennials are interested in the untold history of a place or exhibit, or, as Khan put it, "the juicy gossip." For simplicity's sake, rather than consider the entire city or parts of it, they decided to focus on something more or less self-contained: museums.
Here's how it would work: Museum-goers could access the free Musetory app, then point their phones at a particular exhibit and get that juicy fact. Then, a box would pop up asking if they want to make a $1, $3, or $5 gift to the museum.
People don't want to pay for a museum app, but if they had access to a free one, they would use it and perhaps make a donation on the spot, Khan said. It makes sense, because if you were to visit a typical D.C. museum—his team went to the National Museum of Natural History—you would see that all the Millennials are already on their phones, trying to get information about what they're experiencing.
"So," reasoned Khan. "why not make an app to go with their natural behavior?"