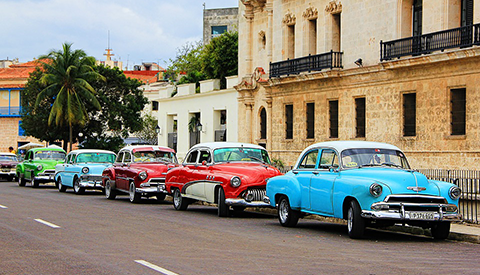 Don't get them wrong: The all-inclusive, oceanside resort that Georgetown University Hospitality students visited during their recent trip to Cuba was wonderful, and all anyone could ask of … an all-inclusive, oceanside resort.
It just didn't say "Cuba."
"It was not like being in Havana, walking down the streets," said Kelleye Eller, one of 15 students from the Master of Professional Studies in Global Hospitality Leadership program (GHL) who traveled to the island this past fall. "Cuba is so different."
Indeed, the real Cuba is different—unique, really—and it is this very exceptionality that could make it one of the most exciting new vacation destinations for Americans in the coming years.
"Cuba is the next frontier in hospitality for the Americas," said Gray Shealy, faculty for the program and former executive at Starwood Hotels. "It's been largely undeveloped because of the U.S. embargo, and yet it's so close. It's sort of like the forbidden fruit."
Rum and Cigars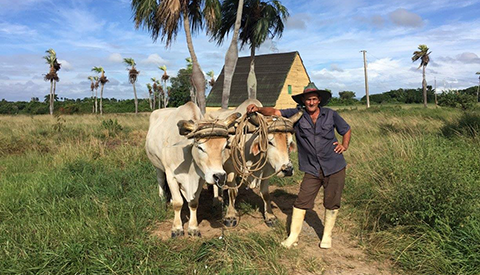 A roadside scene in Pinar del Rio, Cuba.
Over the past two years, the Obama administration has moved to normalize relations with this island nation of 11 million people. Only Congress can fully repeal the decades-long trade embargo, but Obama has lifted limits on importing Cuban rum and cigars, and has named longtime diplomat Jeffrey DeLaurentis (SFS '76), a Georgetown graduate, as America's first ambassador to the island in more than 50 years. (The GHL students met with DeLaurentis, as well as several other U.S and Cuban representatives, during the trip.)
Tourism is still officially off limits for U.S. citizens. "You aren't allowed to just go and sit on the beach as an American citizen," Shealy said. But educational tours are among 12 permitted categories of travel by the U.S. government.
When they arrived on the island in late October, the students encountered a unique cultural ecosystem, frozen in time. Beautifully restored American cars from the 1950s share the roads with clunky Soviet-era vehicles and buses shipped from China. Much of Havana has an otherworldly "European" feel—albeit a Europe where many of the graceful buildings are crumbling. Music pours from apartments in Old Havana; people sometimes dance in the streets. Shealy, who has traveled throughout the world, called it "the most artistic city" he has ever seen.
Farm-to-Table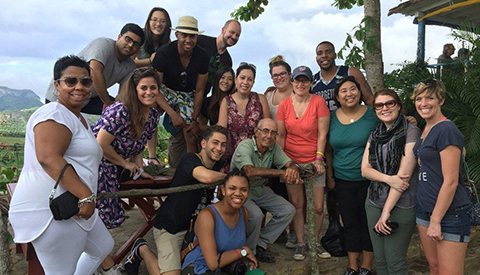 Students tour a local farm and paladar with the ecologist-proprietor at Finca Agroecologica El Paraiso in Viñales, Cuba.
It's that sense of charm and authenticity that Cuban officials are determined to preserve, said Nelson Pimentel, a GHL student from the Dominican Republic who works as the Head Butler for the St. Regis Hotel in Washington, D.C.
"A lot of people think we want to be changed," Pimentel recalled a local urban planner telling the group. "But we want to preserve our culture, preserve what we already have."
Those sentiments could mesh nicely with new generations of American tourists eager to experience the true cultures of the places they visit. In Cuba, that means eschewing the government-run restaurants with their canned vegetables and Soviet-era sensibilities, and sampling the many excellent privately-run paladars, some on the top floors of homes and apartment buildings. "Farm-to-table" dining might be a fashionable trend in the United States; in Cuba, it's a necessity and a way of life.
"If Cuba were able to modernize and still retain that authenticity, it would retain that brand cachet and become an even bigger draw," Shealy said.
A Host of Complications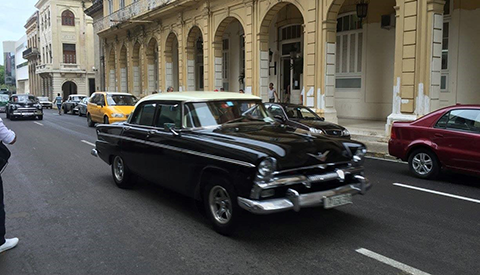 A 1950s-era automobile—a common sighting—in Velha Havana, Cuba.
But there are many complications. The Cuban economy is in the midst of a severe recession, caused in part by the economic implosion of Venezuela, its major oil patron. The island's population is aging, and the government of Raul Castro, the younger brother of the late Fidel, who died November 25, is an undemocratic gerontocracy.
"The question is, 'Who will take over?'" Shealy asked. "Will the new set of leaders continue to embody older ideologies, or will a younger, more progressive visionary emerge and redirect the island on a new path?"
Finally, there is uncertainty over the kind of policies Donald Trump will pursue as president. As the New York Times noted, during the campaign Trump was sharply critical of the "concessions" Obama has granted Cuba. That suggests a President Trump might roll back those agreements. On the other hand, Trump's business background might deter him from scuttling policies that have enabled U.S. firms such as Marriott and Airbnb to do business there.
These are big, difficult questions. But if they were resolved, Cuba could be poised for an unprecedented travel renaissance.
"If they manage it correctly," said Pimentel, "they could be the best destination in the Caribbean."
Learn more