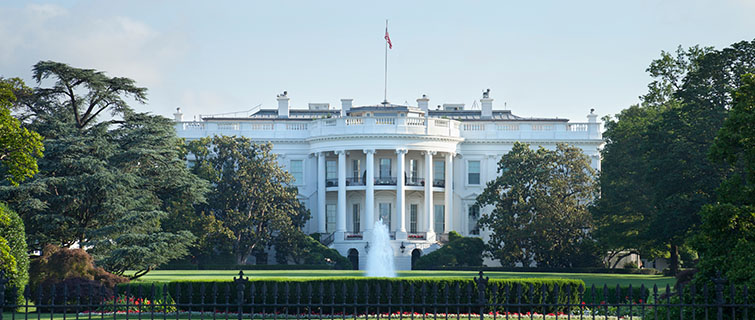 It's been a busy few months for Peter Velz.
A White House staffer serving as Special Assistant to the Director of Communications and Director of Special Projects, Velz was responsible for coordinating interviews, photo shoots, and meetings that involve the press for former President Obama. He also spent time as a press wrangler, herding the protective press pool on domestic and international trips.
"It was easily the best job I'll ever have because of how challenging and fun it was," Velz said in a recent interview, just after returning from Chicago where Obama gave his farewell address. "I can't imagine what would top the jobs I've had here."
Velz had been a member of the White House Communications Department in one form or another for five years—he started as an intern in 2012. But like almost all of President Obama's staffers, January 20, 2017, inauguration day, marked the end of his time in the executive branch.
So how does a person who has spent five years of around-the-clock phone-buzzing, hand-shaking, and national-crisis-averting transition into another line of work?
Enter: Future44 Career Coaching, a customized course offered by Georgetown University specifically for White House appointees to help reflect, evaluate, and prepare for career transitions in 2017. Developed in collaboration with Georgetown University Center for Continuing and Professional Education faculty, the Future44 course provided 8 hours of seminar discussions, with curriculum focused on four themes: Reflect and Assess, Create Your Future, Engage Others and Promote Yourself, and Take Action. Faculty included John Galloway, a Obama White House veteran who had already made the transition to the private sector, along with professionals from LeaderFit, an executive search and leadership development firm.
"We designed this unique curriculum to help these staffers think through how to market themselves or market their competencies," Kelly Otter, dean of Georgetown's School of Continuing Studies, told the Associated Press when the programming began in October of 2016.
Since then, nearly 300 participants have attended a session.
Velz opted for an 8-hour "boot-camp," scheduled for the Saturday after the election.
"The mood in the room with people who have been with President Obama for years—it'd be the understatement of the century to say the last thing my group would want to do for eight hours on a Saturday is contemplate our future," he said. "And I was on the fence right up until I walked out my front door if I was going to be able to go through with it."
Ultimately, Velz did step out his front door—and he's glad he did.
"There was a sense of community, and shared and renewed purpose that Saturday in November that really gave us all motivation and optimism," he said.
The Future44 program is designed to help this unique community of staffers learn how to identify and market their skills—something that can be difficult for people who have spent years missing holidays to put out fires and execute objectives that may not easily translate to other sectors.
"The structure of the program really aided in making me consider the job I had, what I was good at, what I loved doing in that job that's separate from it being for this president and this White House," Velz said. "There was the built-in reflections piece of the Future44 program, then there were the very practical steps of, 'OK, now think about how you can promote yourself, and how you can talk about your accomplishments in a way that's modest and honest, but also gives a good sense of the great things we've been able to do.'"
Yet another important goal of the Future44 training was to help participants create a practical career transition strategy: remaining focused on the remaining work to be done in the White House while preparing for the new life that would begin on January 21.
"At one point we were asked to create our future, and it was an exercise where we had to think about, in very tangible and rigid terms, our next move," Velz explained. "Is school my next move? What are the deadlines associated with the test? If I focus on that, when's the earliest I could realistically start class? What do I do in the interim? But if I want to travel, what's a realistic amount of time, and what do I want to get out of it? Can I realistically land a job and also travel for an extended period of time or focus on reconnecting with friends and family I've lost touch with?"
Velz said being asked to put things into a timeline helped him visualize the things that were available to him not only in the immediate future, but what he might want to aim for five years down the road—something one can easily grow out of touch with when moving from one thing to the next at breakneck speed.
But aside from becoming reacquainted with the practical needs of a job hunt—proper etiquette for sending follow-up emails, the difference between phone and in-person interviews, how to negotiate a salary—there's also a strong emotional component to moving out of a job at the White House.
"I think the hardest part of the process is making sure we're following such an amazing opportunity with something that can live up to it, or at least feel like you aren't wasting any potential," Velz said. "And I'll just never forget seeing the full room of faces I know and have worked with for years that Friday after the election, at a time so many of us felt our worldview completely challenged and fundamentally changed, and that feeling of community that came with it that was so necessary in the moment."
"That I think was the most important thing I've gotten out of Future44, that sense of community we had at the White House could and will extend beyond the day we all walk out of that building."
For now, Velz plans to move away from the world of politics and into something where he can work on large logistical projects with a press or communications angle. He said he may someday return to the political machine, if the time is right.
"I can see myself returning to politics," he said, "but given the opportunity I've had for the last few years, I think I'll need time to refocus because nothing will quite match the experience I've had at the White House."