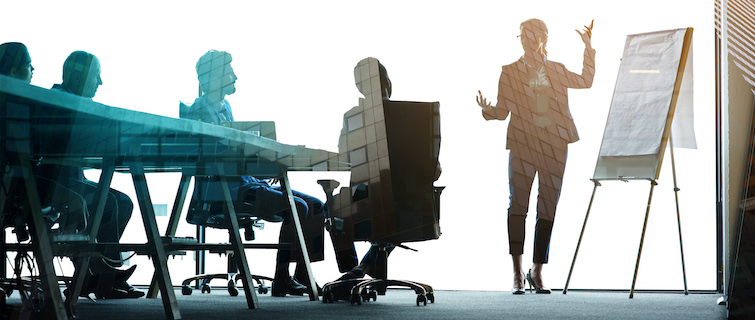 How will the Trump administration's policies affect American businesses, their employees, and the human resources professionals whose job it is to serve the needs of both?
Businesses, like the stock market, crave stability and predictability; and however one regards the first two months of the Trump Administration, "stability" and "predictability" are probably not the first words that come to mind. But experts on workplace law and policy say that while there could be some jarring policy shifts under Trump—particularly on trade, immigration, and healthcare—on balance, the changes will be more incremental.
"Many people are concerned about how dramatic the changes will be, but these changes will not be as dramatic as people think," said attorney Bill Martucci, a national employment litigator representing a number of Fortune 500 companies and an instructor in Georgetown University's graduate program in Human Resources Management (HRM) in Washington, D.C. "The general consensus is that the new administration will be business-friendly and not favor regulation. Beyond that, it becomes a bit foggy, because various positions that traditional Republicans emphasize are not in line with what the Trump administration is doing."
That point was made plain on Jan. 23, when Trump invited top union leaders to the White House and said that, in addition to withdrawing from the Trans-Pacific Partnership, he would renegotiate the North American Free Trade Agreement (NAFTA) "at the appropriate time." Neither allying with union leaders (on this issue, at least) nor questioning the benefits of free trade is a traditional Republican position.
More mainstream for the GOP is the President's promise to repeal and replace the Affordable Care Act, a vow that has spurred the Republican-led Congress to propose an alternative—and work at breakneck speed to try to gain its approval. That worries Mike Aitken, Director of Government Affairs for the Society for Human Resource Management (SHRM), who said repealing the act could put new pressure on employer-sponsored healthcare plans in unintended ways. "The key question is: How do you repeal the ACA without undermining, damaging, or disrupting the employer-sponsored healthcare system that covers 177 million individuals or about 57 percent of those individuals that have healthcare coverage?" Aitken asked.
On immigration, Trump has supported requiring all employers to use the employment eligibility verification system known as E-Verify to determine if employees are legally eligible to work in this country. Currently, while all employers must verify the employment eligibility of employees to work in the United States using the paper-based Form I-9, only a little more than 10 percent of employers nationwide use E-Verify. Aitken said requiring employers to use the E-Verify system in addition to the Form I-9 would put a burden on some businesses and should be accompanied by a "hold harmless" provision that would shield employers from hiring decisions made in reliance on the E-Verify system. The possibility of stepped-up immigration raids on workplaces could also be highly disruptive to businesses and employees.
"Immigration enforcement is going to be a major change," Martucci said. "And it's going to impact workplaces very dramatically." But on several other important issues, Trump will pivot toward business, Martucci said. He cited these examples:
"Joint" Employers
Trump is expected to fill two vacancies on the five-member National Labor Relations Board (NLRB), allowing him to move the Board in a more conservative, employer-friendly direction. In 2015, the Board ruled that companies could be held accountable for the labor violations of their contractors and others, including employees of a separate franchise—in the so-called "Joint Employers Decision." Labor leaders, including AFL-CIO President Richard Trumka (who was among those supporting Trump's call for renegotiating trade pacts) called the decision a needed update to labor laws that "have failed to keep pace as the workplace has continued to evolve." But companies, including Microsoft, said the ruling placed an undue burden on businesses and could force them to rethink social responsibility agreements that might make them liable for the actions of suppliers and franchisees. Look for the new Board to be more receptive to the business position.
Overtime
A more business-friendly Department of Labor (DOL) would probably also revisit an overtime rule approved by the Obama administration that would double the yearly earnings workers must make to be exempted by their employers from receiving overtime pay, from $23,660 to $47,476. During the presidential campaign, Hillary Clinton strongly supported the DOL rule, while Trump favored making an exception for small businesses. In November, a federal judge in Texas issued a temporary injunction barring the overtime rule from taking effect until he decides the case. Martucci said the earnings threshold will probably be raised under Trump, but not as much as the Obama administration had wanted.
Arbitration
A reconstituted NLRB could also take a new look at arbitration agreements that require employees to waive their right to seek class action lawsuits. In the past, the Board has called such agreements illegal, but a more conservative Board could rule differently. After three circuit courts split on the issue (with the Fifth Circuit overturning the NLRB's decision and the Ninth and Seventh Circuits affirming it) the Supreme Court agreed to take up the issue. While nothing is certain, a more conservative Supreme Court might be inclined to side with the Fifth Circuit.
Social Media
Workers have a right to argue collectively for such things as higher pay and better working conditions. But does that right extend to social media and posts that could be highly critical of employers, perhaps even profane? The NLRB has said "yes," but that position could change under a more business-friendly Board, which could put more restrictions on the kind of material employees can post on social media.
These and other issues will undoubtedly impact the work of HR professionals and the choices they will be required to make in the months ahead; but they will not alter the essential nature of the job, which is to support the organization's mission, strive to create the workplace environment it envisions, and help it achieve its goals.
"Organizations are going to make a decision about what kind of organization they want to be irrespective of Congress and the President," Aitken said.
"The overall thing I tell people," he added, "is to remain calm."
Learn more