Impacting Business Success Through Strategic Global Communications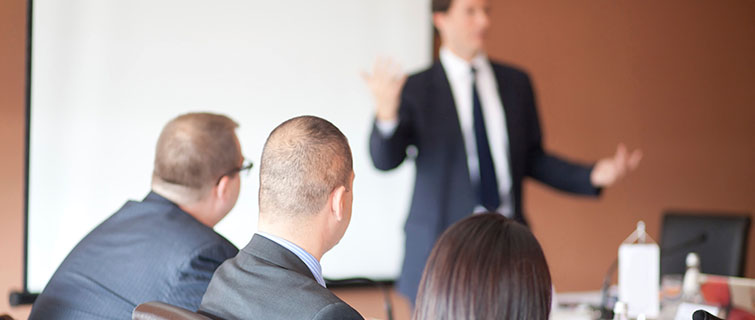 Photo: John Onoda, an Advisory Board Member for PR Firm FleishmanHillard, spoke with students on the topic of leadership in communications.
Students in the executive master's in Global Strategic Communications (GSC) program at Georgetown University recently traveled to San Francisco to explore the various ways that communications leaders impact business success. During the program's third course students took an in-depth look at financial communications, innovation, sustainability, and integration.
"To be an effective communicator, you need to understand the financial factors that impact your organization's business success and have sound knowledge when advising senior management," said Ted Allen, the course instructor and Director of Regulatory Affairs and Practice Resources at the National Investor Relations Institute (NIRI).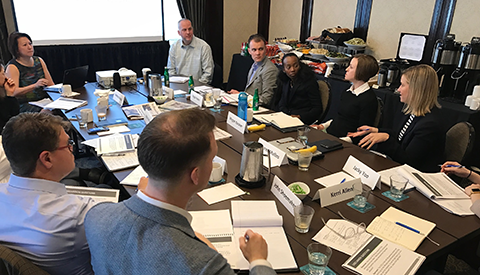 Joele Frank, a strategic communications firm, leads GSC students through an activism workshop.
While in San Francisco, the cohort learned directly from world-class, global guest speakers through a series of presentations, experiential learning opportunities, and executive roundtable discussions. Here are just a few of the industry leaders that students had the opportunity to meet with:
John Onoda, International Advisory Board, FleishmanHillard
Eric Brielmann and Amy Feng, Partner and Managing Director, Joele Frank
Nils Paellman, Vice President and Head of Investor Relations, T-Mobile
Lisa Gallegos, Vice President of Global Corporate Communications, Franklin Templeton
Jim Rowe, Executive Vice President of Investor Relations, Wells Fargo
Nicolai Lundy, Director of Education and Partnership, Sustainability Accounting Standards Board
Marie Perriard, Director of Global Brands and Corporate Communications, Sustainable Brands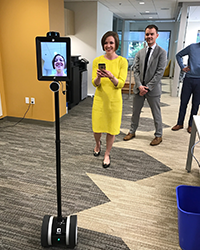 Innovation affects the bottom line of an organization, and communicators play a key role in the process. Monica Young, the Innovation Catalyst at AIG and a GSC alumna, ran an immersive afternoon in AIG and Autodesk's innovation centers (right).
Joele Frank, a strategic communications firm, also led a hands-on activism workshop, where students explored best practices for how publicly traded companies should respond when an activist requests changes within the organization.
"It is important to understand shareholder activism dynamics, as well as the evolving landscape of corporate governance and sustainability," reflected Andrea Braida, a Worldwide Portfolio Marketing Manager for IBM and current GSC Student.
Next up for the cohort is a course on Adapting to the Future. Students will be exploring emerging markets, corporate social responsibility, and new directions to approaching the field of global communications. The course will conclude with a residency in Singapore later this spring before embarking on their capstone projects over the summer.