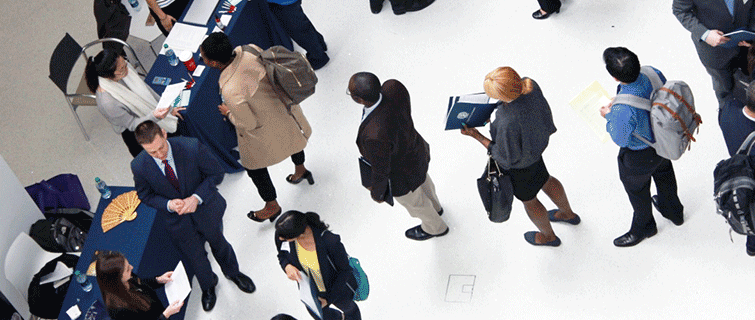 Attending a career fair can be daunting. With so many recruiters to talk to and so many other attendees at the same event, it's a challenge to set yourself apart. You may ask yourself questions like: When is it appropriate to send a follow-up? How should I talk about my skills and experience? What should I look for on a recruiter's website? From putting the final touches on your resume to practicing your elevator pitch, five recruiters share their advice for students looking to make the most of their experience.
Plan Ahead
For anyone who has attended a career fair before, this is a standard—yet crucial—piece of advice. "Do your research," Bozzuto Senior Talent Advisor and HR Business Partner Michelle Richman says. "Look for specific career openings within the companies you're interested in, as well as what geographical area they are located in. That way, you can drive the conversation in an informed way."
In addition to having some points of reference about the company close at hand, Richman also recommends practicing some points of reference about yourself. "As a graduate professional talking to an employer, you should have your elevator pitch ready."
Do Your Homework
Did you know that handing out a resume might not always be the best approach? Your research into a recruiter's company should inform not only what you emphasize about your skills, but also how you convey them. "Preparation is important," Cadmus Associate Michael Whittaker warns. "For example, we're a green company, so we'd rather you not hand us a paper resume."
Shop Around
Nicole Rusnak, senior recruiter for Green Key Resources, an executive recruitment firm, says one of the best ways students can make the most of their experience at a career fair is to keep their options open. "Introduce yourself to all of the tables, whether you think you're interested or not," she says. "You want to maximize your contacts in the area because you never know who might be hiring, or who might end up being a great connection."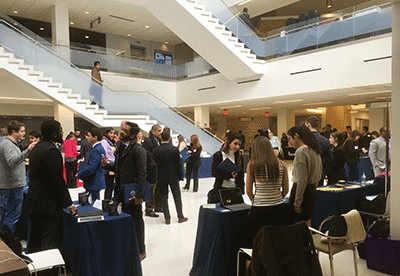 Students gather at the 2017 SCS Career Fair, which featured employers across a wide range of industries.
Prepare for New Opportunities
Ultimately, no amount of research can prepare you for the unexpected. While it's wise to spend time reading up on the recruiters that will attend the career fair, one of the benefits of attending such an event is access to people and information that you can't find online.
"I brought a job description to this fair that isn't online yet," says Sheila Cuthrell, director of operations for the Office of Deputy Mayor for Planning and Economic Development. "Students here are the first to know that we will be hiring for this position in the future. We're hoping to meet students who will be graduating soon and who could fit the role we'll be looking for."
Be Flexible—and Genuine
"Successful candidates for us are the ones who ask, 'What can I do for you?' instead of 'What can you do for me?" Washington Nationals Development Associate Andrew Ferlo says. "Ninety percent of the time there's no position that fits exactly what a job candidate is looking to do. So be willing to be flexible, and build a relationship with the employer where there's room for growth."
Ferlo also stresses that while following up with a recruiter can be a nice gesture, it should also be meaningful. "If there's a specific position open that you're interested in, send a follow-up. People in the industry are always willing to talk about the industry. But it's pretty apparent when you're just emailing to all of the people you met at a job fair cart blanche."
For more advice on navigating career fairs specific to the sports industry, check out "Five Tips for Navigating a Sports Career Fair."